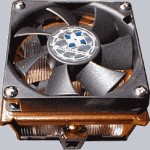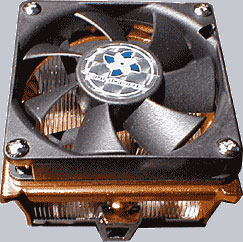 In this review we have tested the Suncore Copper Storm Cooler and measured the temperature results with our test setup. Additionally you can listen to an embedded MP3 fan sound sample of the fan on the respective heatsink.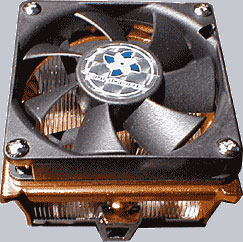 Bezeichnung
Suncore Copper Storm
Größe über alles in L/B/H
++ 75/76/52 mm Der Kühlkörper ist größer als der Sockel – siehe Fit for Fan
Förderleistung
++++ 37,8 CFM bei ~4600 U/min
Geräuschpegel
– 41,3 dB (A) Liegt noch im grünen Bereich. Demnächst online anhören.
Montage
++ Leider hat die Halteklammer keine ausreichende Möglichkeit zur Aufnahme eines Schraubendrehers. Das wäre aber recht sinnvoll, da die Demontage durch die recht kleiner Klammer doch etwas schwierig ist und somit gewiss der ein oder andere zu einer Flachzange greifen wird. Die Montage ist aber dennoch gut durchführbar.
Kühlergebnis
+++ 40°C bei 1,75 Volt und 42°C bei 1,90 Volt Corespannung ist für einen Teil-Kupfer Kühler ein prima Ergebnis.