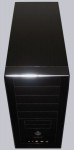 The technical data …
Form factor: The Gigabyte iSolo 230 Mid Tower is designed for conventional ATX, Micro ATX and Flex ATX motherboards.
Dimensions: The overall height is 440 mm, the width is 210 mm and the depth is 500 mm.
Weight and material: The basic weight of the steel case with aluminium and plastic front is approximately 8.7 kg.
Drive bays: Overall there are 5x 5.25 inch front drive bays and 2x 3.5 inch front drive bays. Additionally there are 3x 3.5″ internal drive bays for hard disks.
Slots: It's possible to mount up to 7 expansion cards.
Cooling: Two 120mm silent fans are included in delivery and they are already mounted at the back and at the front of the case, whereby they are connected with an y-adapter cable.
Miscellaneous: The case offers at the bottom of the case a blue illuminated power button, 2x 3.5mm jacks for headphones and microphone, 2x USB 2.0 connectors and one IEEE1394 firewire connector. Furthermore there is a blue LED for hard disk activity integrated in the top front edge of the iSolo 230.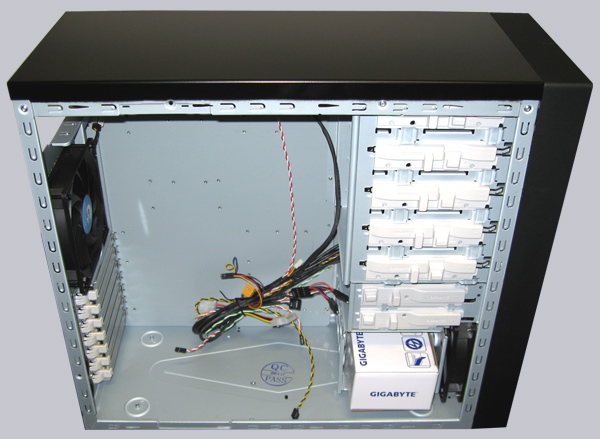 Layout, Design and Features of the Gigabyte iSolo 230 Case …