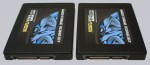 The two Mach Xtreme Technology MX-DS Fusion 2.5″ 60GB SATA3 SSDs MXSSD3MDSF-60G achieved at the SATA3 port as RAID-0 array nearly twice as high performance as in single operation without AHCI and the to date highest maximum ratings in ATTO benchmark.
The two Mach Xtreme Technology MXSSD3MDSF-60G 60GB MLC Solid State Drive with SandForce controller and 25nm Intel NAND were tested in a RAID array and reached pairwise as expected the almost double transfer speed compared to one SSD with the same RAID controller.
The read and write performance burst values in ATTO benchmark reached the to-date best results.
But the continuously transfer rates in AS SSD clearly showed the disadvantages of the onboard SATA3 controller in RAID mode compared to the AHCI mode.
Because similar to the controller in IDE mode, the results decreased rapidly at the same controller in RAID mode and has additionally the same disadvantages as the IDE mode, like the older technology communicating in Windows like missing TRIM, GC, NCQ, Hotplug, etc.
And of course the risk of loosing the data by a possible mailfunction of one of both SSDs in RAID0 is twice as high.
Last but not least took the boot time with activated RAID BIOS approx. 20-30 seconds more than without RAID BIOS.
The Microsoft Windows 7 Ultimate boot procedure from start screen to login screen was approx. 11 seconds and the Microsoft Windows 7 Ultimate boot procedure including motherboard BIOS and RAID BIOS took approx. 45 seconds.
All in all is a RAID 0 array with two or more Mach Xtreme Technology MX-DS Fusion 60GB SSDs only in some cases useful, even if e.g. the ATTO benchmark performance is nearly doubled.
As long as one backup all data frequently and do not allocate the full SSD capacity and is dissatisfied with the performance of one single SSD, one can take of course nevertheless advantages from the SSD RAID 0 setup.
Surely we will give shortly again a comparison to further Solid State Drives in RAID 0 at ocinside.de, because the highest performance at the lowest expenses is surely the goal of many readers.
Discuss in our forum and exchange experiences …
Here you can buy the Mach Xtreme Technology SSD …
Read on in the hardware test area with several hardware reviews …