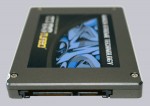 The Mach Xtreme Technology MX-DS Turbo 2.5″ 120GB SATA3 SSD MXSSD3MDST-120G achieved a very high read rate on SATA3 port in AHCI mode and in ATTO benchmark the to-date highest write performance.
The Mach Xtreme Technology MXSSD3MDST-120G 120GB MLC Solid State Drive with SandForce Controller and 25nm Intel NAND was tested both in more current AHCI mode, and in legacy IDE mode, whereby the AHCI mode showed clear advantages.
All read and write performance values were nearly identical to the ADATA S511 SSD with the same controller IC and 25nm Intel MLC memory as well.
Most write performance values were below the read performance, except the ATTO benchmark values, where the SSD reached in our tests the to-date highest transfer rates.
In AHCI mode on the SATA3 Controller we measured much higher 4k-64Thrd and sequential read performance than in legacy IDE with this Mach Xtreme Technology MX-DS Turbo 2.5″ 120GB SATA3 SSD.
So one should change the SATA controller mode in the BIOS to AHCI before installing the operating system.
The Microsoft Windows 7 Ultimate boot procedure from start screen to login screen only 8 seconds and the Windows 7 performance index reached 7.9 from 7.9 possible points !
All in all the Mach Xtreme Technology MX-DS Turbo 120GB SSD offers an extreme high performance in AHCI mode at a very good cost-performance ratio and received the Redaktion ocinside.de Overclocking Dream Award 09/2011 for this great result.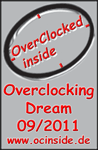 Discuss in our forum and exchange experiences …
Here you can buy the Mach Xtreme Technology SSD …
Read on in the hardware test area with several hardware reviews …