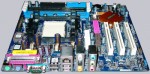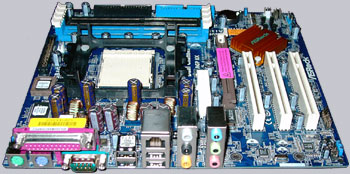 Result and general impression
+++ The ASRock 939A8X-M motherboard has at present a price of approx. 55 euro (10/2005), whereby this price is very low compared to other motherboards with similar equipment. We begin with the features, what this 244×219 mm small MicroATX board has to offer. ASRock gave the motherboard 2x IDE connectors for up to 4x ATA 133 harddisks, 2x SATA ports (RAID 0/1), 4 x ATX panel USB 2.0 ports, onBoard 10/100 LAN and the whole 6 audio connectors for the 7.1 Surround sound, which is by the way produced by the RealTek ALC-850 sound chip. All important drivers for Windows XP and older operating systems are provided on CDROM and are besides up-to-date at ASRock
for Download available. Furthermore the Sockel939 board can be equipped with altogether 4 memory modules and is upgradeable thus according to manufacturer to maximally 4 GB memory. During the use of 4 memory modules in the DUAL Channel mode one should use however four absolutely identical modules.
For responding the ULi M1689 chipset an AMI BIOS serves, whereby this is attainable not as usual over the Del key, but AMI-like via the F2 key. In the BIOS menu are e.g. change of the memory frequency of 133 MHz over 166 MHz to 200 MHz also the host clock of 140 to 300 MHz and the HT (hypertransport) frequency from 1x to 5x (200-1000 MHz) alterable beside extensive memory timing. The voltages are not completely so extensively, there unfortunately only the memory voltage (VCCM) and the CPU voltage (VCore) are alterable. However it would be anyway not recommendable to increase the chipset voltage of the ULi chipset without active chipset cooling.
Nevertheless could be realized in the test scarcely over 250 MHz, which quite represents a good host frequency to overclock the Socket 939 processor. So it's also with this inexpensive ASRock motherboard possible to get a little more from its CPU and the chipset remains pleasantly cool thereby. Like also with the ASRock Combo-Z motherboard the "boot failure guard" protection did not function for high overclocking settings unfortunately with too high host frequency. Whereby it becomes unfortunately necessary with a black screen by to high overclocking to put the BIOS back over CLEAR CMOS.
Result: The ASRock 939A8X-M Socket 939 motherboard offers a good basic equipment for small money, whereby one should attach not much importance to extensive overclocking. Nevertheless most frequencies and a few voltages can be changed, which can quite suffice for the entrance into the PC tuning. The performance and the equipment of the MicroATX motherboard is in this price region very fair, so that hereby straight customers are addressed who like to get a favorable Socket 939 system with SATA, IDE, 7.1 sound and a small network.
Special thanks to ASRock
for their support.
Picture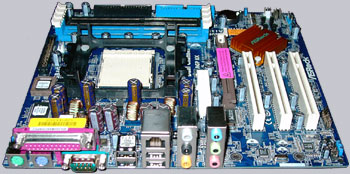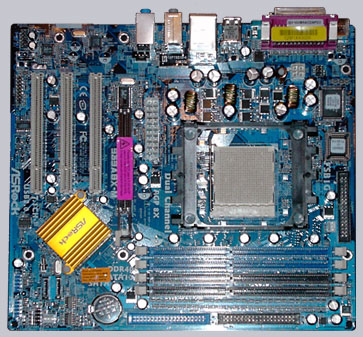 **** All Socket 754 motherboard tests since 01.08.2004 are based on an AMD Athlon 64 3200+ and Socket 939 reviews are based on an AMD Athlon 64 3000+ Venice with a HIS Excalibur Radeon 9600 Pro videocard, Kingmax 256 MB PC2700 memory module and the following software configuration: Windows 98 SE, DirectX 9b, Catalyst 3.6 video driver and 3DMark 2003. Since all benchmark results should only offer a comparison among themselves, I select Win 98 SE for a faster OS installation which is of course not the usual OS for Athlon 64 systems but enough for a comparison.