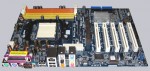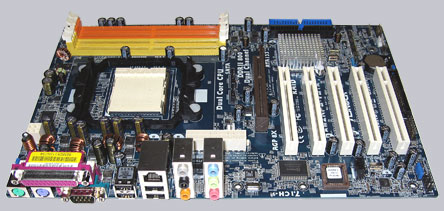 Manufacturer
ASRock
Name
AM2NF3-VSTA
Type / Chipset
Socket AM2 / nVidia nForce3 250 Chipset
Dimensions
+++ 21 mm (44 mm radius) around the socket to the next capacitor or other parts of the mainboard – for further information see Fit for Fan. The overall size is 305 x 244mm.
Slots
++++ 5x pci, 1x AGP (4x/8x), 4x DDR2-533 – DDR2-800 (max. 8GB RAM)
Connectors

+++ 1x Floppy, 2x UDMA133, 2x SATA-150, 1x serial (and 1x IrDA), 1x parallel, 2x PS/2, onBoard 10/100 Mbps base-T Ethernet (Realtek RTL8201 CL), 8x USB 2.0/1.1 (4x of them internal shared/optional, Slot bracket not included), 1x Gameport (mounting bracket isn't delivered with the mainboard), 8-Channel AC'97 C-Media CM6501 onboard 7.1 sound with 6x connectors (1x int. Aux, ext. Line in, ext. Mic, ext. Front out, ext. Side out, ext. Rear out, ext. Center/Subwoofer) and 2x fan connectors.

Vcore
+++ BIOS between 0.80 Volt and 1.40 Volt in steps of 0.025 Volt (Vcore depends on the used CPU)
Multiplier
++++ BIOS between 4x and 25x (max multi depends on the used CPU) and 1x to 4x HT
Host Frequency
++++ BIOS between 140 and 300 MHz (AGP 50 – 100 MHz)
VIO/VDD
++ VDIMM adjustable between Normal, High and Ultra High, AGP adjustable to Low or High
Performance****
++++ Benchmark ratings with AMD Athlon 64 3000+ Orleans Processor. 1x AGP ! HIS Excalibur Radeon 9600 Pro video card: 3810 points with 3DMark 2003
Manual and Labeling

++ Complete and well placed motherboard description and except for the often-mentioned missing BIOS section, it's a detailed manual in different languages e.g. German, English, etc. Small devaluation of the manual, because the BIOS is explained only in the manual on the CDROM, which doesn't help if you are in the BIOS!