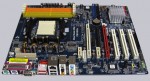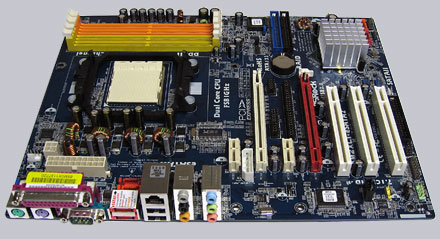 Result and general impression
+++ The ASRock AM2XLI-eSATA2 motherboard has a price of approx. 69 Euro (11/2006) and is thus in the lower price segment of the Socket AM2 motherboards.
After more than 20 different AMD Socket 939 and Socket 754 Motherboard Reviews and the recently published AM2 Upgrade report, it's time to test more AMD Socket AM2 boards. To compare all Socket 939, 754 and Socket AM2 motherboards a CPU with the same frequeny was used and just the memory modules were changed to the new 240-pin DDR2 memory. The performance difference is thus very well comparable.
As already mentioned in the recent PCIe SLI (2 PCIe graphics card slots) reviews, most of the SLI motherboards offers as a result of the standardized ATX form factor only 2 PCI slots. Whereby ASRock managed it with a good board layout to place all the 3 PCI slots in spite of both PCIe SLI slots for the video cards and two additional PCIe 1x expansion slots.
This board offers two 8x PCIe Slots for the graphics cards and it's possible to increase the data rate with a few jumpers to 16x if only one PCIe slot is used. Anyway, depending on the used video cards and the application, the performance difference of PCIe 8x compared to PCIe 16x is nearly impossible to measure.
The ASRock AM2XLI-eSATA2 can be equipped with up to 4x DDRII memory modules and is expandable depending upon the used operating system to maximally 8 GB. The allocation for the DUAL Channel memory support is specified in the manual and should be followed absolutely.
Moreover, the board offers 2x IDE connectors for up to 4x conventional ATA 133 hard disks, 4x SATA-II ports (RAID 0/1) and 2x eSATA-II ports for external harddisks, which have to be installed at two of the four internal SATA-II ports. A bootable CDROM and a short guidance for the correct installation of the Serial ATA-II ports are included in the scope of delivery. The manual also offers all informations you need to manage a new installation of Microsoft Windows XP or Windows Vista with a primary S-ATA HDD.
In addition there're 2x USB 2.0 ports at the ATX panel, three internal USB 2.0 plugs for up to 6 optional USB ports and an onboard 10/100 LAN with WoL support (Wake on Lan).
Fortunately meanwhile ASRock is using the new onBoard RealTek ALC-888 sound chip, which offers the full 7.1 Surround sound, and digital output features. This is very favourable regarding the Microsoft Windows Vista operating system, because it's possible to get the Vista Premium and Vista Basic Logo to ensure the full OS support.
Here's a picture of the newest ALC 888 8-channel sound chip …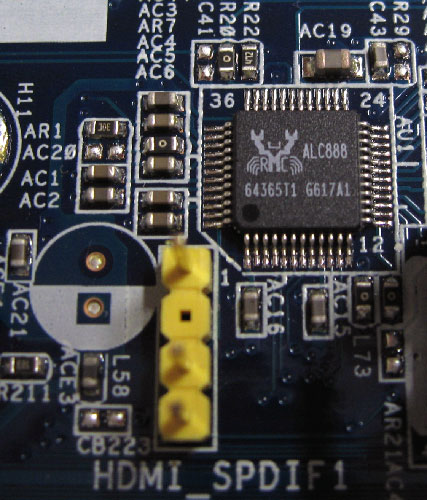 Let us start with the BIOS options and the BIOS overclocking features. You get access to the AMI BIOS by pressing the "F2" key. In the BIOS menu are e.g. options to change the memory frequency from 200 MHz over 266 MHz and 333 MHz up to 400 MHz (DDR2 400/533/667/800) beside extensive memory timings. The host clock is adjustable from 150 Mhz up to 400 MHz and the HT (hypertransport) frequency from 1x to 5x (200-1000 MHz). The optional synchronous or asynchronous setting of the CPU/PCIe Bus with a fix PCI clock of 33.33 MHz up to 37.5 MHz is a very helpful feature for good overclocking results.
It was possible to overclock the reference clock up to 280 MHz by asynchronous clocking. This results in a frequency of approx. 2500 MHz for the AMD Athlon64 3000+ Socket AM2 CPU with the locked 9x multiplier. This result could be surely improved by increasing the chipset voltage, but it's difficult to get higher results than approx. 290-300 MHz with this ULi based chipset.
The BIOS setup offers in addition memory voltage (VCCM) and the CPU voltage (VCore) settings.
All most important monitoring values like the CPU temperature, chipset temperature, fan rotation speeds, core voltage, supply voltages are shown in the Hardware Health Menu and an option for a temperature controlled fan is also included.
Result: The ASRock AM2XLI-eSATA2 Socket AM2 PCIe (SLI) motherboard offers good overclocking features, a great performance and a nice equipment for little money.
It offers 7.1 Surround sound over six audio jacks, two 8x PCI express Slots, three PCI Slots, four DDR2 Slots for up to 8 GB RAM and a comprehensive range of accessories is delivered with that fast Socket AM2 board. If the usual 100 MBit LAN support is fast enough for your home network (e.g. due to a 100 MBit Switch), it's a good deal for you and for the future of Windows Vista.
Special thanks to ASRock
for their support.
Picture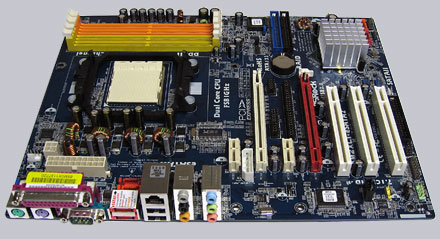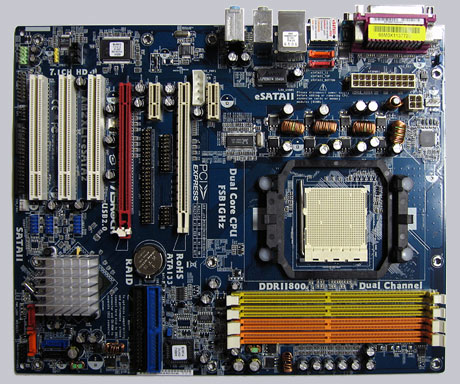 **** All Socket 939 motherboard reviews since 01.11.2006 are based on an AMD Athlon 64 3000+ Orleans CPU, 1x (or SLI systems with 2x) Gigabyte GV-NX66T128VP Nvidia 6600 GT PCI Express video cards, 2x512MB Crucial Ballistix DDR2-800/PC2-6400 memory modules and the following software configuration: Microsoft Windows XP SP2, DirectX 9.0c, Forceware 81.85 video driver and 3DMark 2003. All benchmark results should only offer a comparison among themselves for a comparison.