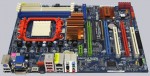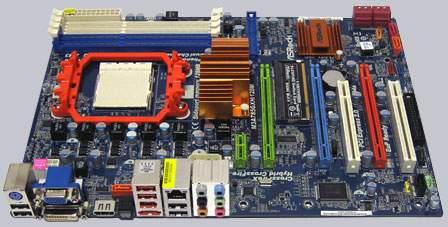 Result and general impression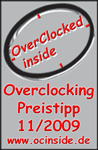 ++++ The ASRock M3A785GXH/128M/A/ASR motherboard has a price of approx. 70 Euro (11/2009) and is thus in the lower price segment of the Socket AM3 motherboards.
The new ASRock M3A785GXH/128M Socket AM3 DDR3 motherboard is based on an AMD chipset with integrated GPU like the recently tested ASRock M3A790GXH/128M. This M3A785GXH board is nearly identical in construction to the M3A790GXH. But it is based on the AMD 785G chipset with SB710 southbridge and not on the AMD 790GX chipset with SB750 southbridge. The current M3A785GXH/128M mainboard costs approximately 10-15 euros less in online shops, although it offers an almost identical basic equipment. In the test report we will see if one should save the money, how high it is overclockable, if the AMD 785G can keep up with the very fast AMD 790GX chipset and where the differences are between the AMD 7xx chipsets. First off, the price is really amazing!
The M3A785GXH/128M was once again supplied in the new designed box with glitter effect. The cardboard shows already the complete AMD solution, briefly AMD fusion: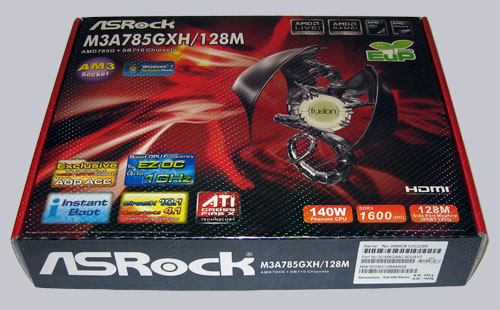 A first look to the M3A785GXH/128M not only shows the similarity: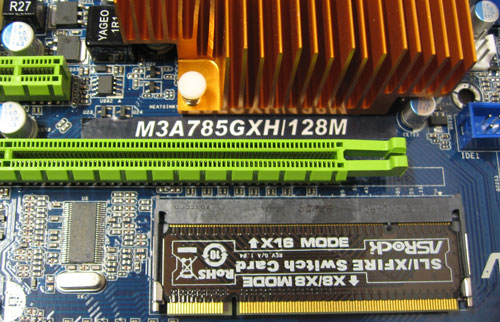 The labeling of the M3A785GXH/128M is a sticker and under the sticker one can see M3A790GXH/128M. So we can assume that it's nearly the same board PCB of the more expensive board except the chipset, southbridge and sound chip: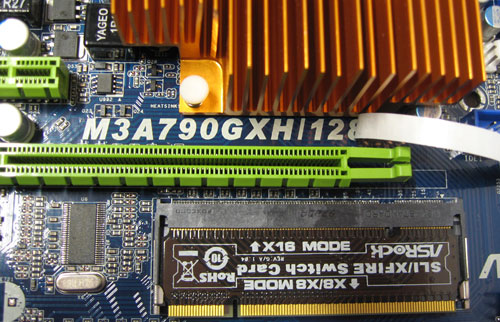 Equipment and other features …
ASRock's M3A785GXH/128M motherboard comes with a manual, two quick reference guides, two CDs, one Floppy cable, one IDE cable, two SATA data cables and one ATX I/O panel.
Expansion cards …
This 3-Way CrossFireX motherboard offers three PCI Express 2.0 video card slots, whereby either two can operate in x8 mode, or one in x16 mode, one in x8 mode and one in x4 mode.
Depending upon number of video cards the SLI/XFire Switch card should be used correctly to get the optimal performance for the single, CrossFireX or 3-Way CrossFireX operating. If one like only use one video card on the M3A785GXH/128M, one should insert the PCI Express video card into the green PCIe slot, in order to get the fastest x16 bandwidth. By the way one could use theoretically also several nVidia video cards, however not as SLI, but only the output to several devices would be supported. Additionally to the three PCI Express 2.0 slots there are 2 PCI slots and one x1 PCIe 2.0 slot.
Memory …
The ASRock M3A785GXH/128M can be equipped with up to four DDR3 modules and is expandable depending upon operating system used (see list) to maximally 16 GB memory.
The Socket AM3 motherboard supports DDR3 memory modules and can be optimized in the BIOS for DDR3-800, DDR3-1066, DDR3-1333 or DDR3-1600 and faster Dual Channel modules.
Hard disk drive connectors …
The motherboard offers one IDE connector for maximally two conventional ATA 133 drives, six SATA II connectors (3 Gb/s) and one eSATA II port, which have to be connected internally to one of the six ports. The S-ATA II ports supports RAID 0, RAID 1,RAID 10, JBOD and the Hot Plug function in the AHCI mode (AHCI stands for Advanced Host Controller Interface). RAID level 5 isn't supported by the SB710 southbridge unlike the SB750. For each mode optimized Smart BIOS values can be loaded.
The manual contains all basic information to manage a new installation of Windows XP, Windows Vista or Windows 7 with S-ATA hard disk drives and how to make a RAID installation. 32-Bit and 64-Bit drivers for Windows XP and Windows Vista are provided on the CD and can be downloaded on the ASRock support page.
New on ASRock boards are the bent Serial ATA connectors, which need somewhat less PCB space and depending on the enclosure used, it could be easier to connect the cables with the HDD.
Here is a picture of the bent SATA II connectors: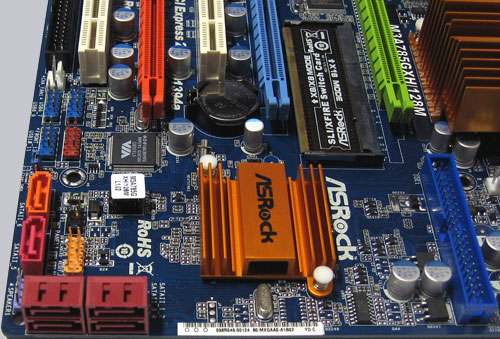 USB and Firewire …
The board has six USB 2.0 connectors at the ATX panel and three internal USB 2.0 plugs for up to six optional USB ports. So ASrock utilize the full 12 USB ports of the 785G chipset. With the M3A785 ASRock didn't forget the Firewire device users, because the board offers one IEEE1394 Firewire port at the I/O panel and another optional internal IEEE1394 port.
Network …
The ASRock M3A785GXH/128M motherboard uses the Realtek RTL 8111 DL chip, which makes a WoL capable 10/100/1000 network connector available at the ATX panel.
Serial and parallel port …
This motherboard does not provide a parallel port and the serial port is only optionally available as internal connector.
Sound …
The ASRock M3A785GXH/128M motherboard is equipped with the ALC888 HD audio codec, which supports 7.1 surround sound for example analog over 6x 3.5mm connectors at the ATX panel or over the internal analog connector. In comparison to this board, the M3A790GXH/128M has an ALC890 HD audio codec with content protection.
For the digital output there is one internal HDMI SPDIF out connector available to connect it for example with a SPDIF cable to a HDMI suited video card, in order to get the digital audio and video signal to a HDMI equipment like a HD-Ready LCD TV. Over the BIOS it's possible to set the sound output to the integrated HDMI port. Additionally there is also an optical digital SPDIF output and Microsoft Windows Vista Premium Level HD Audio support. So most users don't need to buy an additional sound card with digital outputs.
Graphics …
In order to get 3DMark Vantage or 3DMark06 benchmark working with the HD4200, it was necessary inspite of the current 0906a Hotfix to update a DLL file so that the new HD4200 IGP was recognized.
Theoretically, the new ATI Radeon HD4200 IGP of the AMD 785G chipset is with same GPU frequency faster than the ATI Radeon HD3300 IGP of the AMD 790GX chipset and support in addition DX10.1 instead of DX10. Practically, the HD4200 (AMD 785G) was clearly slower by the slower GPU clock in 3DMark06 with 1499 points than the HD3300 (AMD 790GX) GPU, which achieved 2235 points in 3DMark06.
Further overclocking tests of the HD4200 GPU from 500 MHz to 600 MHz could reduce the distance of both benchmark values noticeably, but it had the first video failures with 700 MHz. A little bit below 700 MHz GPU clock are necessary to get similar benchmark values with the HD4200 as with the clearly higher clocked HD3300 GPU. Since some HD4200 IGP OC results beyond 1000 MHz can be already found, it is like always with overclocking outside the specification: Each CPU, GPU, RAM, chipset, etc. overclocking result is different!
The direct performance difference with manufacturer defaults is thus enormous high, but actually only with onBoard video solution and only with default settings.
A benchmark comparison of values with one nVidia GTS250 PCI Express video card doesn't show a performance difference with 12513 to 12510 points. With Hybrid CrossFireX technology in combination with an additional ATI video card, the benchmark result with two IGPs would be different. However, only few video cards are applicable (e.g. a ATI Radeon HD3450) officially to cooperate with the integrated video chip as Hybrid CF.
Otherwise the HD 4200 video processor supports DirectX 10.1, has integrated 128MB Sideport RAM on the M3A785GXH/128M motherboard, supports HDCP, Full HD 1080p and offers thanks to onBoard HDMI connectors optimal conditions for a Home theatre PC.
Here is a picture of the ATX panel connectors: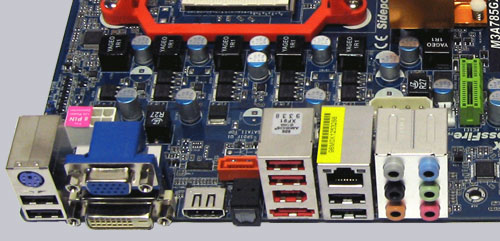 From left to right one can see the PS/2 connector for a keyboard and 2x USB, 15-pol Sub-D VGA, DVI-D VGA, HDMI, optical SPDIF out, 2x USB and IEEE1394 and eSATA, RJ45 Gigabit LAN and 2x USB and 6x 3.5mm jacks for analog sound.
The picture shows additionally the solid caps for higher stability and better durability of the motherboard. Behind the optical SPDIF output one see the SATA connector, which must be connected internally with a SATA connection, in order to use the eSATA port.
BIOS and Overclocking …
Let us continue with BIOS options and BIOS overclocking. By pressing the F2 key, you get access to the AMI BIOS with all important hardware settings.
The P1.30 BIOS offers a lot of DDR3 memory settings like e.g. the memory frequency setting from 400 MHz over 533 MHz and 667 MHz on up to 800 MHz (DDR3 800/1066/1333/1600).
The host clock is adjustable from 150 MHz up to 500 MHz and the HT (hypertransport) frequency is adjustable from 200 to 2000 MHz. The PCIe frequency is adjustable from 75 MHz up to 250 MHz and with the asynchronous or synchronous setting of the CPU/PCIe bus, it is possible to increase the host frequence independent of the PCI and PCIe clock. Changes to the frequencies are directly shown in the BIOS, so if you change for example the reference clock, you will see how high the CPU frequency would be or how fast the DDR3 memory would clock with each divisor on this setting.
With asynchronous clock setting, it was possible to reach a fabulous high 350 MHz reference clock and that is clearly higher than the previous M3A790GXH/128M board result. Some may think that the reference clock is no longer important for overclocking of e.g. Black Edition processors with free multiplier selection, but the reference clock is still very important for good PC overclocking results. And of course not every user like to spend more money for these AMD BE CPUs.
The boot failure guard was checked in this review as well and it was possible to start the PC on standard values with too high overclocking settings without using the Clear CMOS Jumper. It was just necessary to press the RESET button two times.
Another interesting feature is the so-called ACC BIOS setting. With the Advanced Clock Calibration feature it was possible to unlock the deactivated fourth core of the AMD Phenom II 710 X3 test CPU. Unfortunately it's not possible with every Phenom II CPUs, but the BIOS options are nevertheless present and this is surely for some buyers an important purchase aspect.
Furthermore, this board offers a NB voltage from 0.6000 Volt to 1.6125 Volt, a Vcore setting on the Phenom II test CPU from 0.6000 Volt to 1.6125 Volt and a HT voltage setting from 1.30 to 1.35 Volt. The DDR3 memory voltage can be set between 1.48 Volt up to 2.40 Volt in steps of 0.06 Volt, whereby these high memory voltages should be used with caution also with very good cooling and OC RAM. The GPU can be adjusted from 350 MHz to 2000 MHz (default 500 MHz) and the Sideport memory can be clocked from 533 MHz to 1700 MHz. And as a special BIOS feature one can store four different BIOS settings. Thus one can save for example balanced BIOS settings, overclocking settings and underclocking settings in a user profile of the BIOS.
The downclocking or underclocking was also tested in this review. It was possible to lower the AMD Phenom II 710 CPU multiplier over the BIOS to 0.5x and th processor can be underclocked in such a way with 150 MHz reference clock to approx. 75 MHz. Even if probably nobody like to underclock an AMD Phenom II 710 processor from 3x 2600 MHz to 3x 75 MHz CPU clock. With unlocked fourth core of the AMD Phenom II 710 CPU it was possible to underclock down to 100MHz.
Also several energy saving options are available on this ASRock motherboard. The new M3A785GXH/128M board offers the Away Mode, which is particularly very important when using Microsoft Windows MCE (Media Center Edition) to e.g. record TV shows when the PC system is nearly powered off. And IES (Intelligent Energy Saver) reduces the power consumption by lowering voltages on less load. The features can be e.g. adjusted with the included OC Tuner Software. The current consumption of the test PC with AMD Phenom II 710 X3 CPU, Nvidia GTS250 PCIe 2.0 video card, 4GB DDR3-1333 memory and hard disk drive was without overclocking and depending upon load between approx. 68 Watt up to 134 Watt. The current consumption without video card with onBoard HD 4200 graphics was depending upon load between very low approx. 44 Watts up to 66 Watts.
The SB710 southbridge temperature was only 39.8°C after several benchmarks.
The BIOS of the passive cooled M3A785GXH/128M motherboard supports by the way a CPU Quiet Fan option (temperature fan control) for 4-pin CPU fans.
ASRock offers addionally a very up-to-date option to flash a BIOS update. By the so-called ASRock Instant Flash option (Advanced BIOS) or during the PC start one can get into the ASRock Instant Flash utility. Hereby one can very easy upgrade a downloaded ASRock BIOS without further boot CD, boot stick, boot disk, etc.
Just start the ASRock Instant Flash utility: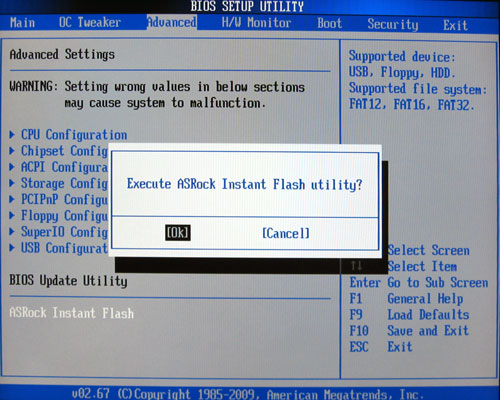 Then select a BIOS Flash ROM from any FAT formatted device like an USB Stick: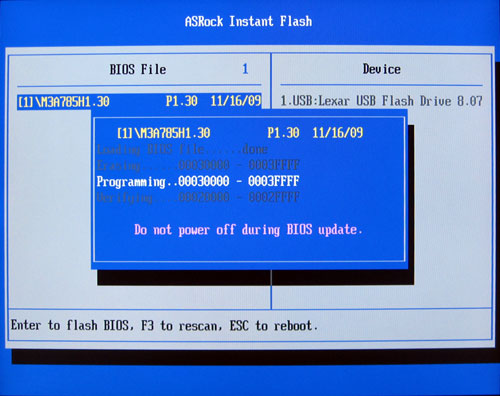 Now, the BIOS is flashed without without any boot medium: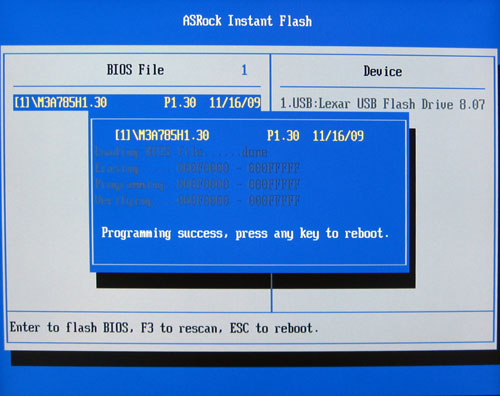 Result …
The ASRock M3A785GXH/128M AMD Socket AM3 motherboard for DDR3 memory modules offers an enormously high overclocking result with the AMD 785G chipset and SB710 southbridge at a very low price. The list of positive features is very long and it is necessary to use a magnifying glass to find negative details.
The integrated onboard ATI Radeon HD4200 IGP performance of the M3A785GXH/128M is not as fast as the higher clocked ATI Radeon HD3300 IGP video solution of the previous tested M3A790GXH/128M motherboard. But the equipment is almost identically, the power consumption and the price is clearly lower.
Additionally the ASRock M3A785GXH/128M motherboard offers a very good basic equipment with Gigabit LAN, 7.1 sound, analog sound output over six connectors, digital sound output over one optical and one internal SPDIF connector, up to two IEEE1394 ports, up to twelve possible USB ports, six SATA II ports with RAID support at which one SATA port can be used as eSATA and in addition there are video outputs over D-Sub, DVI-D and HDMI connectors.
Thanks to the enormously high reference clock result up to 350 MHz and a lot of nice features, the ASRock M3A785GXH/128M motherboard receive the Redaktion ocinside.de OverClocking Pricetip Award 11/2009 and is very recommendable.
All in all one can adhere the following as small decision for the motherboard purchase: If one like to install one or more PCIe video cards into the PC, one can save surcharge to the AMD 790GX chipset in most cases and buy the AMD 785G. Who like to use the onBoard graphics solution, get a faster clocked HD3300 IGP with higher power consumption by the AMD 790GX. Who like to overclock the integrated HD4200 video processor of the AMD 785G of chipset, can reduce the performance difference relatively simple and get some improvements of a few graphics features.
Special thanks to ASRock for their support.
Picture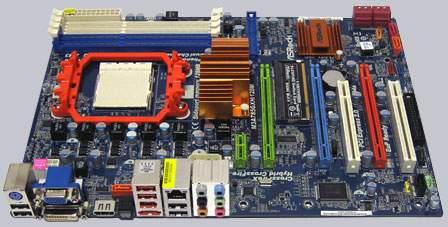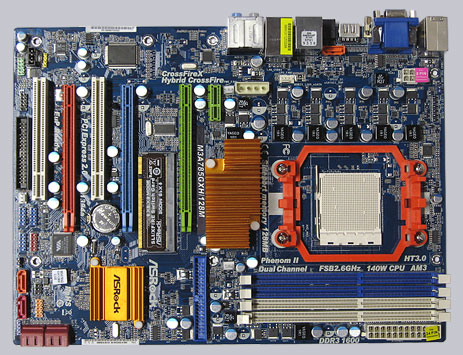 * All Socket AM2 / AM3 motherboard reviews since 01.08.2009 are based on an AMD Phenom II 710 X3 CPU, 1x Gigabyte GV-N250OC-1GI Nvidia GTS250 PCI Express 2.0 video card, 2x 1024MB Crucial Ballistix Tracer DDR2-1066/PC2-8500 memory modules on DDR2 mainboards or 2x 2048MB Crucial Ballistix Tracer DDR3-1333/PC3-10600 memory modules on DDR3 mainboards, and the following software configuration: Microsoft Windows 7 RC, Microsoft Windows Vista Ultimate, Windows XP SP2, SiSoftware Sandra 2009 SP3, Futuremark 3DMark03, 3DMark06 and 3DMark Vantage (the software is available in the Links & Downloads section). All benchmark results only offer a comparison among themselves for a rough motherboard performance comparison.
Back to the AMD Athlon 64 and AMD Phenom motherboard comparison !