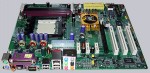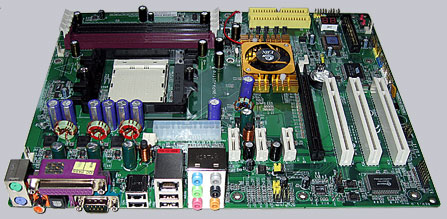 Result and general impression
+++ The EPoX 9NPA+ Ultra Socket 939 PCIe board costs at present approx. 100 euro (03/2006) and is appropriate thereby in the upper price segment of the Socket 939 PCIe Motherboards.
EPoX offers with the 9NPA+ Ultra a Socket 939 board with only one PCIe 16x video card Slot. Surely it's a legitimate question, whether it makes sense to acquire a board with one PCI express Slot in the SLI era (2 PCIe Slots). But due to the standardized board sizes there's usually unfortunately mostly the choice between 3 PCI Slots with 1x PCIe 16x Slot or 2 PCI Slots with 2x (SLI) PCIe 16x video card Slots. Furthermore the SLI technology isn't interesting for all application types and requires besides somewhat higher motherboard initial costs.
On this nForce4 Ultra Motherboard the variant with 3 PCI Slots and 1 PCIe Slot is used. The nVidia nForce4 Ultra chipset manage the four S-ATA II RAID (0/1/0+1) connectors with up to 3 GB/s data-rate, 2 connectors for up to 4 UDMA 133 (P-ATA) hard disks and up to four DDR memory modules with Dual Channel support.
EPoX uses the 8-channel ALC 850 sound chip on this board, which is able to give support for up to 8 sound channels by 6x 3.5mm connectors. And instead of the integrated 10/100 chipset NIC EPoX use the Vitesse 8201 LAN chip, which provides up to 1 Gigabit network speed and is thus optimally for a fast home network.
Here's a picture of another new EPoX characteristic. They offer beside the 7-segment post code display (to examine possible start up errors) newly 2 buttons for Power and Reset: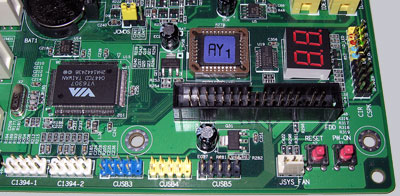 The two buttons for power and reset are optimal for any work inside the PC case, since one doesn't have to attach any frontpanel cable to switch on or reset the PC system. After switching on the PC possible error diagnostics succeeds more simply, because there're 3 additional blue LEDs attached which indicates the status of the chipset (LED1), the status of the memory modules (LED2) and of the CPU (LED3).
The BIOS offers likewise dozens interesting options, e.g. gigantic memory settings to adjust the used memory modules optimally. In addition, the adjustment of the Vcore (CPU voltage) is awesome with the 9NPA+ Ultra, because it's possible to increase the Vcore (as mentioned in the current Socket 939 Pinmod guide) with additional +0.35 V to up to 1.90 Volt CPU voltage! However, such a high Vcore is recommended surely only for extreme overclocker and requires a very good CPU cooling like e.g. water cooling or compressor cooling.
And if a board offers so many overclocking features, of course also overclocking may not be missed in this motherboard test report. BTW. the integrated monitoring of the boot process was checked several times within the test procedures and automatically starts an incorrect PC boot up (e.g. to high overclocking), by setting all frequencies and multiplier to default values. So it's not necessary to set the Clear CMOS jumper when you've overclocked to high.
The HT reference clock reach even without increasement of the chipset voltage stable up to awesome 320 MHz, whereby the active chipset cooling ensures a good heat dissipation of the nForce 4 ultra chipset. Fortunately the chipset fan gets its power supply via an additional 2-Pin connector, so that further all 3 fan connectors are still usable for other cooling devices like case fans, etc.
Here's a picture of the relatively quiet, but effective active chipset cooler: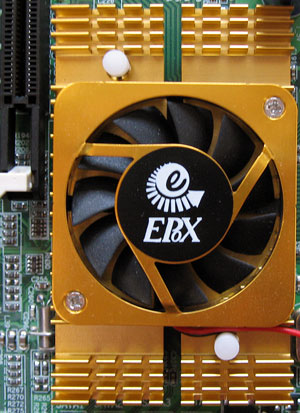 Result: The EPoX 9NPA+ Ultra Socket 939 PCI express Motherboard offers "only" one 16x PCIe video card Slot, but three "1x PCIe" Slots, three PCI card Slots, four dual Channel DIMM Slots, four RAID 0/1/0+1 capable S-ATA II connectors, 8 channel sound chip, 1 Gigabit LAN with integrated Firewall and an extensive software package. All in all thus brilliant equipment justifies the price of the EPoX board easily. And owing to the great overclocking features of this Socket 939 motherboard it's a pleasure for overclocker to get very high OC results.
Special thanks to EPoX
for their support.
Picture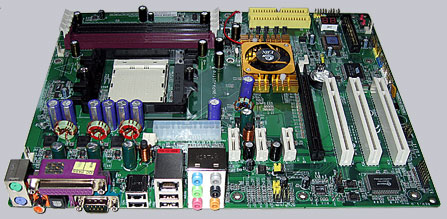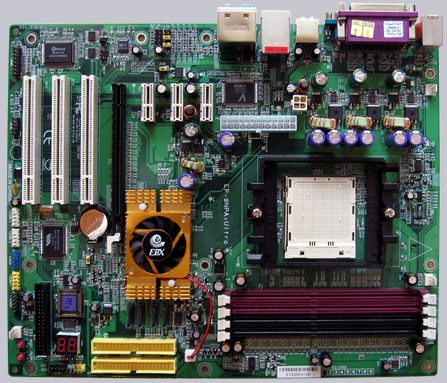 **** All Socket 939 motherboard reviews since 01.11.2005 are based on an AMD Athlon 64 3000+ Venice processor, 1x (or SLI systems with 2x) Gigabyte GV-NX66T128VP Nvidia 6600 GT PCI Express video cards and the following software configuration: Microsoft Windows XP SP2, DirectX 9.0c, Forceware 81.85 video driver and 3DMark 2003. All benchmark results should only offer a comparison among themselves.