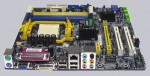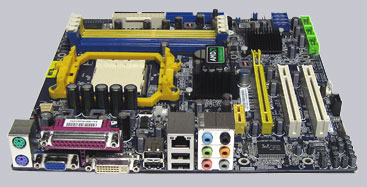 Result and general impression
++ The Foxconn A690GM2MA-8KRS2H motherboard has a price of approx. 60 Euro (06/2007) and is thus in the lower price segment of the Socket AM2 motherboards.
The Foxconn A690GM2MA 8KRS2H MicroATX motherboard offers with the new AMD 690G chipset an onboard graphics solution with DVI and Sub-D VGA ouput, as well as internal TV-Out connection. The ATI Radeon 1200 series is by far not comparable with current PCIe video cards, however it offers sufficient performance for office applications and thanks to the provided Microsoft Windows Vista drivers it's possible to build an inexpensive Vista based PC platform. There're some deficits regarding overclocking, but this shouldn't be essential to build a HTPC. All strengths and weaknesses of the new A690GM2MA-8KRS2H motherboard are shown in the following test report …
Equipment and other features …
The Foxconn A690GM2MA motherboard (model 8KRS2H) offers one PCIe 16x slot, one PCIe 1x slot and two PCI slots for conventional extension cards.
Furthermore it offers one IDE connector for up to 2x conventional ATA 133 HDDs and 4x SATA II connectors for newer HDDs which can also operate in different RAID modes.
The Foxconn A690GM2MA-8KRS2H can be equipped with up to 4 DDRII memory modules and the memory is expandable depending upon operating system used to maximally 8 GB. The allocation for the DUAL Channel memory support is indicated by colored DDRII slots and this is absolutely necessary, because a motherboard manual is not included and the quick reference guide doesn't contain descriptions about the correct memory assembly!
Besides, there are 4x USB 2.0 connectors at the ATX panel, three internal USB 2.0 plugs for six optional USB 2.0 ports and one onBoard Gigabit LAN port.
In addition it offers an IrDA port, one optional COM port, one LPT port, an internal TV-out header and of course several internal and external audio connectors.
The integrated onBoard RealTek ALC-883 soundchip allows 7.1 surround sound and has an internal digital ouput with SPDIF out. For the sound input and output are the complete 6x 3,5mm connectors at the ATX panel available, which supports thus an optimal connection for surround speakers.
As previously mentioned, the AMD690G chipset offers the onboard ATI Radeon 1250 graphics solution, which is unfortunately not sufficient for current 3D games, but it's a great solution for a HTPC or PC with usual Office software or simple Multimedia applications. The direct benchmark comparison of the 6600 GT PCIe video card campared to the onBoard solution is specified in the upper table at "performance" and got with 3D Mark approx. 7 times difference. You should consider well if you would like to develop a power saving Low-End PC, or spend the motherboard a faster PCI express video card and deactivate the integrated GPU (Graphics Processing Unit). In this case it's also possible to use the integrated GPU for dual output.
BIOS and Overclocking …
Let us now begin with the most important BIOS options and the possible BIOS overclocking. With the Delete key one can enter the AMI BIOS as usual to get all hardware settings.
The BIOS has some interesting features, but it's necessary to search a little bit in order to find all hidden entries of the BIOS. Tuning freaks would certainly like to get a modified BIOS with more options in the main categories, but we should not forget the user's main focus of this board – and sometimes less is more 😉
The BIOS offers extensive settings e.g. the memory frequency setting from 200 MHz over 266 MHz and 333 MHz up to 400 MHz (DDR2 400/533/667/800) and several timing adjustments. Helpful is the adjustment "limit" (in addition to "auto" and "manual") to limit the memory frequency to a selected value.
It's no problem to adjust the host clock frequency in a very wide range from 200 MHz up to 400 MHz, but there's no option for the CPU multiplicator and no option for the important HT (hypertransport) divisor, so an increasement of the reference clock will exceed the maximum CPU HT frequency very soon. Unfortunately there's no working OC protection, so it's necessary to set the "clear CMOS" Jumper if the overclocking was too high and this is no good choice, because in this case it's necessary to re-enter all BIOS values once again.
It was nevertheless possible to succeed a stable reference clock overlocking up to 310 MHz. For the AMD Athlon64 3000+ Socket AM2 CPU with the 9x multiplier lock it results in an enormously high CPU frequency of approx. 2790 MHz ! This is indeed a very nice result in view of the missing Vcore option and in view of the very high HT clock of more than 1500 MHz (caused by the locked HT divisor). So it's difficult to say if the maximum stable reference clock is limited by the CPU or chipset. Anyway, very high overclocking isn't very important for a HTPC regarding higher power consumption and higher heat emission.
BTW. the Foxconn A690GM2MA-8KRS2H doesn't display the CPU frequency changes on the boot screen, so it's necessary to check the frequency with programs like CPU-Z or WCLK (see OverClocking Software Download) within the operating system. Since the chipset is relatively new, one should visit the Foxconn support page in order to download a newer BIOS version.
Positive are several very new power saving options in the BIOS which offer a power limit of the PCIe slot and lower the frequency or deactivate memory slots if they're not in use. These are good news, because of the increased electricity charges (most notably for 24/7 PCs) and the current discussions about environmental pollution.
The new power saving functions also help to keep the PC cool and this is of course an important thing to build a silent PC. Another nice feature is the integrated fan control option for the CPU fan and case fan. In combination with the passive cooled chipset it's indeed easy to build a quiet PC.
Result …
The Foxconn A690GM2MA-8KRS2H Socket AM2 PCIe MicroATX motherboard is a very good choice to build an inexpensive, quiet power saving PC. Above all, the integrated GPU with DVI, VGA and internal TV out option allows the user to save some money and thanks to the passive cooled chipset it is easy to build a very quiet PC. Because of the good equipment with 7.1 sound, four SATA II ports and Gigabit LAN there should be no problem with the small amount of PCIe and PCI slots. Due to the missing HT divisor option, as well as the missing Vcore and multiplicator option, this AMD690G based motherboard is suitable to only a limited extent for overclocking. Even if the overclocking result with 310 MHz reference clock is very high, it stresses the processor unnecessarily by some missing overclocking options.
Special thanks to Foxconn for their support.
Picture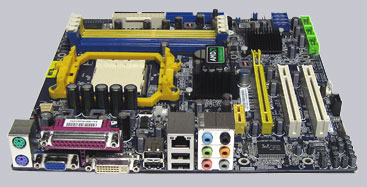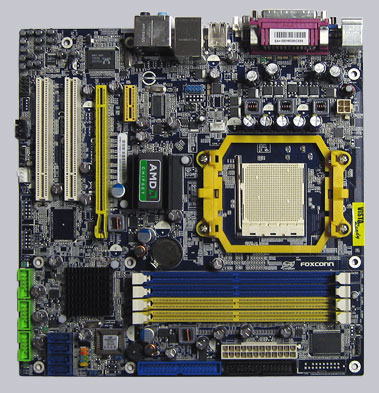 **** All Socket 939 motherboard reviews since 01.11.2006 are based on an AMD Athlon 64 3000+ Orleans CPU, 1x (or SLI systems with 2x) Gigabyte GV-NX66T128VP Nvidia 6600 GT PCI Express video cards, 2x512MB Crucial Ballistix DDR2-800/PC2-6400 memory modules and the following software configuration: Microsoft Windows XP SP2, DirectX 9.0c, Forceware 81.85 video driver and 3DMark 2003. All benchmark results should only offer a comparison among themselves for a comparison.