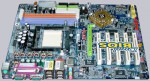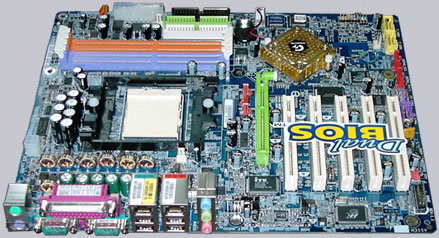 Result and general impression
++++ The GA-K8NS Ultra -939 AGP board has at present a price of approx. 110 Euro (10/2005) and is already appropriate thereby in the upper price segment of the Socket 939 AGP Boards. Gigabyte brought the "Ultra" variant of the small brother K8NSC with the GA-K8NS Ultra Motherboard on the market, whereas "Ultra" is not only regarding the chipset, but rather also regarding the equipment. Because the board offers high quantity of quality features …
The GA-K8NS Ultra offers 2 connectors for up to 4 UDMA 133 hard disks, to 2 Serial ATA150 connectors, which are controlled by the chipset and 2 further S-ATA of connectors, which are controlled by the Sil 3512 chipset and in addition are appropriate for the RAID mode. Furthermore there are 4 slots for up to 4GB DDR memory modules with Dual Channel support (absolutely consider the correct allocation of the banks in the manual) and 8 USB ports. The sound chip is the well-known 8-channel ALC850, which can be used with the provided Combo kit mounting bracket as true Surround audio all-rounder and thus all 8 channels are available. Gigabyte however with this board not only importance to good audio characteristics attached, but offers besides so far as sole board in the test whole 2 LAN connectors. Thus the integrated 10/100 megabit connection can be used for example for DSL and the 1 Gigabit Marvell 8001 network adapter can be used for a fast LAN with another IP range. BTW. all connectors are exemplary colored marked and besides even the LED connectors are marked with a small "+" symbol in the Jumper strip – nice work !
Naturally the board was tested also regarding the overlock ability and showed good stability, even at a reference frequency beyond 250 MHz. However, needless to say that the optional 455 MHz reference frequency or 100 MHz AGP frequency are even with higher voltage in no way feasible and probably rather a dream frequency. Anyway because of the large voltage and frequency options it's possible to reach very good overclocking results. There's also a second ingenious Backup BIOS on this board, which is particularly for the beta BIOS update a meaningful addition of the numerous safety options, which the board has to offer. BTW. it's possible to get further features in the BIOS, if one presses CTRL + F1 key, since this releases the Advanced chipset menu with many memory clocking and the HT clock options.
Conclusion: The Gigabyte GA-K8NS Ultra Socket 939 AGP Motherboard is not only with the chipset "Ultra", but also with the equipment, which leaves nearly nothing to desired. Beside the SATA RAID chip the Motherboard offers the full 8-Channel sound connectors, fast network over two different LAN controller, Firewire, Backup BIOS and a lot of other features, which are quite respectable. Surely the price is also a little bit higher than e.g. for the GA-K8NSC
counterpart, but in view of the clearly more extensive equipment the price is appropriate.
Special thanks to Gigabyte
for their support.
Picture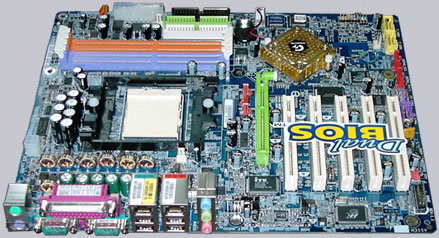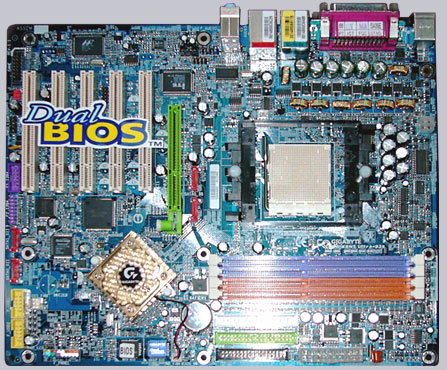 **** All Socket 754 motherboard tests since 01.08.2004 are based on an AMD Athlon 64 3200+ and Socket 939 reviews are based on an AMD Athlon 64 3000+ Venice with a HIS Excalibur Radeon 9600 Pro videocard, Kingmax 256 MB PC2700 memory module and the following software configuration: Windows 98 SE, DirectX 9b, Catalyst 3.6 video driver and 3DMark 2003. Since all benchmark results should only offer a comparison among themselves, I select Win 98 SE for a faster OS installation which is of course not the usual OS for Athlon 64 systems but enough for a comparison.