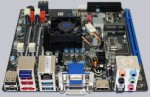 Result and general impression
++ The Sapphire IPC-E350M1 motherboard has a price of approx. 110 Euro (08/2011) and is thus in the upper price segment of the E-350 motherboards.
The Sapphire IPC-E350M1 Pure Fusion Mini E350 Mini-ITX motherboard with AMD E350 APU and HD6310 GPU offers on smallest space useful features to build a HTPC or NetTop PC. The small motherboard offers an integrated graphics unit, PCI Express x16 slot, Gigabit LAN, USB3.0, 8-channel sound and much more features, which can not be found on all full-grown boards. In the current review of the Sapphire IPC-E350M1 motherboard we examine also again the overclocking, but the main focus of this review is to test the capability for small PCs with low power consumption at high performance.
The Sapphire Pure Fusion Mini E350 A50M Mini-ITX came in this small cardboard box: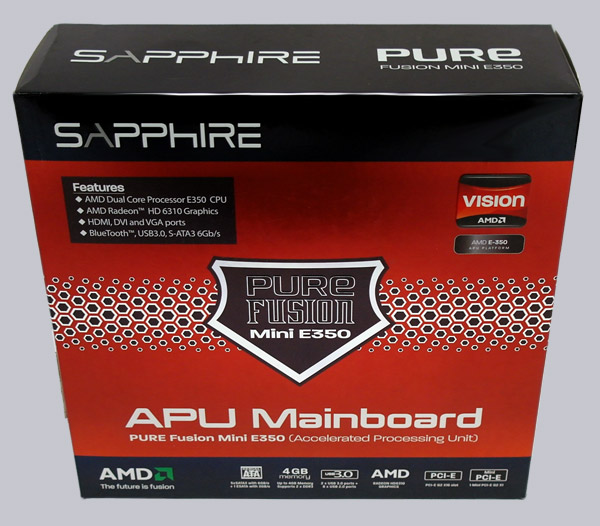 We can't find a lot of acceesories in the box of the IPC-E350M1, but here we can see the size of the CD in relation to the cardboard box: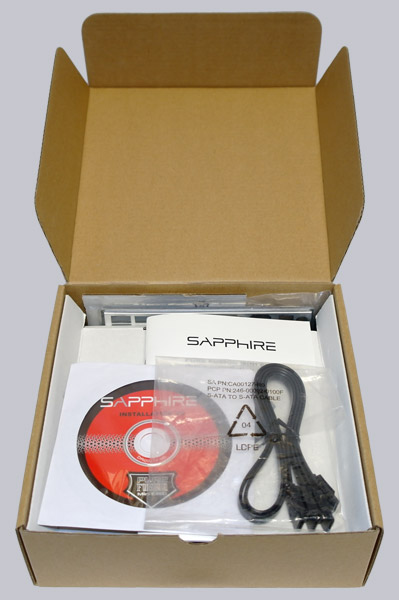 And here is a first picture of the small Pure Fusion Mini E350 A50M IPC-E350M1 Mini ITX motherboard from Sapphire, whuch has a 7-segment post code display (Debug LED) to check possible failures much faster: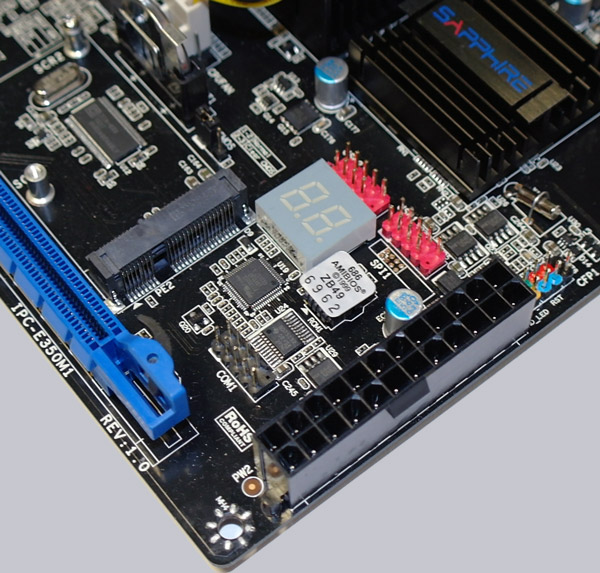 Equipment and other features …
Sapphire's IPC-E350M1 motherboard came only with a Quick Installation Guide, CD, two SATA data cable, and an I/O panel.
Expansion cards …
This IPC-E350M1 Mini ITX motherboard offers one x16 PCI Express 2.0 video card slot and one Mini PCI-E slot. There's no additional PCI or PCIe slot on this board, because the small form factor size doesn't offer additional space for more slots.
Memory …
The Sapphire IPC-E350M1 can be equipped with two 204-pin DDR3 SO-DIMM modules and is depending on the operating system used (see list) expandable to maximally 4GB memory. Sapphire also offers a "white" version of the IPC-E350M1, which can be upgraded with conventional 240-Pin DDR3 modules, but the Sapphire Pure White Fusion E350 IPC-E350M1W differs also in the equipment.
This Socket AM3 motherboard supports DDR3 SO-DIMM memory modules and can be set in the BIOS to DDR3-800 or DDR3-1066.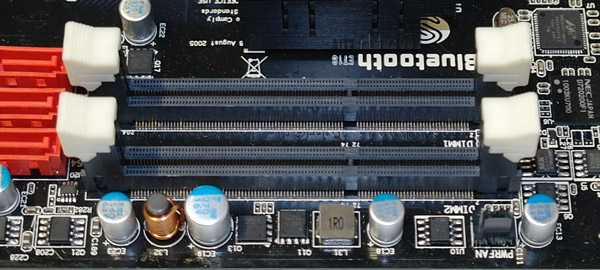 Hard disk drive connectors …
The motherboard offers no floppy connector and no IDE connectors for conventional ATA-133 drives. But this E-350 board offers five SATA3 connectors (6 Gb/s) and one eSATA port integrated in the I/O panel. The S-ATA3 ports supports the Legacy IDE and the AHCI mode (AHCI stands for Advanced Host Controller Interface).
USB and Firewire …
Thanks to the NEC D720200F1 chip, this Mini-ITX board has two USB 3.0 ports. Furthermore, it offers four USB 2.0 connectors on the ATX panel and two internal USB 2.0 plugs for up to four optional USB2.0 ports. An IEEE1394 firewire port is not integrated.
Network …
he Marvell 88E8057 chip is integrated on the Sapphire IPC-E350M1 motherboard and offers a10/100/1000 network connector on the I/O panel. There is no W-LAN module available, but thanks to the Atheros AR3011 chip, this board offers Bluetooth 2.1 + EDR support.
Serial and parallel port …
This motherboard does not provide a parallel port. The serial port is only optionally available as internal onboard connector.
Sound …
The ASRock 890GX Extreme4 motherboard is equipped with the ALC892 audio codec, which supports 7.1 surround sound for example analog over 5x 3.5mm connectors on the I/O panel or over an internal audio connector.
For the digital output there is an internal SPDIF in and out connector available, to connect it for example with a S/PDIF cable to a HDMI suited video card, in order to get the digital audio and video signal to a HDMI equipment like e.g. a HD-Ready LCD TV. Over the BIOS it is possible to set the sound output to the integrated HDMI port. Additionally there is also an optical digital SPDIF output at the I/O panel. Sapphire made a good job and these varieties should offer all necessary sound connections.
Graphics …
The integrated AMD Radeon HD 6310 graphics processor offers high benchmark values and reached with the integrated AMD E-350 Dual Core processor in the 3D Mark Vantage test E3316 3DMarks and thus a clearly higher performance than for example an ASRock AMCP7AION-HT motherboard with Intel Atom 330 Dual Core processor and nVidia ION DX10 Full HD 1080p GPU, which reached E2443 3DMarks in 3DMark Vantage. The iGPU supports HDCP, Full HD 1080p and offers thanks to onBoard HDMI connection optimal conditions to build a Home Theatre PC.
Here is a picture of the I/O panel connectors:

From left to right one can see 2x USB 2.0 ports, Bluetooth and 2x USB 2.0 and eSATA, RJ45 Gigabit LAN and 2x USB 3.0 ports, 15-pol Sub-D VGA and DVI-D port, HDMI port, optical S/PDIF digital output and 5x 3.5mm jacks for analog sound.
BIOS and Overclocking …
Let us continue with BIOS options and BIOS overclocking. By pressing the Delete key, you get access to the Aptio AMI BIOS with all hardware settings.
How to overclock the motherboard …
The BIOS offers only very few DDR3 SO-DIMM settings like the memory frequency adjustment to Auto, 400MHz or 533 MHz for DDR3 800 or DDR3 1066 SO-DIMM RAM.
That's it, because the BIOS offers no overclocking settings!
Really, there are no settings to lower or increase the CPU frequency to overclock the AMD E-350 APU with this board. For overclocking enthusiats is this of course terrible and this can not be cleared by P-State level adjustment or other options.
BIOS Undervolting …
The BIOS offers no voltage settings, so even undervolting was not possible with this board.
Power consumption …
Power consumption will vary depending upon the hardware and upon the PC load. The current consumption of the test PC with integrated AMD E-350 APU, 4GB DDR3-1066 SO-DIMM, hard disk drive and Cooler Master Silent Pro M 600 W test PSU was without overclocking depending upon load: The current consumption with onBoard HD 6310 GPU was powered off 1-6 Watt, Idle very low 21 Watt and with full load up to maximum 76 Watt. Especially the idle power current with integrated GPU was very low and this also with our very high 600 Watt power supply to test all motherboards. With a HTPC it would be again possible to lower the power consumption. All in all, this motherboard need only a very low power current for a high performance.
The BIOS of the Sapphire IPC-E350M1 motherboard offers by the way a CPU Fan Control option (temperature fan control) for 4-pin CPU fans in the BIOS. With this option it's possible to regulate the CPU fan rpm by the smartfan option automatically depending on the temperature, or in manual mode from 0% to 100%.
Result …
The Sapphire Pure Fusion Mini E350 A50M IPC-E350M1 Mini-ITX motherboard for DDR3 SO-DIMM memory offers up-to-date connectors with a powerful, energy-saving AMD E-350 APU on smallest space to build a HTPC or NetTop PC with low power current and high performance.
The equipment of the Sapphire IPC-E350M1 motherboard is a bit less extensive by the Mini ITX form factor, but it offers nevertheless a lot of features like e.g. Gigabit LAN, 7.1 sound, digital sound output over HDMI, optical output or internal SPDIF connector, two USB3.0 ports and four USB2.0 ports at the backpanel, five SATA3 ports, eSATA, Bluetooth and HD6310 GPU with video output over D-Sub, HDMI or DVI-D. With this equipment the Sapphire IPC-E350M1 Mini-ITX offers except of the slots the equipment niveau of an ATX motherboard.
All in all the Sapphire IPC-E350M1 Mini ITX motherboard unfortunately could not be under- or overclocked, but Sapphire succeeded in offering a well balanced motherboard to assemble a HTPC or NetTop PC with high performance in spite of low energy consumption. The cost-performance ratio of the Sapphire IPC-E350M mainboard is likewise positive with such an equipment, however the price of the necessary 204 pin SO-DIMM DDR3 memory modules is higher than the 240 pin DDR3 memory module price. An enhanced BIOS with more overclocking options for advanced users and enthusiasts would be desirable.
Here you can buy the IPC-E350M1 motherboard for a good price
Special thanks to Sapphire for their support.
Picture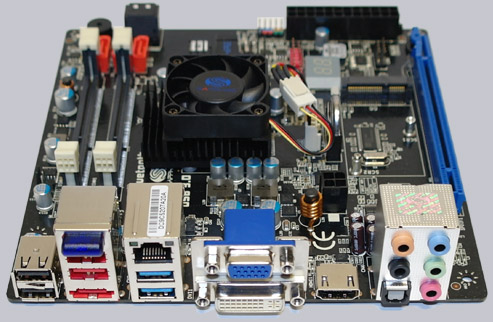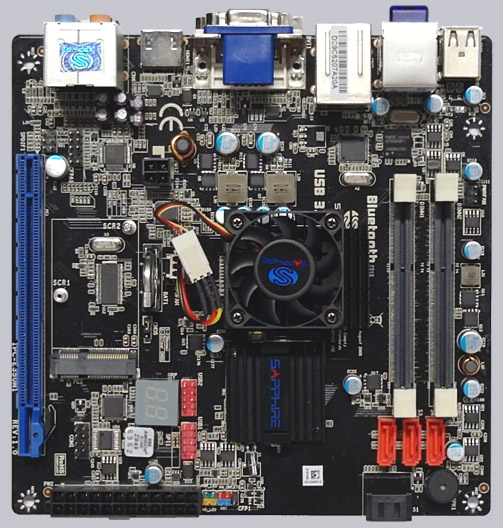 * All benchmark results only offer a comparison among themselves for a rough motherboard performance comparison.
Back to the motherboard comparison with all AMD and Intel motherboard reviews !