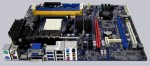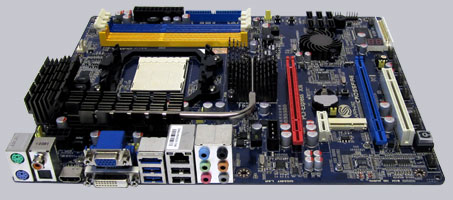 Result and general impression
++++ The Sapphire PC-AM3RS890G motherboard has a price of approx. 110 Euro (09/2010) and is thus in the lower price segment of the Socket AM3 motherboards.
Sapphire offers a high-quality AMD Socket AM3 DDR3 motherboard with their PC-AM3RS890G, which is based on the current AMD 890GX chipset and the SB850 Southbridge. We already know the AMD 890GX chipset with the fast onBoard HD4290 graphics unit and 128MB sideport memory from previous ocinside.de reviews. This review will show if the Sapphire PC-AM3RS890G motherboard is an amazing board with a fast performance and high overclocking values.
The Sapphire PURE CrossFireX 890GX AM3 cardboard looks AMD conform with its green and black colors: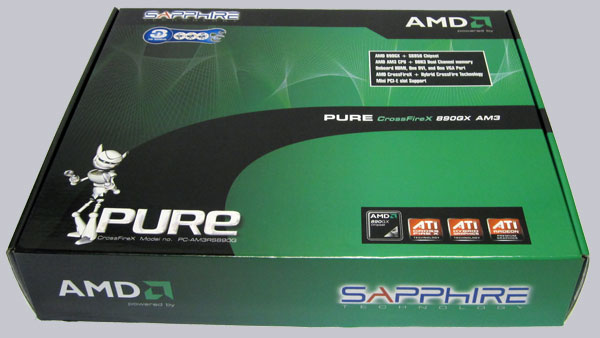 Here we can see already some features of the Sapphire 890GX mainboard: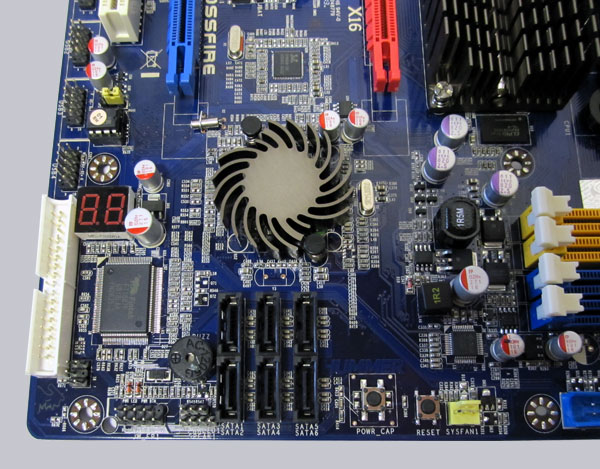 The picture shows the six SATA3 ports, the piezzo buzzer, the 7-segment postcode display (debug LED) to check failures and the Power, Clear CMOS and Reset buttons to power on or Reset the PC without having any frontpanel cables connected.
Equipment and other features …
Sapphire's PC-AM3RS890G motherboard comes with a manual, one CD, one SATA data cable, one SATA power cable, one IDE cable, one PCIe Switch Card and one ATX I/O panel.
Expansion cards …
This Hybrid CrossFireX motherboard offers the two x16 PCI Express 2.0 video card slots, one additional x1 PCI-E slot, one Mini PCI-E slot and one PCI slot.
If one only use one PCIe card on the Sapphire PC-AM3RS890G, one should use the provided switch card in the other PCIe slot, so that the PCI Express slot can operate with a higher bandwidth.
Memory …
The Sapphire PC-AM3RS890G can be only equipped with up to four DDR3 modules and is depending on the operating system used (see list) expandable to maximally 8 GB memory.
This Socket AM3 motherboard supports DDR3 memory modules and can be optimized in the BIOS for DDR3-800, DDR3-1066, DDR3-1333 or DDR3-1600 (OC) Dual Channel modules.
Hard disk drive connectors …
The motherboard offers one IDE connector for maximally two conventional ATA 133 drives, a total of six SATA 3 connectors (6 Gb/s) and one shared eSATA3 port, which can be connected to one of the SATA3 connectors. The S-ATA3 ports supports RAID 0, RAID 1, RAID 5 and RAID 10.
The manual contains all basic information to manage a new installation of Windows XP, Windows Vista or Windows 7 with S-ATA hard disk drives and how to setup a RAID.
USB and Firewire …
The board has four USB 2.0 connectors at the ATX panel and four internal USB 2.0 plugs for up to eight optional USB ports. Sapphire utilize the 12 possible USB ports of the 890GX chipset, but they did not integrate an IEEE1394 firewire port or an USB 3.0 port on this board.
Network …
The Sapphire PC-AM3RS890G motherboard uses the Realtek RTL 8111 DL chip to offer a 10/100/1000 network connector at the ATX panel.
Serial and parallel port …
This motherboard does not provide a parallel port and the serial port is only optionally available as internal COM port header.
Sound …
The Sapphire PC-AM3RS890G motherboard is equipped with the ALC 888 audio codec, which supports 7.1 surround sound for example analog over its 6x 3.5mm connectors at the ATX panel or over the internal connector.
Here is a picture of the ALC888 Audio Codec: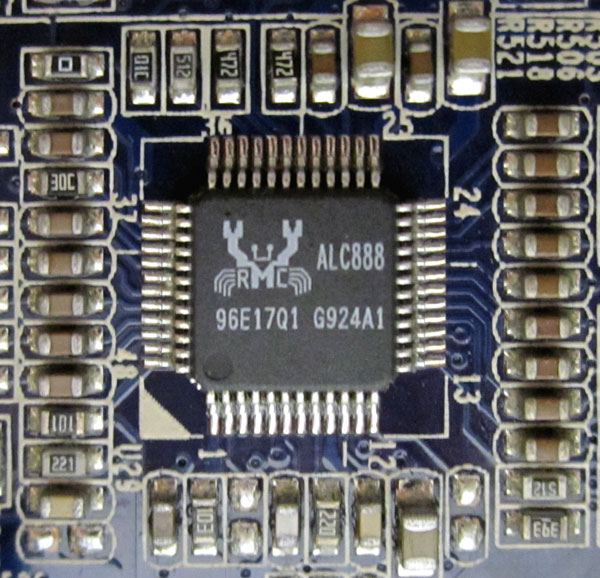 A special feature is the 3D-sound button on the Sapphire motherboard, to activate or deactivate the 3D sound by hardware.
For the digital output there is an coaxial SPDIF and an optical SPDIF output at the ATX I/O panel available and one internal HDMI SPDIF out connector to connect it for example with a SPDIF cable to a HDMI suited video card, in order to get the digital audio and video signal to a HDMI equipment like a LCD TV. Over the BIOS function "HDMI Audio" it is possible to set the digital sound output to the integrated HDMI port.
Here is a picture of the ATX backpanel connections:

From left to right one can see 2x PS/2 connectors for a PS/2 keyboard and mouse, coaxial SPDIF out and optical SPDIF out, HDMI, 15-pol Sub-D VGA, DVI-D VGA, 2x USB 2.0 ports, eSATA and 2x USB 2.0 ports, RJ45 Gigabit LAN and 2x USB 2.0 ports and 6x 3.5mm jacks for analog sound.
Graphics …
The integrated ATI Radeon HD4290 IGP of the AMD 890GX chipset with 128MB sideport memory is faster than the previous IGPs and support additionally DX10.1. The benchmark result of the HD4290 GPU (AMD 890GX) is with 3DMark06 2197 points a little bit slower than the HD4290 GPU of the 890GX Extreme3 with 3DMark06 2249 points, a little bit faster than the HD3300 GPU (AMD 790GX) with 3DMark06 2235 points (700 MHz GPU on a M3A790GXH/128M) and the HD4200 (AMD 785G) with 3DMark06 1571 points (500 MHz GPU clock on a M3A785GXH/128M).
With Hybrid CrossFireX technology in combination with an additional ATI video card, the benchmark result would be higher. But only few video cards are applicable officially to cooperate with the integrated video chip as Hybrid CrossFireX.
Here is a picture of the integrated ELPIDA 128MB sideport memory: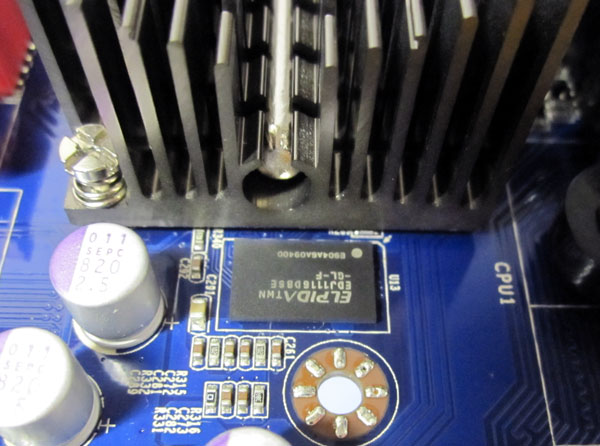 BIOS and Overclocking …
Let us continue with BIOS options and BIOS overclocking. By pressing the Del key, you get access to the AMI BIOS with all important hardware settings. It wasn't possible to get all the time with an USB keyboard into the BIOS, but this USB problem seems to be a bug on some motherboards. The PC-AM3RS890G Ver.3 was the latest available BIOS version at the testing date, whereas Sapphire socketed the 8MB Flash BIOS DIP IC on their motherboard.
The BIOS offers comprehensive DDR3 memory settings like e.g. the memory frequency limit from 400 MHz over 533 MHz and 667 MHz on up to 800 MHz (DDR3 800/1066/1333/1600).
Its host clock is adjustable from 190 MHz up to 600 MHz, the NB divisor can be adjusted from 4x to 31x and the HT (hypertransport) link is adjustable from 200 to 2600 MHz. The PCIe frequency is adjustable from 90 MHz up to 250 MHz and the SB clock can be set independent of the host clock to a value between 90 and 150 MHz. UCC or ACC to unlock AMD cores is not available in this BIOS version.
It was possible to overclock the Sapphire PC-AM3RS890G stable up to 270 MHz reference clock, but it was necessary to use the Clear CMOS button to get the PC running on standard values every time when the overclocking settings were set too high. It would be desirable to have a popular boot failure guard to watch the proper startup.
For high overclocking results, this board offers a NB voltage setting from 1.30 Volt to 1.45 Volt and the NB Shift setting from 50mV to 350mV, to set the NB voltage higher than the specification. The Vcore with the Phenom II test CPU can be adjusted from 0.800 Volt to 1.300 Volt Sapphire has also integrated an additional CPUVcore Shift function, to increase the Vcore independently from the CPU between 50mV and 350mV. The DDR3 memory voltage can be set between 1.49 Volt and 2.25 Volt in steps of 0.04 Volt. The GPU can be adjusted from 150 MHz to 1000 MHz and the Sideport memory can be clocked with default RAM setting from 200 MHz to 667 MHz.
The downclocking or underclocking was also tested in this review. It was possible to lower the AMD Phenom II 710 CPU multiplier over the BIOS to 4x and the processor can be underclocked in such a way with 190 MHz reference clock to approx. 760 MHz.
Amazing low was the current consumption of the PC-AM3RS890G motherboard. The current consumption of the test PC with AMD Phenom II 710 X3 CPU, 4GB DDR3-1333 memory, hard disk drive, the new Cooler Master Silent Pro M 600 W test PSU and onBoard HD 4290 graphics was without overclocking depending upon load between approx. 58 Watt and 118 Watt. In idle mode, the motherboard lowered, with the Dynamic Clock gating for IOC/NT/MCU/CFG of the NB powermanagement feature, the power consumption of the complete system in idle down to approx. 22 Watt !
With Gigabyte GTS250 card the power consumption was between 103W and 189 Watt, whereby the idle consumption was about 87 Watt. And with a Sapphire HD4870 video card the current consumption was between 153W and 220 Watt, idle 122 Watt. Additionally Sapphire has integrated some powersaving LEDs on their PC-AM3RS890G motherboard, to watch the respective powersaving condition.
The BIOS of the passive cooled PC-AM3RS890G motherboard offers by the way a CPU Smart Fan option (temperature fan control) for 4-pin CPU fans between 0°C and 127° Celsius, which can be setup in 5 steps.
Result …
The Sapphire PC-AM3RS890G AMD Socket AM3 ATX motherboard for DDR3 RAM memory can be overclocked with many settings and offers a good basic equipment with a fast onboard graphics unit. Who like to save some money, get an enormously low current consumption depending upon hardware and usage, which can be much lower than usual values.
The Sapphire PC-AM3RS890G motherboard offers Gigabit LAN, 7.1 sound, analog sound output over six connectors, digital sound output over one coaxial S/PDIF, one optical S/PDIF and one internal SPDIF connector, up to twelve possible USB 2.0 ports, six SATA3 ports with RAID support and video output over D-Sub, DVI-D or HDMI. But USB 3.0 ports are missing and should be added with an additional expansion card, when one like to use USB 3.0 devices with the highest performance.
All in all this Sapphire PC-AM3RS890G ATX motherboard is optimally suitable for an Office PC or HTPC, which also remains switched on without usage and should be nevertheless economical. The integrated HD4290 graphics processor of the AMD 890GX chipset with 128MB sideport memory should be fast enough for most games with average details and for more perfomance it is possible to add two video cards in CrossFireX.
Here you can buy the PC-AM3RS890G motherboard.
Special thanks to Sapphire for their support.
Picture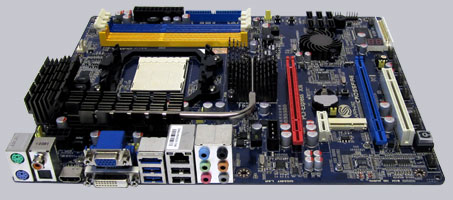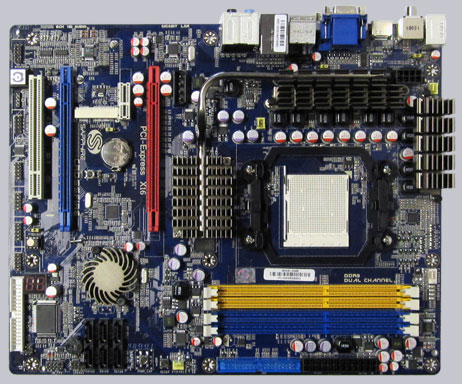 * All Socket AM2 / AM3 PCIe motherboard reviews since 01.07.2010 are based on an AMD Phenom II 710 X3 CPU, 1x Gigabyte GV-N250OC-1GI Nvidia GTS250 PCI Express 2.0 video card, 2x Sapphire HD4870 512MB ATI Radeon HD4870 PCI Express 2.0 video cards, 2x 1024MB Crucial Ballistix Tracer DDR2-1066/PC2-8500 memory modules on DDR2 mainboards or 2x 2048MB Crucial Ballistix Tracer DDR3-1333/PC3-10600 memory modules on DDR3 mainboards, Cooler Master Silent Pro M 600W power supply unit and the following software configuration: Microsoft Windows 7 RC, Microsoft Windows Vista Ultimate, Windows XP SP2, SiSoftware Sandra 2010c, Futuremark 3DMark03, 3DMark06 and 3DMark Vantage (the software is available in the Links & Downloads section). All benchmark results only offer a comparison among themselves for a rough motherboard performance comparison.
Back to the AMD Athlon 64 and AMD Phenom motherboard comparison !