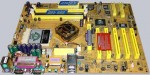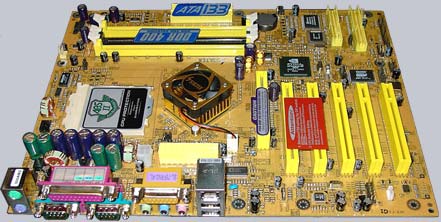 Manufacturer
SOLTEK
Name
SL-75FRN2-RL
Typ / Chipset
Socket A / nForce2 Ultra 400 (nForce2 SPP + MCP) chipset
Dimensions
+++ 14mm (40 mm Radius) around the socket to the next capacitor/unit – see Fit for Fan guide. The overall size is 305 x 245mm.
Slots
++ 5x pci, 1x AGP master (1.5V 4x/8x), 3x DDR PC3200 / PC2700 / PC2100 (max. 3 GB RAM)
Connectors
+++ 1x Floppy, 2x UDMA133, 1x UDMA133 + 2x Serial ATA RAID (Promise PDC20376) 2x seriell, 1x parallel, 2x PS/2, onBoard 10/100 Mbps base-T Ethernet (VIA LAN), 6x USB 2.0/1.1 (2x int. USB connector and Slot mounting bracket is included), 1x Gameport, 6-Channel AC'97 onboard (1x int. Aux, ext. Line out, ext. Line in, ext. Mic), WakeOnLan and 3x Fan connector (one is used for the Chipset cooler), ATX V2.03 Power Supply connector with separate 12 Volt power supply.
Vcore
+++ In Bios between 1,10 Volt and 1,85 Volt in 0,025 Volt steps / Jumper not available
Multiplier
++++ In Bios between 5x and 22x / Jumper not available
FSB
+++++ In Bios between 100 MHz and 250 MHz / Jumper from 100/133 MHz to 166/200 MHz Furthermore AGP asynchron between 50 MHz and 100 MHz
VIO/VDD
++++ VIO not changeable, but the voltage of the nForce2 chipset (VDD) can be changed between 1,6 and 1,8 Volt, the memory module (VDIMM) between 2,5 Volt and 2,8 Volt and the graphiccard voltage (VAGP) can be changed between 1,5 Volt and 1,8 Volt in 0,1V steps !
Performance*
++++ Ratings with HIS Excalibur Radeon 9600 Pro graphic card and Catalyst 3.6 ! AMD Athlon XP 1500+ 3120 Points with 3DMark 2003 AMD Athlon XP 1500+ 10725 Points with 3DMark 2000
Manual and Labeling
+++ Not very good readable mainboard labeling but anyway a complete mainboard labeling and a very detailed mainboard manual.