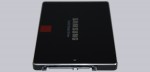 Result and general impression …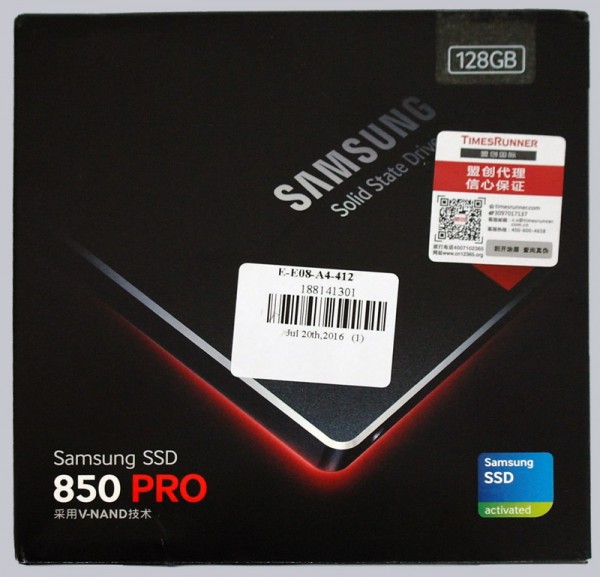 The Samsung 850 Pro 2.5″ 128 GB SATA3 SSD MZ-7KE128 achieved in spite of the lower capacity very high read and write values and offers features like 256-bit AES encryption and high reliability.
The Samsung 850 Pro 120 GB MLC Solid State Drive with Samsung MEX S4LN045X01-8030 controller and Samsung 3D V-NAND MLC is tested both in the preferred AHCI mode, as well as in legacy IDE, but as with our previous SSD tests using AHCI mode showed significant benefits, so we strongly recommend AHCI.
On basis of benchmarks you can clearly see, that the speed is at a similarly high level, as with the larger 500 GB and 1 TB SSDs. A look at the technical specifications also shows that much emphasis is placed on high data security and reliability. Even this small Samsung 850 Pro 128GB is specified with up to 80 TBW (total/tera bytes written), representing 82 GB per day over a period of 5 years. This information is important not only for the warranty, but speaks for a very high durability of the NAND cells. Who wants to know more about TBW, finds numerous data and formulas in the JEDEC SSD specifications.
Furthermore the Samsung 850 Pro supports important features like TRIM, Garbage Collection, SMART and 256-bit AES Encryption, TCG Opal 2.0, IEEE-1667.
All in all the Samsung 850 Pro 128GB reached very high performance, is priced however already at the top of the 128 GB SSDs.
With a little luck you can win the tested Samsung SSD 850 Pro 128GB here !
Discuss in our forum and share experiences about the Samsung 850 Pro …
Here you can buy the Samsung 850 Pro SSD …
Read on in the hardware test area with several hardware reviews …