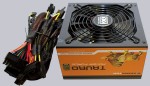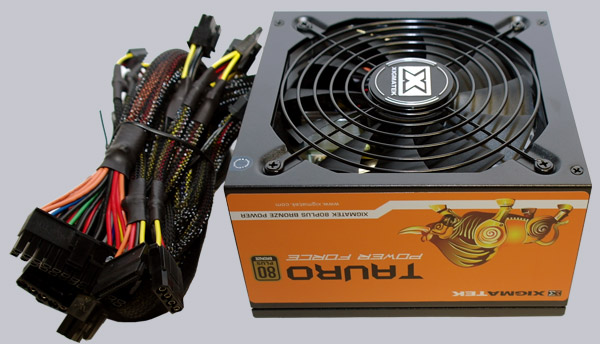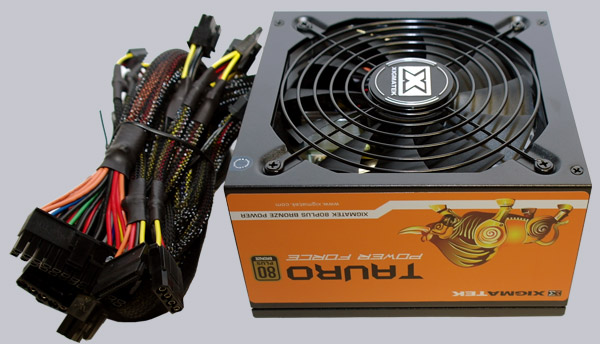 The Xigmatek Tauro 500W power supply is not modular, but has a low price for its power class, achieved a good energy efficiency at low load and can thus be used well in low- to mid-range PCs.
All output cables are mounted fixed at the Xigmatek Tauro power supply, so you have to place all cables inside the PC, even if they are not needed. Of course this save costs for additional power connector systems and may possibly even be advantageous for some users who often have problems to find their equipment. Thanks to the additional mesh plastic sleeves all power cables act cleaned up in the PC and can be installed comfortably within the PC case. All cables are high quality build and even the often criticized SATA plugs have no weaknesses. It would be favourable for the durability of the PSU, when only 105°C capacitors are used, which was unfortunately not the case inside of this Xigmatek Tauro 500 Watt power supply.
All in all, the Xigmatek 500W Tauro is a very inexpensive available 80Plus Bronze certified power supply, which can be quite a good choice for non-modular PSU fans. Who wants to spend a little bit more money, the recently tested Centauro Xigmatek PSU with modular design and better energy efficency would be an alternative choice. You can compare the power consumption and price depending on daily usage easily with the interactive power calculator and will see if it is worth for your daily usage to buy a 80 Plus Bronze, Silver, Gold or 80Plus Platinum PSU.
Discuss in our forum and exchange experiences …
Here you can buy the Xigmatek Tauro PSU …
Read on in the hardware test area with several hardware reviews …