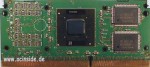 Slot 1 Tape it guide – An easy way to change Intel Slot 1 CPU Vcore.
The interactive sites will never end and another site will come very soon. But today i've published the new interactive tape it guidefor Intel Slot 1 CPU veteran. Everyone who own a piece of adhesive tape or nail varnish could increase the core voltage in a few minutes. It's also possible to cut the pins but i wouldn't recommend it. Just relax and watch the black and gold edge fingers.
Note: Please allow our cookies first to see this external content!