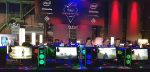 This weekend we from OCinside.de took part in the ASUS ROG Convention, which was held at the Kraftzentrale in the Landschaftspark Duisburg Nord. We wish you a lot of fun with the picture gallery and videos of the ASUS ROG Convention 2019.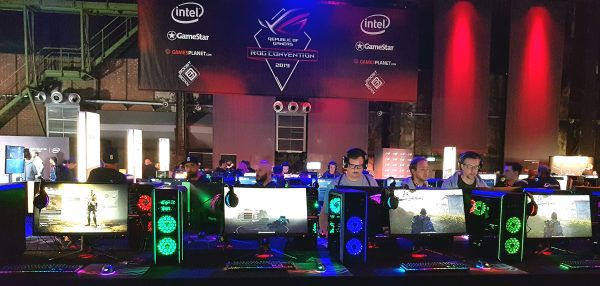 Many thanks for the support …
Many thanks for the interesting event to the manufacturer ASUS.
The ROG Convention is the biggest Republic of Gamers fan event in Europe with ASUS ROG products for all gamers and hardware enthusiasts. Besides current ASUS hardware like ASUS ROG NVIDIA GeForce RTX graphics cards or ASUS ROG gaming notebooks with RTX GPU, ASUS also showed their ASUS Aura Sync products, ROG gaming monitors, numerous ASUS ROG mice from the ASUS ROG Strix Evolve over ASUS ROG Spatha up to the pink ASUS ROG Gladius II Origin PNK LTD Limited Edition, which are available in addition to many other products like ASUS ROG Vulcan Pro, Orion Pro, Strix Fusion 300, and Cerberus V2 Headsets, Cerberus Keyboard, etc. 19% cheaper in their ASUS Shop.
In addition, numerous products, such as the Asus ROG Ryujin AIO and the Asus ROG Ryuo AIO installed in the gaming PCs, which were installed there with current games such as Sekiro Shadows Die Twice, Apex Legends, Star Citizen, Tom Clancy's Rainbow Six Siege, ANNO 1800, CS:GO, Fade To Silence to pass the time. Of course, great casemods and the ASUS ROG Goodie Bags were also included 😀
In addition there were workshops with features of ANNO 1800, Star Citizen, Spielkind Gaming, Hardtubing and Overclocking as well as Extreme Overclocking!
The costs of the event amounted to 18 Euro for the Basic Ticket with Game Voucher from Gamesplanet or 35 Euro for the Premium Ticket with
ROG Goodie Bag and ROG Convention Mousepad, up to the VIP Ticket for 80 Euro with 13 o'clock Early Access and free drinks.
But now we finally come to the image gallery and wish you a lot of fun 🙂
Click on the following picture to open the gallery with the pictures of the ASUS ROG Convention 2019. The cursor keys right/left and the arrows within the image takes you to the next or previous image.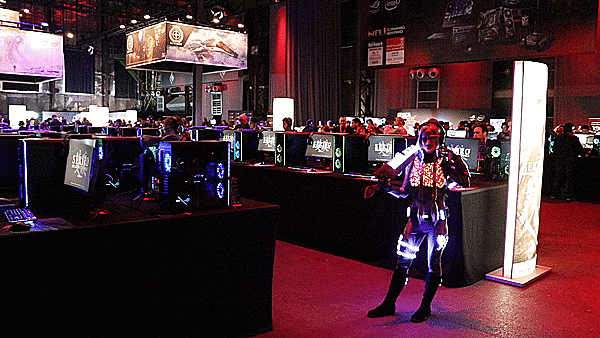 Select images directly:
1, 2, 3, 4, 5, 6, 7, 8, 9, 10, 11, 12, 13, 14, 15, 16, 17, 18, 19, 20, 21, 22, 23, 24, 25, 26, 27, 28, 29, 30, 31, 32, 33, 34, 35, 36, 37, 38, 39, 40, 41, 42, 43, 44, 45, 46, 47, 48, 49, 50, 51, 52, 53, 54, 55, 56, 57, 58, 59, 60, 61, 62, 63, 64, 65, 66, 67, 68, 69, 70, 71, 72.
Many thanks to ASUS who presented their ROG novelties at the ASUS ROG Convention 2019 in Duisburg.
Discuss about the ASUS ROG Convention 2019 …
Here you can order the latest ASUS products …
Continue to the overview of all OCinside.de computer tradeshow reports …