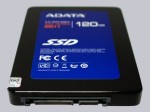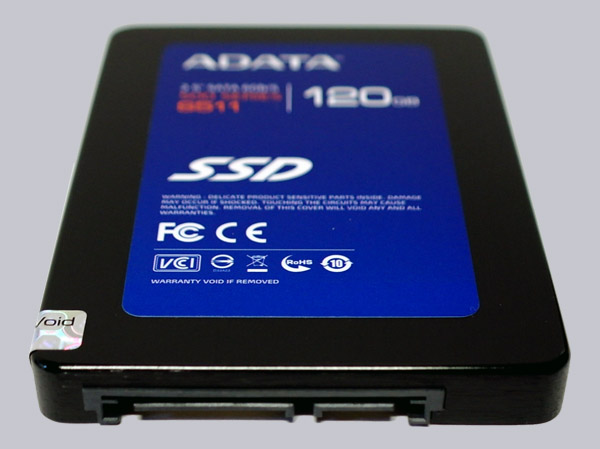 ADATA delivers the S511 2.5″ SSD with a short installation guide and a 2.5″ to 3.5″ mounting bracket.
Here is a picture of the ADATA S511 SSD with its accessories: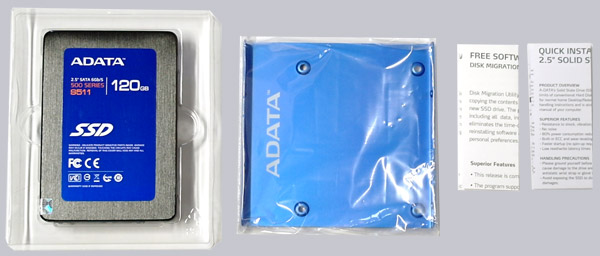 The following picture shows the front of the 2.5″ ADATA S511 120GB SSD: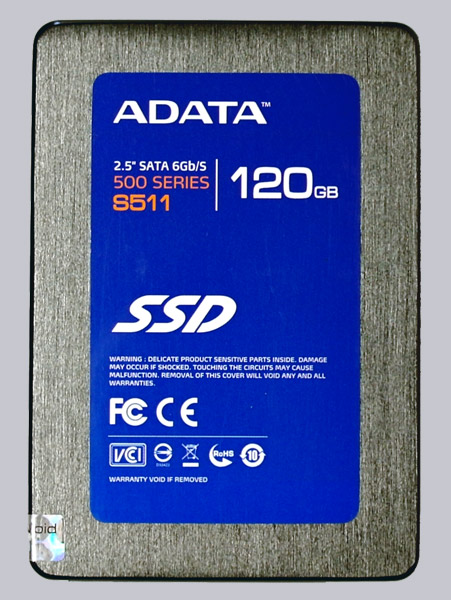 On the flipside one can see the label with the full part number AS511S3-120GM and the SATA3 connectors for data and power. These connections are identical to conventional SATA2 and SATA3 hard disks, so this SATA3 SSD can also operate with slower speed at an SATA2 interface: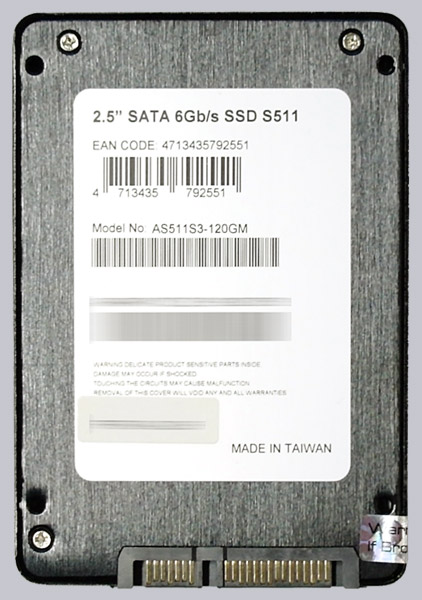 Here you can see a picture of the SandForce 2281 Controller IC, more detailed SF-2281VB1-SDC and eight of altogether sixteen 25nm Intel 25nm Multi Level Cell NAND components of the SATA3 SSD with each 8GB capacity to reach a total capacity of 128GB or 120GB without overprovisioning: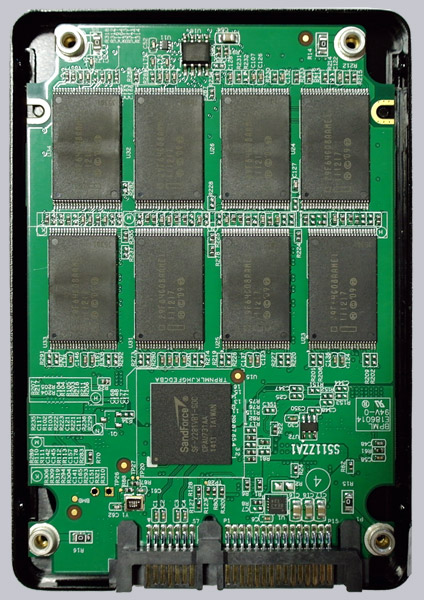 As already mentioned before, not "only" the SSD was contained in the cardboard, but also a bay, in order to be able to install the 2.5″ SSD in often only existing 3.5″ HDD cage of the PC enclosure: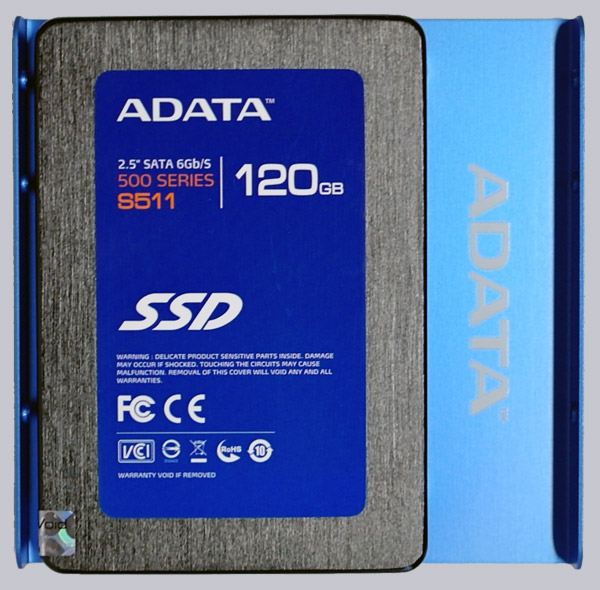 In our case the assembly was however not possible … at least not without pipe threader 😉 Because we had bad luck concerning the drillings and unfortunately got a sample without threads. Please don't tap a threading on your own, but claim the SSD or install the SSD differently, because by the thread cutting conductive swarf could fall inside of the case on the PCB. In the following picture one can see the drillings without threads: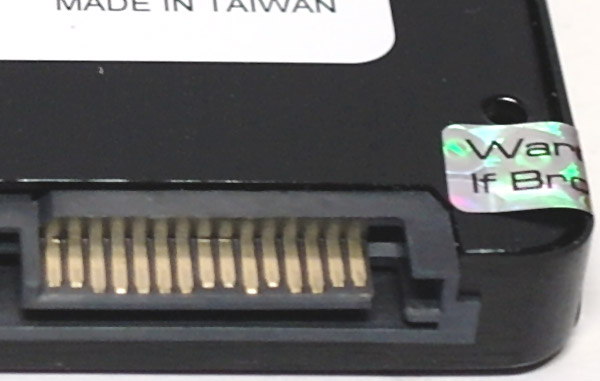 That is contained …
| | |
| --- | --- |
| Manufacturer | ADATA |
| Article number | AS511S3-120GM-C |
| Capacity | 120GB |
| Interface | SATA3 6GB/s |
| Cache | not necessary |
| Controller | Sandforce 2281 |
| Flash Type | MLC – Multi-Level-Cell |
| Size | 2.5″ (100 x 69,85 x 9,5mm) |
| Weight | 76 gramm |
| Speed | Read up to 550 MB/s / Write up to 510 MB/s |
| Seek Time | not specified |
| Power Consumption | 0,6 Watt idle / 4,7 Watt in operation |
| MTBF | 1 million hours |
| Other | TRIM Support, NCQ Support, SMART Support, Disk Migration Utility |
Here is a Snipping screenshot of the CrystalDiskInfo 3.5.3 SSD and HDD information software: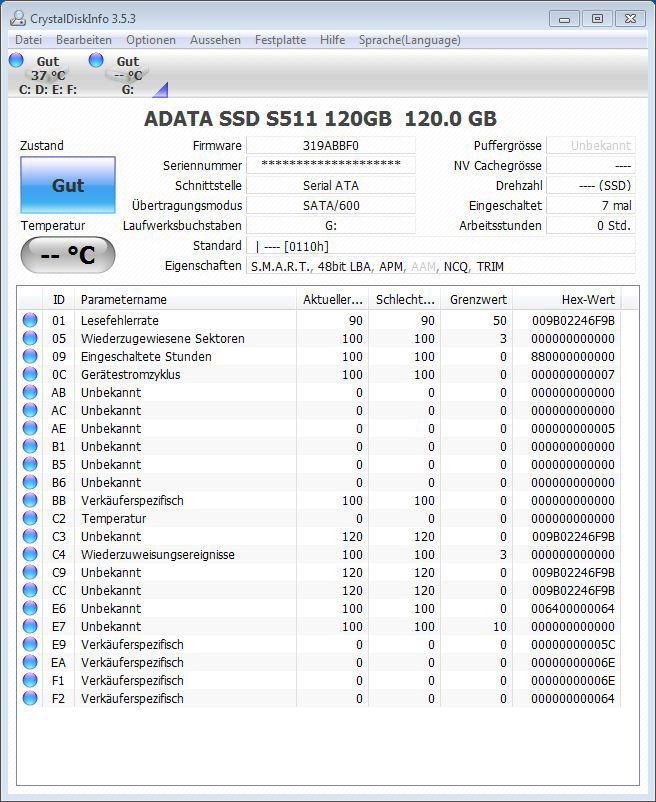 SSD firmware update …
Usually we update the firmware of the SSDs before we begin with the tests. To the point of testing time however no new firmware was found at A-DATA, so that for all tests the original firmware version 319ABBF0 was used.