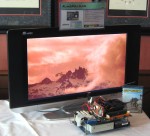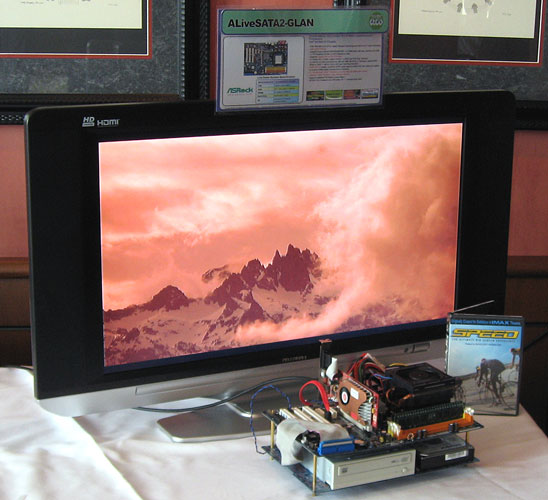 This article shows you a preview of the current ASRock ALiveSATA2-GLAN Mainboard.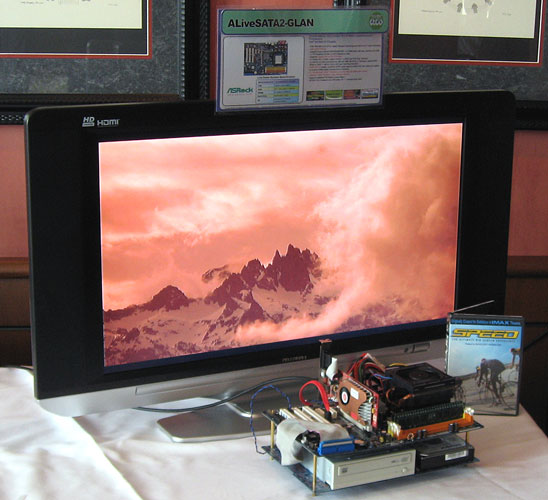 ASRock Motherboard Preview August 2006 The newest ASRock Motherboards The new ASRock ALiveSATA2-GLAN Motherboard …
Here's another new interesting feature from ASRock. Because the current ALiveSATA2-GLAN Motherboard offers a special digital HDMI_SPDIF audio output to be attached directly to a HDMI VGA card and thus allows watching high-quality HDMI videos. The board is according to ASRock AMD LIVE! Ready and Microsoft Windows Vista Premium tested.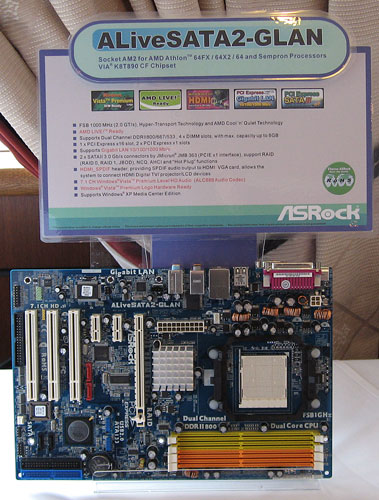 The picture of the video card was connected with the DVI-D output to a HDMI LCD TV. Unfortunately the HDMI demo file had to be played from the hard disk, because there was no necessary Blue Ray drive available for the showcase.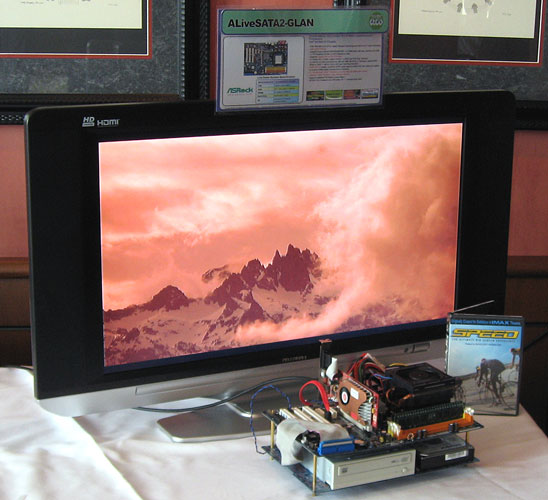 The manufacturers technical data for the ALiveSATA2-GLAN Motherboard …
Socket AM2 for AMD Athlon 64FX / Athlon 64X2 / Athlon 64 and Sempron Processors AMD LIVE! Ready VIA K8T890 CF Chipset FSB 1000MHz (2.0GT/s) Supports Gigabit LAN 10/100/1000 Mb/s 2 x SATAII 3.0 Gb/s connectors by JMicron JMB 363 (PCIE x1 interface), support RAID (RAID 0, RAID 1, JBOD), NCQ, AHCI and "Hot Plug" functions 4-Phase power design HDMI_SPDIF header, providing SPDIF audio output to HDMI VGA card, allows the system to connect HDMI Digital TV/projector/LCD devices. 1 x PCI Express x16 slot, 2 x PCI Express x1 slots 2 x Serial ATA 1.5 Gb/s, support RAID 0, 1, JBOD and "Hot Plug? functions 7.1 CH Windows Vista Premium Level HD Audio (ALC888 Audio Codec) Supports Dual Channel DDRII800/667/533 with 4 DIMM slots, maximum capacity up to 8GB Supports Windows XP Media Center Edition Windows Vista Premium Logo Hardware Ready