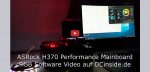 Today we look at the latest development of the RGB control from ASRock. ASRock now offers addressable LEDs on some motherboards, which are controlled by the ASRock Polychrome RGB software. How exactly this works, which RGB effects are possible with addressable RGB LED strips and the interaction with other RGB LED hardware, we show in the new ASRock Polychrome RGB software video at our OCinside YouTube channel. German with English subs. The complete review of the new ASRock H370 Performance Intel LGA 1151 motherboard will be available soon on OCinside.de!
Note: Please allow our cookies first to see this external content!
Discuss in our forum about the ASRock Polychrome RGB Video …
Here you can buy the ASRock H370 Performance motherboard.
Read on in the hardware test area with several hardware reviews …