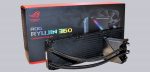 Practical test optics …
As with the fan control, the precondition of an Asus motherboard for the full range of functions makes us a bit over the top. Unfortunately, the embedded 60mm fan for VRM cooling can not be controlled on our AsRock test mainboard. In addition, as with the Asus Ryuo 240 test, without the Asus motherboard, the display of CPU temperature or similar is denied on the OLED display.
Since we can not test the VRM cooling and the Asus Ryujin 360 cooling offers the same optical possibilities as the Asus Ryuo 240, this time we decided to follow at least one more review where we will focus on Asus Ryujin optics and VRM cooling on an Asus Rampage 6 Extreme motherboard, modifying the Ryujin cooling and beheading the CPU, including liquid metal application. You can be curious
But a small video from the OLED display and the aRGB strip of Ryujin cooling should not be missing today.

Asus ROG Ryujin 360 conclusion and overall impression …