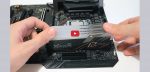 Today on OCinside.de we have created a very special video about the new Phantom Gaming Alliance building, in which we present the gaming system that has been combined with different Phantom Gaming Alliance products from ASRock, Cooler Master and TeamGroup. The detailed review of the Phantom Gaming Alliance motherboard, graphics card, case, water cooler, memory and a Phantom Gaming SSD will follow soon.
Note: Please allow our cookies first to see this external content!
Discuss in our forum about the Phantom Gaming Alliance Video …
Here you can buy the Phantom Gaming hardware.
Read on in the hardware test area with several hardware reviews …