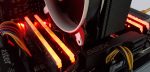 Characteristics and other features …
Here you can see the four fancy 8GB DDR4 memory modules again in front of the packaging.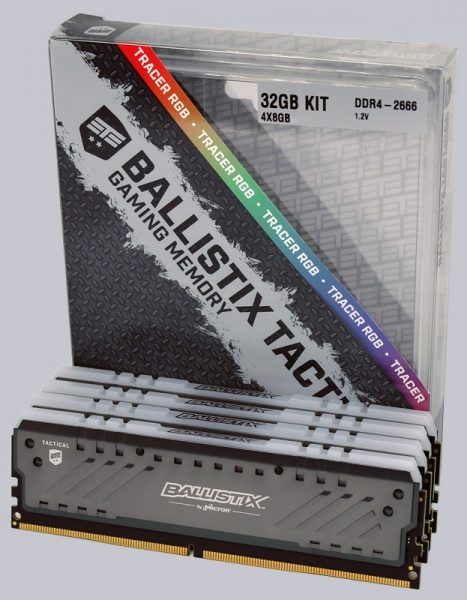 And here you can see the Ballistix Tactical Tracer RGB RAM again as a 360 degree view.

DDR4 vs. DDR3 …
DDR4 offers speeds from 2133 to 4266 MT/s, while DDR3 offers only 800 to 2133 MT/s. DDR4 thus achieves a bandwidth of 17GB/s with DDR4-2133 in contrast to 6.4GB/s with DDR3-800. In addition, there is a higher capacity of up to 32GB per DDR4 module (a 64GB DDR4 ECC Kit CT2K32G4LFQ4213 consisting of 2x 32GB DDR4 modules is available from Crucial) and all this at a lower voltage of 1.20 Volt (1.05V-1.35V) for DDR4 modules compared to 1.50V (1.35V-1.65V) for DDR3 modules. Of course, this does not mean that everything that shines is gold, because as so often many other factors, such as latency, play an important role.
New in the DDR4 design is not only the number of pins, which has increased from 240 pins (DDR3) to 288 pins (DDR4). Also, the underside of the modules is no longer flat, but slightly flattened on both sides. In addition, the (voltage) notch was shifted again to avoid accidentally installing DDR4 modules in the DDR3 socket or DDR3 modules in the DDR4 slot. DDR3 and DDR4 modules are not pin compatible!
Here you can clearly see the difference between the upper DDR4 modules and DDR3 modules (below):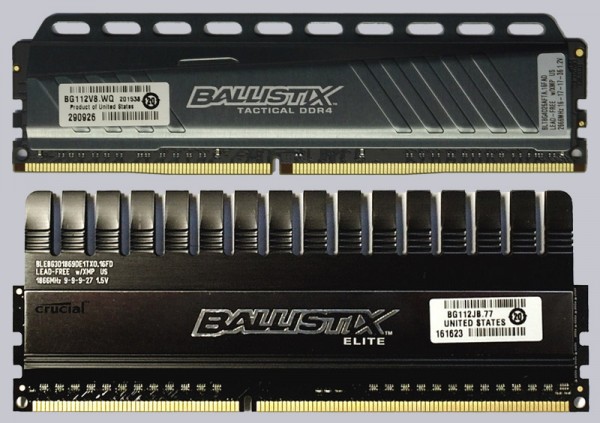 And these are the four brand new Ballistix Tactical Tracer RGB DDR4 memory modules!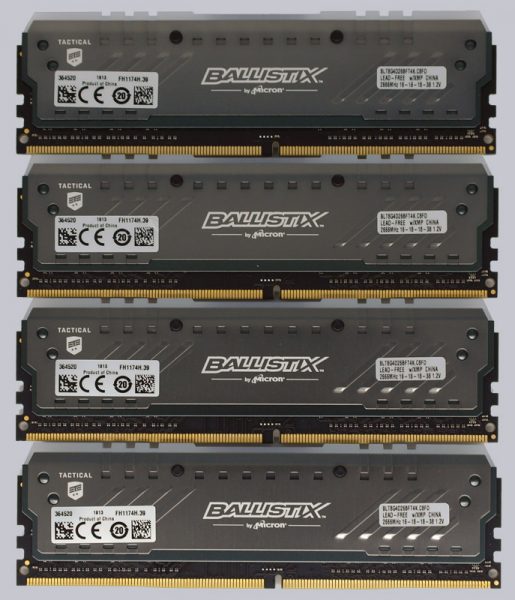 We installed the four Crucial DDR4 memory modules on an ASRock X299 Taichi motherboard in quad channel mode and the modules were detected perfectly.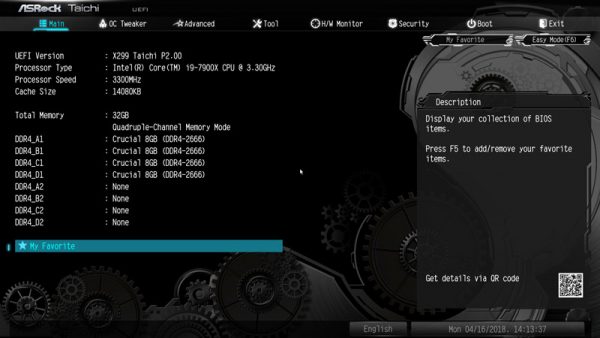 Recently we have tested a Crucial Ballistix Sport 16GB DDR4 Kit consisting of 4x 4GB DDR4-2400 modules. According to Micron, Ballistix Tactical DDR4 memory modules are designed for higher speeds and faster timings than, for example, the Crucial Ballistix Sport DDR4 modules. According to the website, you hit earlier, faster and more often than your opponent. We will see how the Ballistix Tactical vs Ballistix Sport compare.
JEDEC and XMP …
Officially, the modules are designed with the JEDEC standard voltage for DDR4 modules of 1.20 Volt, so that the CL16 timings at DDR4-2666 are easily achieved.
Since no increase in voltage is necessary, these values are already stored in the JEDEC profile. If not recognized, set them manually or load these values from the Intel XMP 2.0 profile. The fast timings and frequencies were stored as XMP-2666 value (Intel Extreme Memory Profile) in the modules on an EEPROM and can be retrieved from many mainboards similar to the common SPD value (Serial Presence Detect) for the standard timings.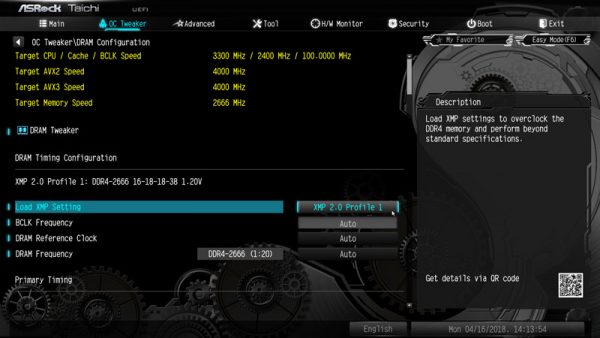 Here you can see all read out SPD and XMP values clearly arranged in the UEFI setup of the ASRock motherboard.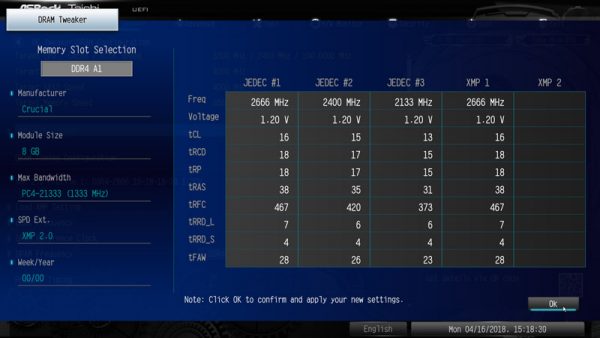 Less than 8GB on boot, only 3GB in BIOS or less than 16GB in Windows …
Depending on the system it can happen that only memory sizes of approx. 3GB instead of 32GB are displayed during boot, because 32GB RAM or RAM sizes of more than 2GB have to be adjusted individually depending on the operating system and BIOS setting. Here is a memory guide, including a table of how much RAM the operating systems support. Additionally we have some articles in our forum under tips and tricks how to address 4GB, 8GB, 16GB or more also with 32-bit Windows operating systems.
Heatspreader …
Two thin heat spreaders were attached to the memory modules, which ensure a lower temperature of the memory modules even at slightly higher voltages and higher clock rates. Last but not least, the metal sheets attached on both sides provide additional protection. This results in better OC results on the one hand and a longer service life on the other.
By the way, Ballistix grants lifetime manufacturer warranty (Limited Lifetime Warranty or 10 years at purchase in Germany) for the buyer, all information about the manufacturer conditions are as always without guarantee.
Another special feature is that the upper panel is fixed with two pins and can be removed. This has a special reason, because on the Ballistixgaming website you can find.stl, .amf, and .3mf file downloads to create your own screens with the 3D printer! A look at the memory modules from above shows that the heat spreaders have been carefully and evenly glued to the chips and that the 8GB Ballistix Tactical DDR4 modules are loaded on one side (SR / Single Rank). Furthermore you can see the 16 RGB LEDs, which can be controlled individually.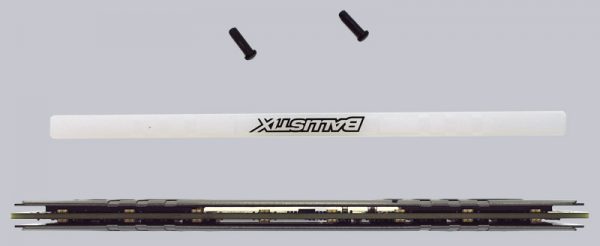 The RGB effects are looking really fantastic!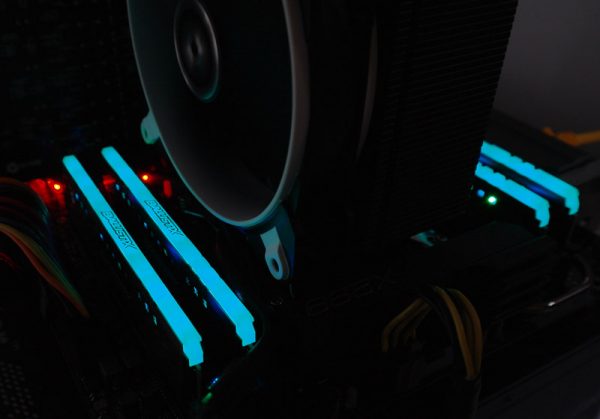 Even if we couldn't synchronize the effects with the ASRock X299 Taichi motherboard, of course we have the possibility to adjust the colors of the chipset cooler and the RGB stripes to the colors of the Ballistix RGB modules.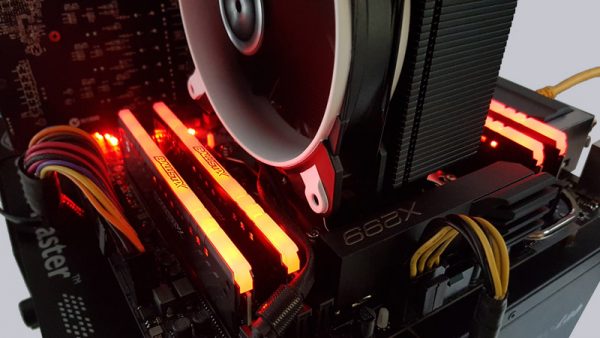 We have recorded an interesting setting in a new video on our OCinside YouTube channel.
Note: Please allow our cookies first to see this external content!
Unfortunately, we couldn't show more effects yet, because the completely new DDR4 Ballistix M.O.D. utility software could be installed and started …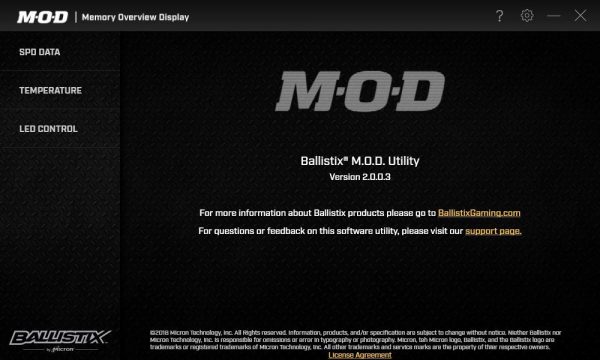 … when the modules were addressed via LED control, however, the Ballistix Tool issued an error message "MOD no longer works".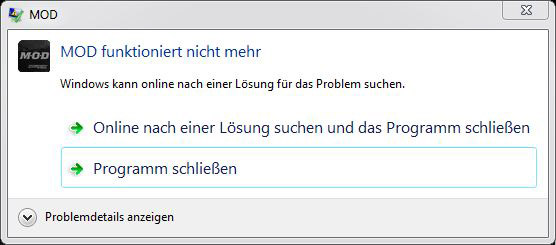 So we could only display the JEDEC timings and XMP profiles …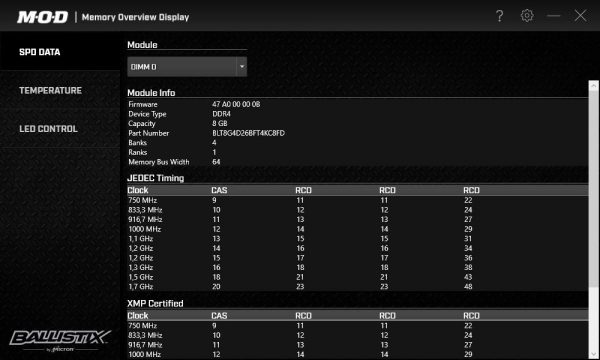 … and the temperature of the memory modules.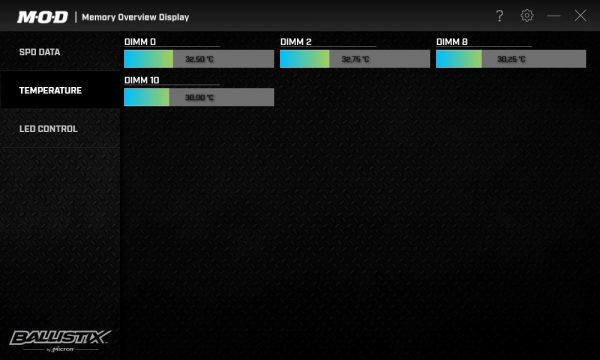 Since the software has only just been released, this can unfortunately happen. As soon as a new DDR4 Ballistix M.O.D. utility version is available, we will deliver some more screenshots and summarize some RGB components in one of the upcoming tests 🙂
Edit:
Micron was already able to send us a new version that works perfectly on our systems!
This is how the Ballistix MOD LED control surface looks like.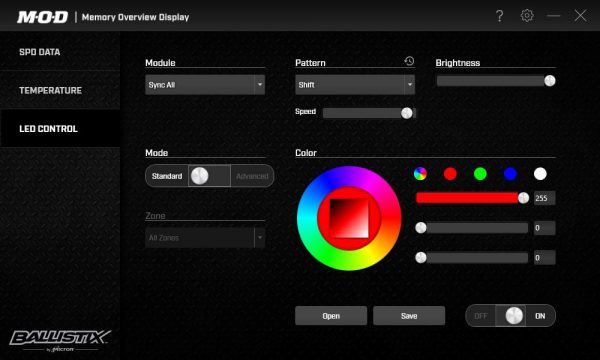 You can select each DIMM module individually, or synchronize them all together.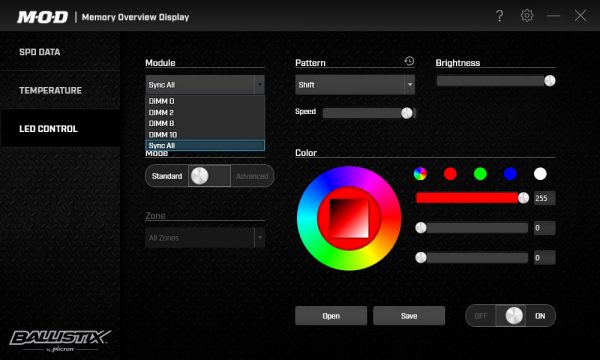 There are lots of RGB effects from Shift to Breathing to choose from.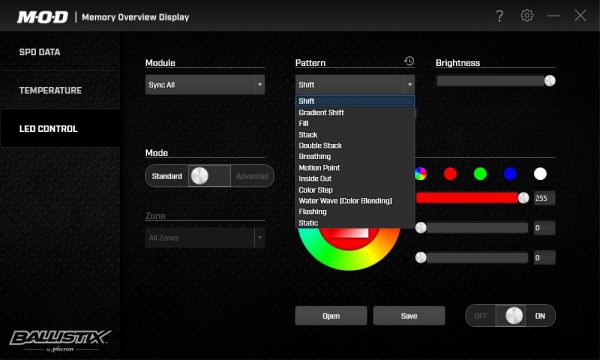 And you can even control each of the eight zones individually with a total of 16 RGB LEDs!

When everything is set up, you can also choose whether the software should run automatically on Windows startup to load the RGB effects.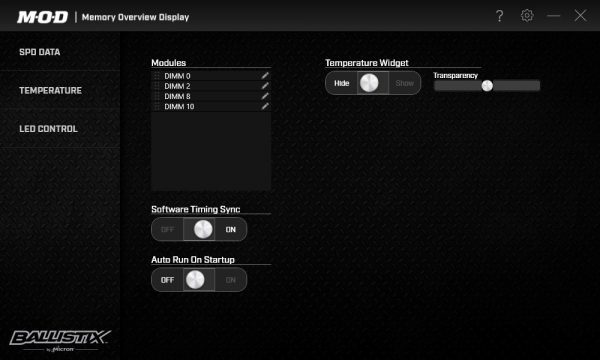 The effects are so extensive that we decided to create a Ballistix Tactical Tracer RGB MOD Video Tutorial on our OCinside YouTube channel. Have fun 🙂
Note: Please allow our cookies first to see this external content!
Ballistix Tactical Tracer RGB 32GB DDR4 Kit 4x 8GB DDR4-2666 Benchmark values and test results …