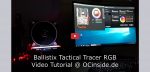 Shortly after the Ballistix Tactical Tracer RGB 8GB DDR4-2666 Review we received an improved Ballistix M.O.D. version of Micron. Now we could add the corresponding screenshots to the Ballistix Tactical Tracer RGB DDR4 review and also created a Ballistix MOD tutorial video in German with English subtitles about all Ballistix Tactical Tracer RGB effects on OCinside.de. First of all, the Ballistix RGB RAM modules looks really good on the ASRock X299 Taichi motherboard in combination with the RGB chipset cooler!
Note: Please allow our cookies first to see this external content!
Discuss in our forum and share experiences about the Ballistix Tutorial …
Here you can buy Ballistix DDR4 memory at a reasonable price.
Read on in the hardware test area with several hardware reviews …