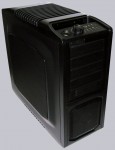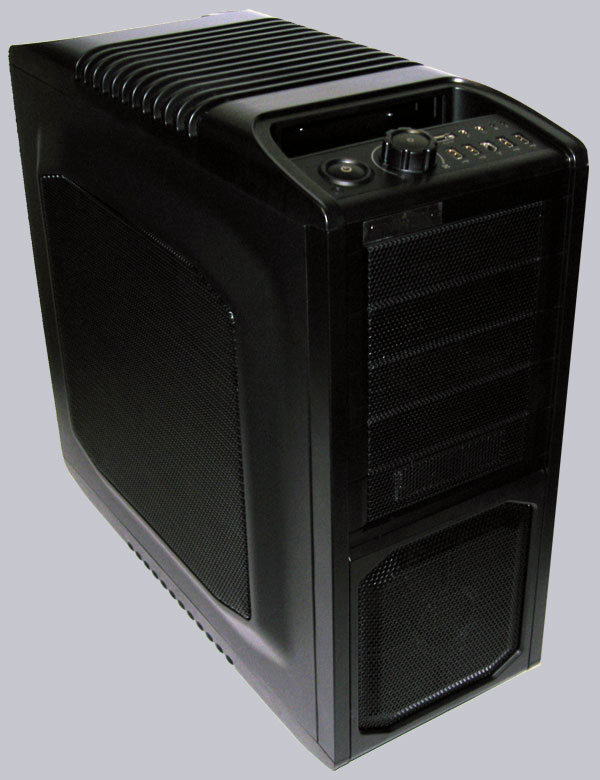 The technical data …
Form factor: The CM Storm Sniper Mid Tower is designed for conventional ATX and Micro ATX motherboards.
Dimensions: The overall height is 550 mm, the width is 250 mm and the depth is 570 mm.
Weight and material: The basic weight of the steel case with plastic parts is approximately 10.9 kg.
Drive bays: Overall there are 5x 5.25 inch front drive bays and optional 1x 3.5 inch front drive bay. Additionally there are 5x 3.5″ internal drive bays for hard disks available.
Slots: It's possible to mount up to 7 expansion cards and there's one StormGuard slot.
Cooling: The SNIPER SGC-6000-KKN1-GP Ultra case is already equipped with 3x very big fans. One 200×30 mm fan with 1000 U/Min at 23 dBA and blue LED lighting in the chassis front, one 200×30 mm fan with 1000 U/Min at 23 dBA and blue LED lighting at the top of the case and one 120×25 mm fan with 1200 U/Min at 17 dBA at the back of the enclosure. Optionally further different fans can be integrated at the side panel and in the case bottom. The pre-mounted fans are already cabled and regulated with a variable resistor, whereby the blue light emitting diodes can be turned on and off with a switch.
Miscellaneous: The chassis offers on the top a small reset button, a power button, a variable resistor for the fan control with integrated switch for the fans lighting, a HDD LED, a power LED, 2x 3,5mm jacks for headphones and microphone, 4x USB 2.0 connectors, one eSATA connector and one IEEE1394 Firewire connector.
Here is an exploded view of the most important case parts: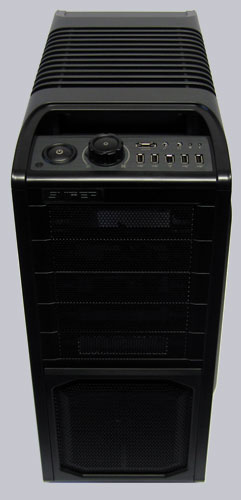 Layout, Design and Features – The CM Storm Sniper Case Exterior …