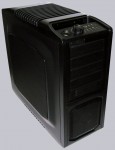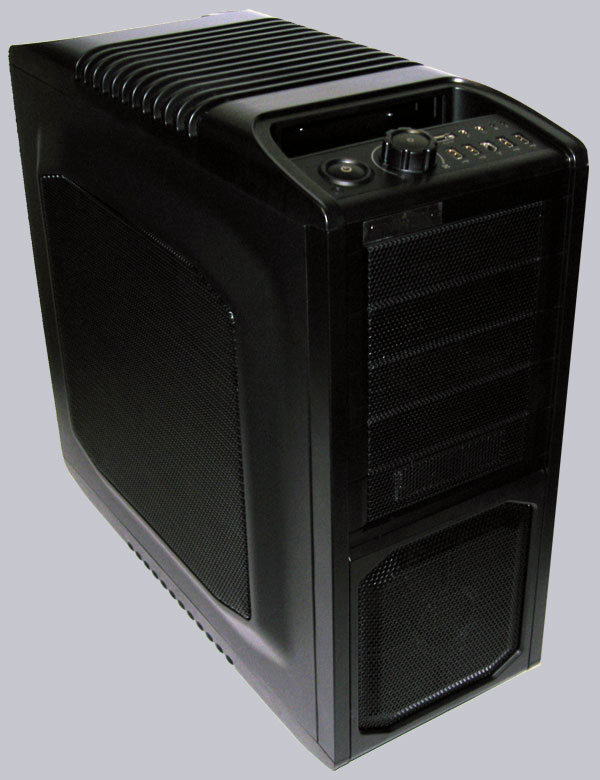 Structure, Design and other features – the case exterior …
The CM Storm Sniper enclosure features are really extensive and for this reason the design & feature pages are now one page longer than in the previous case reviews.
Now there is thus one page more, separated in exterior and interior. Let us begin with the exterior design and features. The front panel of the metal chassis is decorated with a plastic screen, where the mesh bezels for the drive assemblies and the lower fan are mounted.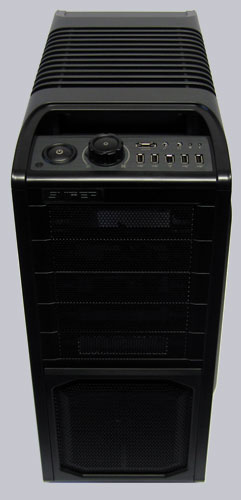 The large I/O panel with integrated fan controller at the case top is surely an eyecatcher of this gaming case. There are several connectors integrated to get an easy and fast access to some USB, IEEE, eSATA ports and the headset connectors. The complete operating elements are thus exemplary central and offers also a reset button and two LEDs for HDD and power, which cannot be taken for granted nowadays.
However, the pushbutton switch for the fan lighting of the test sample did not function reliably, it would have been nice to see a higher quality solution. The switch is integrated in the potentiometer button for the fan speed adjustment and does not snap 100 percent. It is hopefully only one individual case, because the push button switch is a nice feature to get fast access to the lighting and higher number of revolutions e.g. on a LAN party.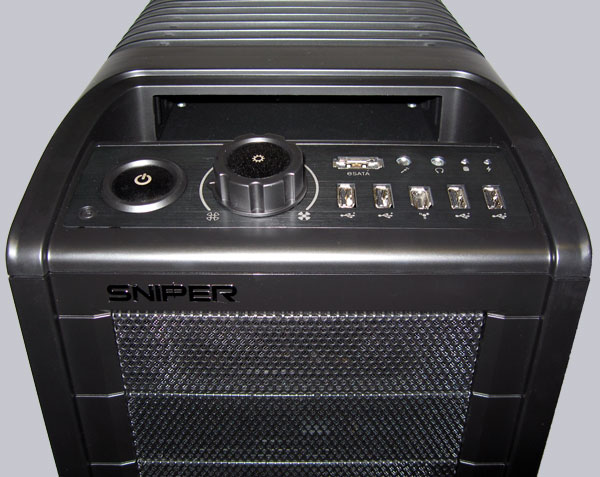 In the lower range of the chassis front, there's an enormous 200mm exhaust behind the perforated plate, to get cold air reliably into the enclosure.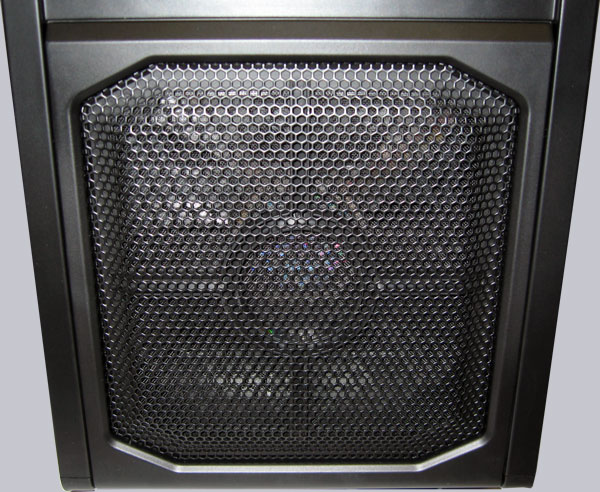 One side panel of the CM Sniper chassis provide a large perforated plate (mesh) and small struts for additional fans, whereby both side parts are fastened with knurled thumb screws for the fast assembly. In order to get a small protection from theft on LAN partys, there's an eye on the lower edge, which can be provided with a lock.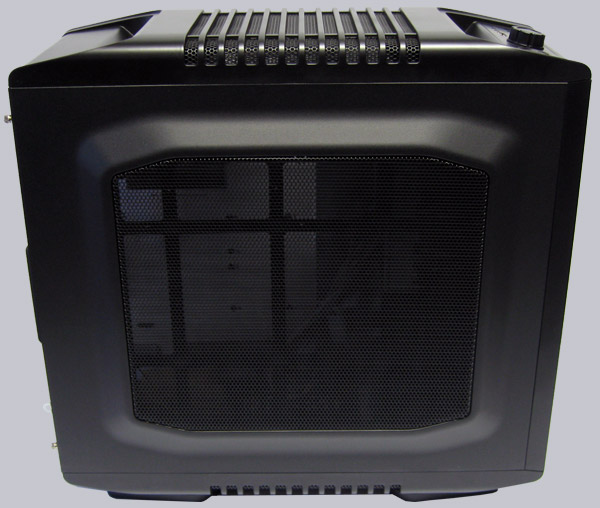 The opposite side panel offers fast access to the cables, but in addition later more.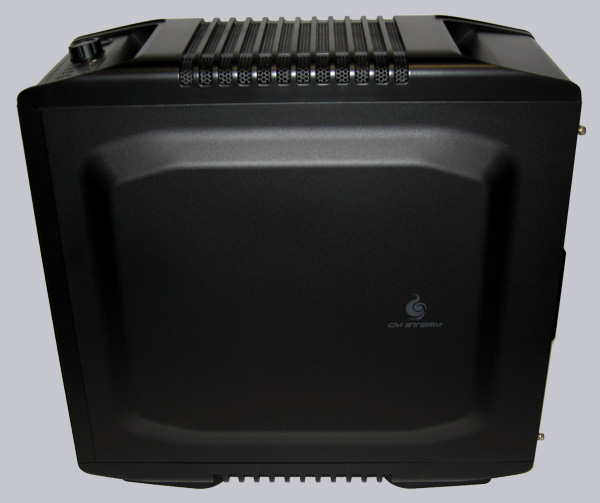 A look to the back of the chassis shows a somewhat unusual bottom position of the power supply, contrary to the usual ATX standard where the PSU is installed at the top. Thus it was easy for Cooler Master and/or CM Storm to attach the large 120mm exhaust very close to the top, where it can transport the heat much better out of the chassis. But that's not all, because like e.g. Gigabyte housings it has drillings to get water cooling tubes very easy out of the chassis. And also the slot brackets are perforated to improve the air ventilation.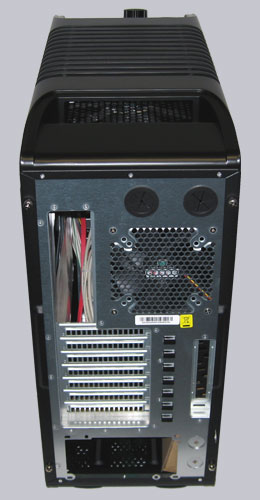 And there's still more to see from the outside, because these Cooler Master fans are equipped with several blue light emitting diodes to give this gaming case a personal touch.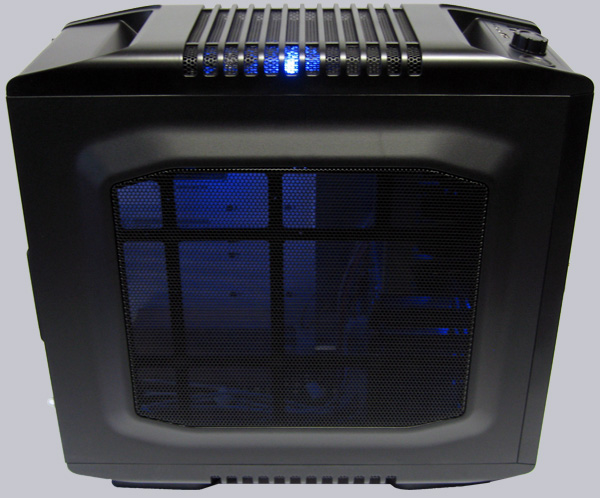 Here's a picture of the upper 200mm fan.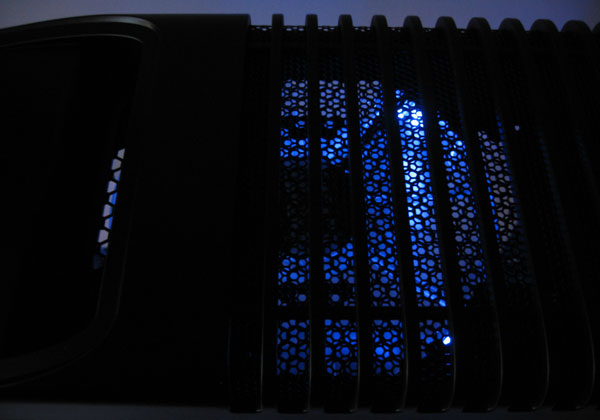 And here you can marvel at the blue lit up front panel.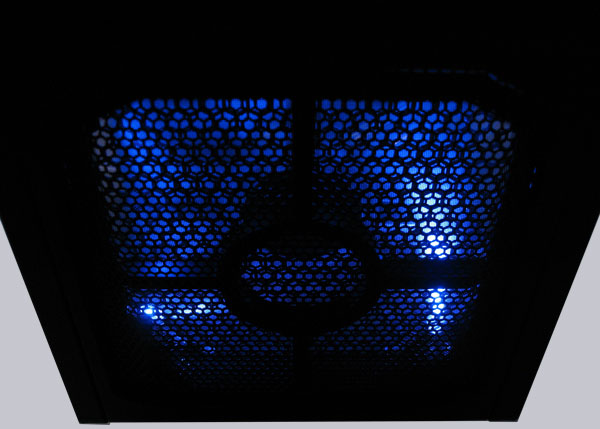 Layout, Design and Features – The CM Storm Sniper Case Interior …