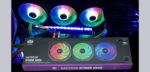 Layout, design and features …
Cooler Master takes a whole new direction with this fan: One control connector, one ARGB connector, one frame and 3 fans!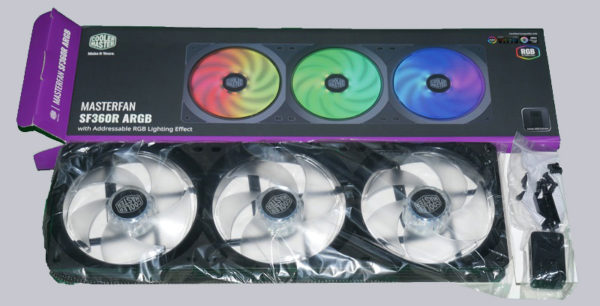 This new design has many advantages that many hobbyists have long wanted – less cable clutter, easy assembly, and a perfect fit on radiators and enclosures.
The frame has a total of 12 screw holes, all with rubber buffers to minimize vibration and noise at each connection point.
The fans are controlled via a PWM cable. This gives you the advantage of controlling the speed of all three fans directly via one connection, without having to distribute the signal with additional aids such as Y-cables or even triple adapters.
To control the ARGB lighting, a small controller is included in the scope of delivery, with which many pre-programmed lighting effects are possible. It should also be emphasized that the controller has a small magnet integrated on the back, which makes it possible to position it completely freely and without further fixing material in the tower simply on a free metal surface.
To make sure that the plug connection between controller and fan is also tight during transport, Cooler Master provides a kind of plug bridge. This is simply plugged over the two ARGB plugs to provide a firm hold.


The RGB effects, which are possible with ARGB lighting, are also convincing in the test.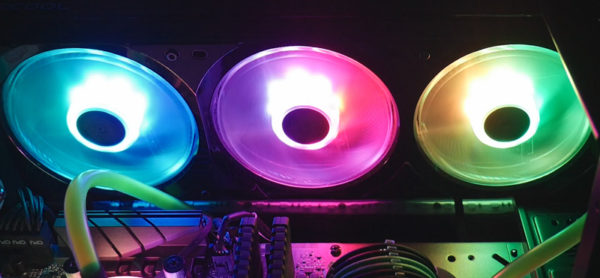 On the following video in our OCinside YouTube Channel we show the numerous effects of the addressable RGB lighting and hope you enjoy it 😀

Cooler Master MasterFan SF360R ARGB Effekte Video
Cooler Master MasterFan SF360R ARGB Setup and test results …