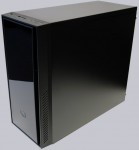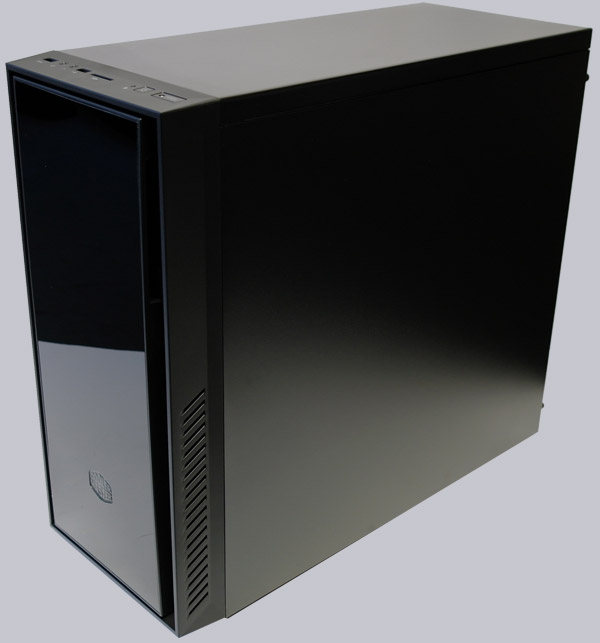 The technical data …
Form factor: The Cooler Master Silencio 550 Mid Tower is designed for ATX and Micro ATX motherboards.
Dimensions: The overall height is 450 mm, the width is 210 mm and the depth is 505 mm.
Weight and material: The Cooler Master Silencio 550 case is made of steel with a mirror finished plastic front. Its basic weight is approximately 9.1 kg and its shipping weight including the cardboard box is approx. 10.5 kg.
Drive bays: Overall there are 2x 5.25-inch and 1x 3.5-inch front drive bays. Additionally there are 7x 3.5″ internal drive bays for hard disks available inside of the Cooler Master Silencio 550, which can be mounted without screws using the sliding rails. One 3.5″ drive bay has a pre-installed 3.5″ to 2.5″ mounting frame.
Slots: It's possible to mount up to 7 expansion cards.
Cooling: The Cooler Master Silencio 550 case is equipped with one 120mm fan in the front panel and a another 120mm fan at the rear and can be equipped with additional fans. Optional it's possible to mount another 120 mm fan at the case bottom.
Miscellaneous: On the top front of the case is 1x USB 2.0 connector for internal connection, 1x USB 3.0 port for external connection, 1x SD-Card reader for connection at an internal USB 2.0 port, 2x 3.5mm jacks for a headset, a power button, reset button, HDD LED and a Power LED.
Here is a first view inside of the case: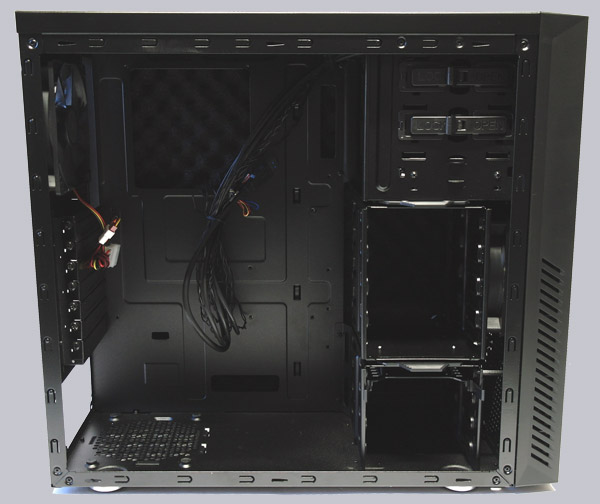 Layout, Design and Features – The Cooler Master Silencio 550 Case Exterior …