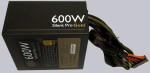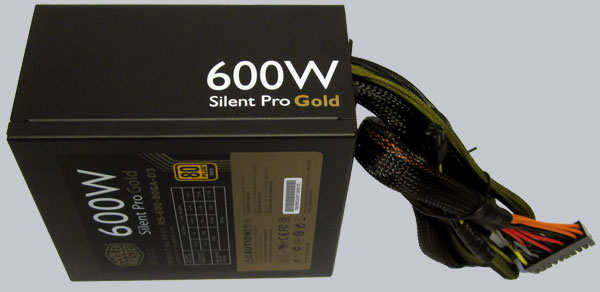 After the recently tested Cooler Master Silent Pro M500 power supply we have reviewed the modular Cooler Master Silent Pro Gold 600W PSU. In this review we like to test not only the power supply under real conditions, but also the difference between that 80Plus Gold power supply unit and previously tested 80Plus PSUs. No one like to spend money for too high power consumption, so we want to achieve the best energy efficiency, also for our overclocked PCs. Let us take a look, if this succeeded with the Silent Pro Gold 600 PSU from Cooler Master.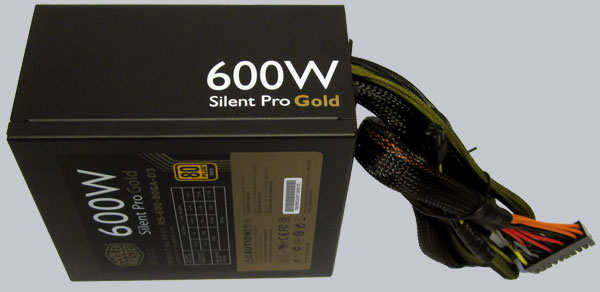 Thanks for the support …
Many thanks for the support with the Silent Pro Gold PSU RS-600-80GA-D3 by the manufacturer Cooler Master.

The Silent Pro Gold 600W power supply has a price of approx. 110 Euro (12/2010) and is available at our sponsors.
Here you can buy the Cooler Master Silent Pro Gold Power Supply.
The supply of the Coolermaster 600 Watt PSU …
In this golden box comes the Cooler Master 80PLUS Gold power supply with its accessories.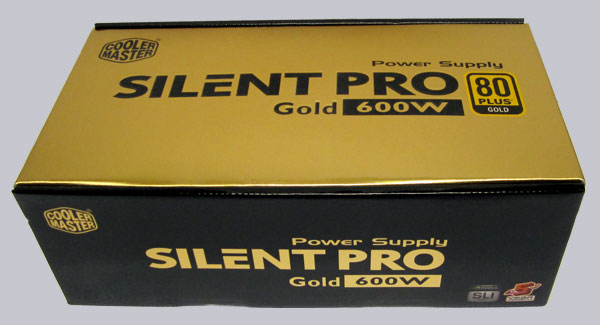 That is contained in the box …
In the following picture, one can see the black 150x160x85mm power supply with the attached 50cm long 20-pole ATX and/or 24-Pol ATX 2.2 cable for the motherboard current supply and the attached 60cm long 12V CPU cable with 2x 4-pin plugs. This is enough for a modular PSU, because the rest of the cables should be modular, so it's optimal solved. However, the ATX cable could be too short for some Fullsize Tower systems, so one should better measure all lenghts inside of the case, before buying a power supply.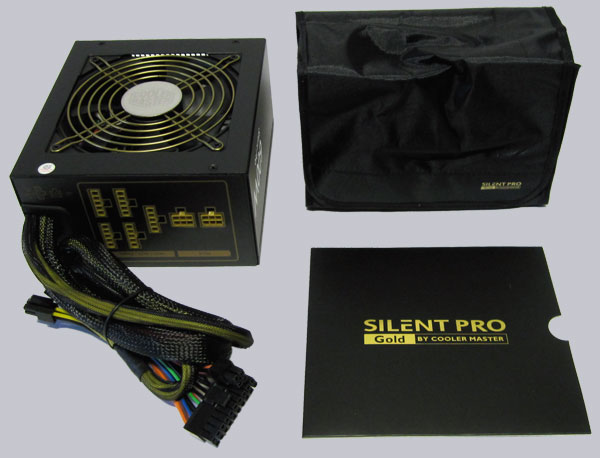 In the scope of delivery are a lot of cables, assembly material, a manual and a warranty card. The bag is very useful, since one can store unnecessary cables very well: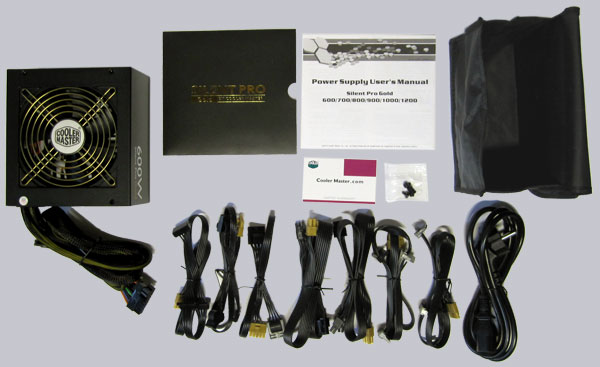 2x 70cm PCI-E cables with two 6+2-pin plugs (60+10cm) 2x 70cm cables with three SATA connectors (50+10+10cm) 1x 55cm cable with two molex plugs (45+10cm) 1x 65cm cable with two molex plugs and one floppy connector (45+10+10cm) 1x 220V power cable
The cables are very flat, so they're very easy to install in most enclosures. All connections offers a safe contact.
Furthermore contained are some screws, a warranty card (5 years), a folding sheet which contains a pictured building instruction, power supply pin allocations, warning references and the disposal references. The Cooler Master SiliconPad antivibration pads are not included in the Gold power supply package.
The technical data of the Cooler Master 600 Watt power supply unit …