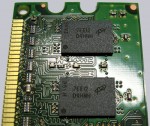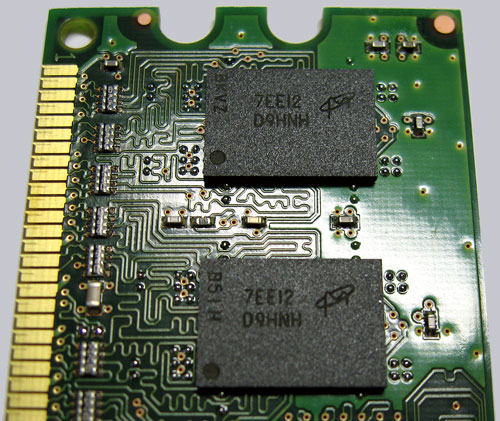 The memory modules comes without heatpreaders (passive heatsinks), so it's necessary to watch the temperature with higher voltages and/or higher overclocking. Alternatively it's possible to spend them passive or active memory coolers, which are available in different types at our sponsors like e.g. OC-Card.de
Crucial by the way grants lifelong warranty (Limited Lifetime Warranty) for the buyer (all informations to manufacturer conditions are of course without guarantee by ocinside.de).
The PC2-4200 kit was unfortunately equipped not as hoped with the Micron D9GMH chip, but with the Micron D9HNH. D9HNH ICs are tested according to Micron only to 266 MHz and not like the desired D9GMH chip to 333 MHz. Who find the PC2-4200 1GB modules with double-sided assembly, has clearly higher chances to get the fast 333 MHz ICs, because for 1 gigabyte altogether 16 x 512 MBit chips would be necessary. In order to be able to understand the technology better, another article is already in work. But let us return to the test report of the Crucial PC2-4200 DDR2 memory modules and let us see, on which frequency those D9HNH ICs can be overclocked.
Here is picture of the two Crucial modules …