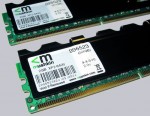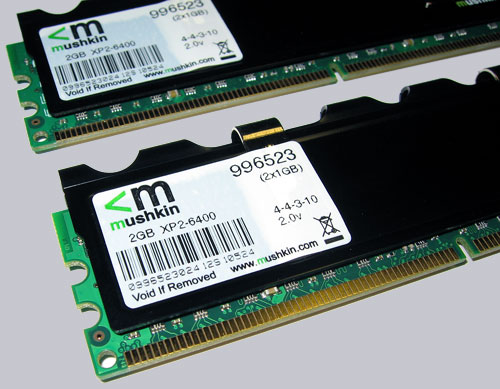 Mushkin's current XP2-6400 DDR2-800 memory is not only highly overclockable, but also reasonably priced. The high performance of the DDR2 800 modules exceeds the expectations and the reason becomes clear with a look under the heatspreader. Because Mushkin uses the well-known Micron D9GMH memory chips on the tested modules and these memory chips are also used on high-end DDR2-1200 modules. Just the maximum allowed memory voltage for the Mushkin XP2-6400 RAM is a little bit lower with 1.9 Volt up to 2.1 Volt. But of course, it's well-known that overclocking isn't always within the specifications. The following review will show you all details about this 2GB kit and give you an extensive comparison to all memory modules tested so far.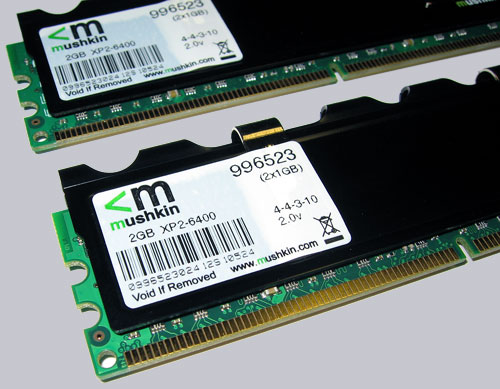 Thanks for the support …
Many thanks for the support with the XP2-6400 (1×996523 or 2×991523) 2GB PC2 6400 / DDR2 800 CL4 kit by Mushkin.
The 2 GB kit contains 2x 1024 MB 240-pin DIMM DDR2-800 (PC2-6400) memory modules and has a price of approx. 160 Euro (11/2007). They're available in the Mushkin Web Store and at our sponsors.
The supply of the two 1024MB PC2-6400 memory modules …
The two very well protected memory modules are delivered in this packing: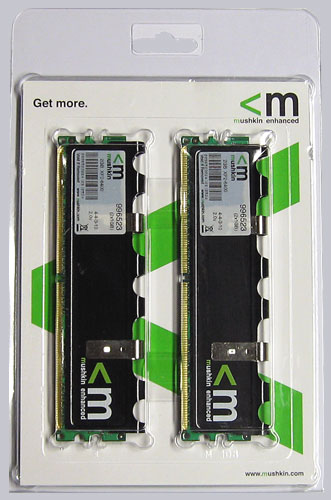 That is contained in the scope of delivery …
Mushkin supplies the two memory modules as well as an troubleshooting guide and installation guide on the backside of the packing, which should make it possible for less experienced users to install them easily.
Here is a picture of the two contained XP2-6400 memory modules: