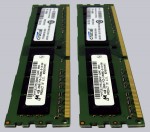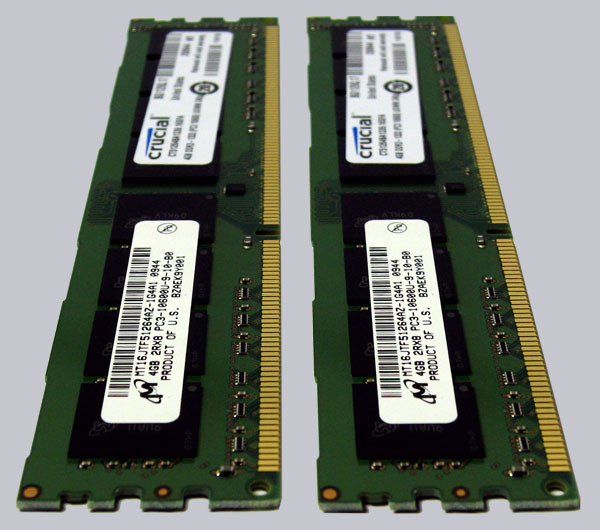 The Crucial PC3-10600 CL9 8GB RAM kit 1x CT2KIT51264BA1339 or 2x CT51264BA1339 is the so far biggest DDR3 memory kit in our review and with the capacity of 4GB per module it offers enormous upgrade possibilities.
The Crucial 4GB UDIMM modules without Heatspreader are not designed for Overclocker, but the Micron memory chips achieved good overclocking results and can be overclocked nevertheless more than 10% on the low memory voltage of 1.53V.
These 4GB DDR3 UDIMMs are a pleasure for all users who need a lot of memory in their system and they may get tears in their eyes when they see the large Micron memory chip the first time. Graphic programs like for example Adobe Photoshop or video editing software such as Adobe Premiere supports in current versions with a 64-bit operating system enormous large files, which is however advisable only with plenty of RAM. With the large 4GB DDR3 modules Crucial makes it possible depending upon system to upgrade it to 8GB, 16GB or more memory (as Tripple Channel kits 12GB or 24 GB) and the swap to the usually much slower hard disk or SSD is reduced while handling large files.
Concerning the price, the Crucial PC3-10600 8GB kit is still on a higher level, but it creates also undreamed-of possibilities for system upgrades and is with this good test result very recommendable for 64bit power users.
Read on in the hardware test area with several hardware reviews …