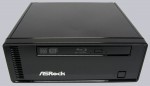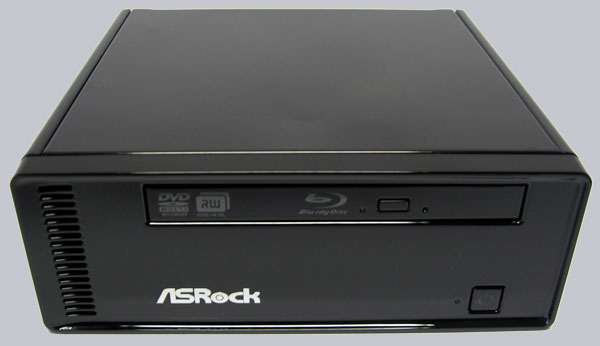 ASRock already published different NetTop systems since the previous CeBIT. Now approximately one year passed and their PCs were constantly extended by faster and more power saving NetTop PCs with various connections by ASRock made Mini-ITX motherboards. After many HTPC building guides in the ocinside.de modding area and the recent DVR player review, it is time to test one of ASRock's top NetTop systems, the ASRock ION330HT Blu-ray PC. This Review concerns first the hardware of this energy-saving Intel Atom 330 Dual Core system. The ASRock ION330HT-BD system is also an excellent HTPC media player, thanks to integrated Bluray player, remote control unit, HDMI output and Full HD 1080p support. An extra HTPC software guidance will be published as well. Meanwhile the system was tested for several weeks and installed with several Linux and Windows operating systems. The work was worthwhile, because ASRock exceeded all expectations with this small all-around talent!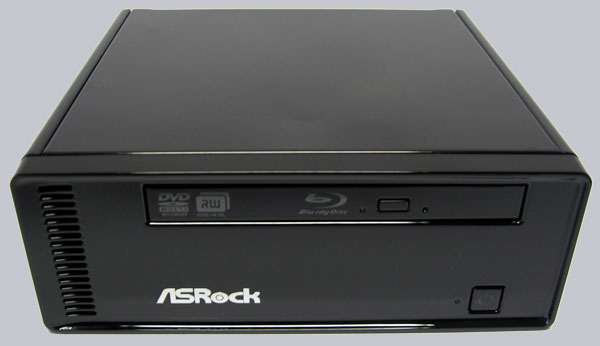 Thanks for the support …
Many thanks for the support with the ASRock ION330HT Blu Ray HTPC by ASRock.
The ASRock ION 330HT-BD/B comes without an operating system and has a price of approx. 450 Euro (02/2010) and is available at our sponsors. Besides this ASRock ION330HT-BD in black or white, ASRock offers many further versions of the ION330 NetTop, such as the ASRock ION330, ASRock ION330Pro, ASRock ION330HT, or ASRock ION330-BD. Details of all different types can be found on ASRock's NetTop side.
Here you can buy the ASRock ION 330HT HTPC.
The supply of the ASRock ION330HT-BD HTPC system …
The nice HTPC was supplied in this small cardboard box.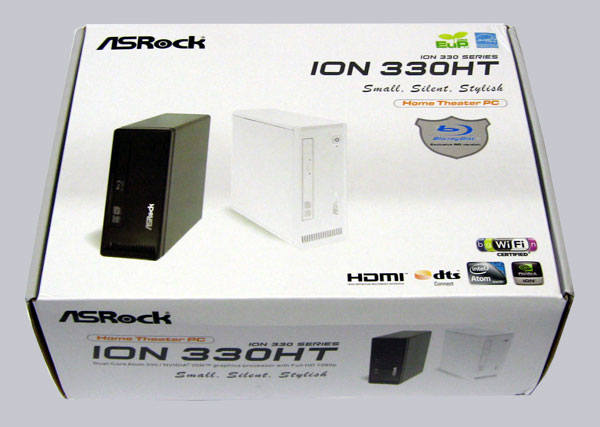 and here is a first view into the cardboard box: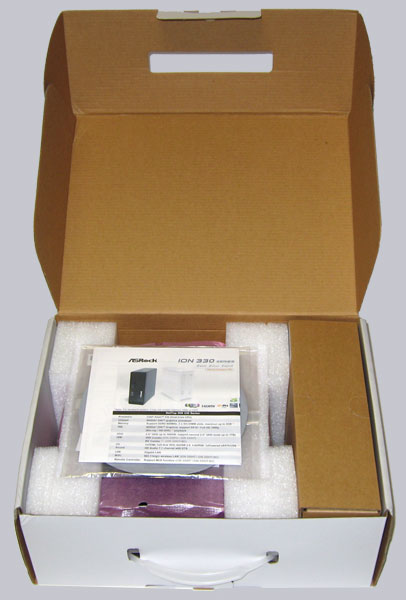 That is contained in the box of the ASRock ION330HT-BD …
The scope of supply contains a remote control with 2 Mignon batteries, 100-240 Volt power supply unit with EU power cord, additional SATA data cable and power cable, screws, driver DVD with manual, printed quick installation guide, anti-slip surface for anti-slip and vibration-free positioning.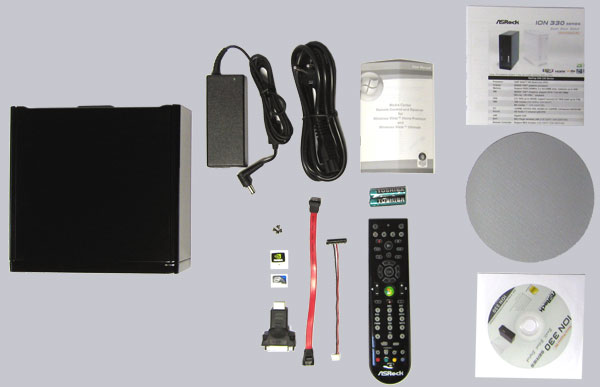 Here is a somewhat larger picture of the MCE compatible infrared remote, which is ergonomically formed and clearly structured.

Technical data of the ASRock ION330HT Blu Ray HTPC …