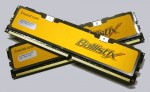 Crucial recently brought new Ballistix PC2-8000 memory modules to the market, which are particularly well suitable to overclock a PC or Mac. It was possible to reach excellence results also with default DDR2 voltage and fast timings in the test, so the modules are also well applicable on more inexpensive motherboards with less BIOS settings. The test report shows the performance of the Crucial Ballistix 2 GB DDR2-1000 kit and offers an overclocking comparison to 5 other memory modules.
Thanks for the support …
Many thanks for the support with the BL2KIT12864AA1005 Ballistix 2GB PC2 8000 / DDR2 1000 CL5 kit by the manufacturer Crucial.
The 2 GB kit contains 2x 1024 MB Ballistix 240-pin DIMM DDR2-1000 (PC2-8000) memory modules and has at present a manufacturer price recommendation of 435 euro (01/2007). They're available with the upper banner in the Crucial Shop and at our sponsors.
The supply of the two 1024MB PC2-8000 memory modules …
In this small box are the two very well protected memory modules: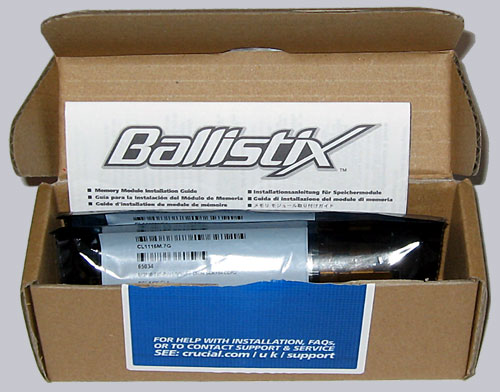 That is contained in the scope of delivery …
Crucial supplies the two memory modules as well as a multilingual installation guide, which should make it possible also for less experienced users to install them easily. Here is a picture of the Ballistix memory modules: