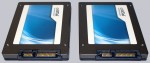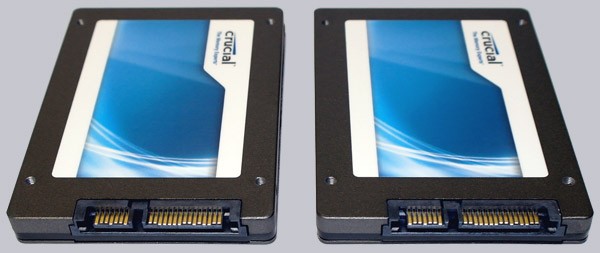 The two Crucial m4 2.5″ 128GB SATA3 SSD CT128M4SSD2 achieved with the at testing date most current firmware 000F as RAID0 array a gigantic high sequential read and write performance, very low access times and in spite of the lower 4K values, the impression was clearly better than one single Crucial m4 128GB or Crucial m4 256GB in AHCI mode.
The two Crucial CT128M4SSD2 128GB MLC Solid State Drives with Marvell Controller and 25nm Micron NAND were tested in a RAID array and compared to one single Crucial CT128M4SSD2 128GB in AHCI and one single Crucial CT256M4SSD2 256GB in AHCI, whereby the RAID0 array showed regarding the transfer rates clear advantages with nearly double performance. But the continuously transfer rates in AS SSD and in CDM clearly showed the disadvantages of the onboard SATA3 controller in RAID mode compared to the AHCI mode. Because similar to the controller in IDE mode, the 4k and 4k-64Thrd results decreased rapidly at the same controller in RAID mode and has additionally the same disadvantages as the IDE mode, like the technology communicating in Windows with missing TRIM, which can result in a slower performance after some time. And of course the risk of loosing the data by a possible mailfunction of one of both SSDs in RAID0 is twice as high.
Last but not least took the boot time with activated RAID BIOS approx. 20-30 seconds more than without RAID BIOS. The Microsoft Windows 7 Ultimate boot procedure from start screen to login screen took approx. 7 seconds and the Microsoft Windows 7 Ultimate boot procedure including motherboard BIOS and RAID BIOS took approx. 40 seconds.
All in all, a RAID 0 array with two Crucial m4 128GB SSDs in the sequential transfer test, is so fast that both, the longer boot time with the RAID BIOS, and the lower 4k values, that the RAID0 array can be easily preferred. As long as the data is backed up regularly, you can prefer the SSD RAID0 array with two or more Crucial m4 SSDs against a single Crucial m4 SSD. Depending on financial possibilities you can clearly increase the performance with more Crucial m4 SSDs. The two Crucial m4 128GB SSDs earned the Redaktion ocinside.de Overclocking Dream Award 07/2012 for such a great performance!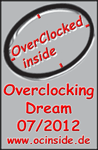 Discuss in our forum and exchange experiences …
Here you can buy the Crucial SSD …
Read on in the hardware test area with several hardware reviews …