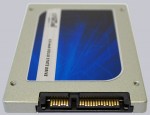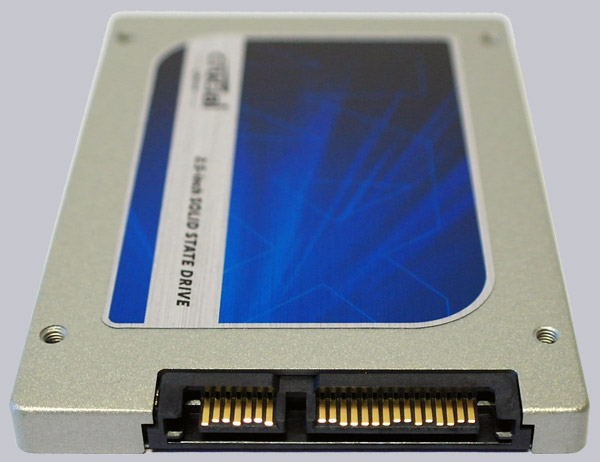 Today, we test the latest Crucial MX100 SSD here at OCinside.de. Just a few weeks after announcing the Crucial M550 there is again an awesome SSD from Crucial, that is currently available with capacities of 128 GB, 256 GB up to 512 GB. Despite the extremely high level of performance and brand new 16nm MLC NAND it is available for an amazing low price. The review will compare this inexpensive Crucial MX100 SSD with 512 GB capacity against the current Crucial M550, M500, m4 and many SSDs from some other manufacturers.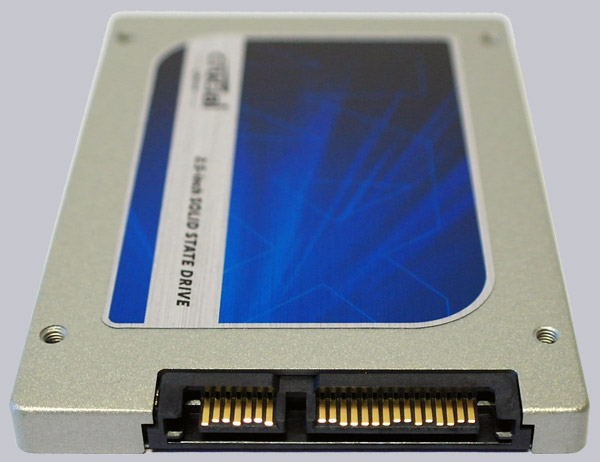 Thanks for the support …
Many thanks for the support with the Crucial MX100 512GB 2.5″ SSD by the manufacturer Crucial.
The Crucial MX100 512GB SATA3 2.5″ SSD CT512MX100SSD1 has at present a price of approx. 198 Euro (07/2014).
The Crucial MX100 SSD series contains at present the following SATA SSD types: Crucial MX100 128GB CT128MX100SSD1, 256GB CT256MX100SSD1 and 512GB CT512MX100SSD1 An MX100 1 TB SSD is currently neither available like a MX100 mSATA or a MX100 M. 2 SSD.
Important !
The performance of the Crucial MX100 SSD series alters depending on the capacity. A higher capacity of this Crucial MX100 SSD has a higher write performance, whereby the 128GB MX100 has a seqential write performance of 150MB/s, the 256 GB MX100 has a write rate of 330MB/s and the 512GB MX100 from this review has the highest write rate of 550 MB/s. The read performance of the MX100 SSD mit 128GB, 256GB and 512GB is according to the manufacturer 550MB/s.
Here you can buy the Crucial MX100 SSD.
The supply of the Crucial MX100 512 GB SATA3 SSD …
In this cardboard box came the current Crucial MX100 SSD: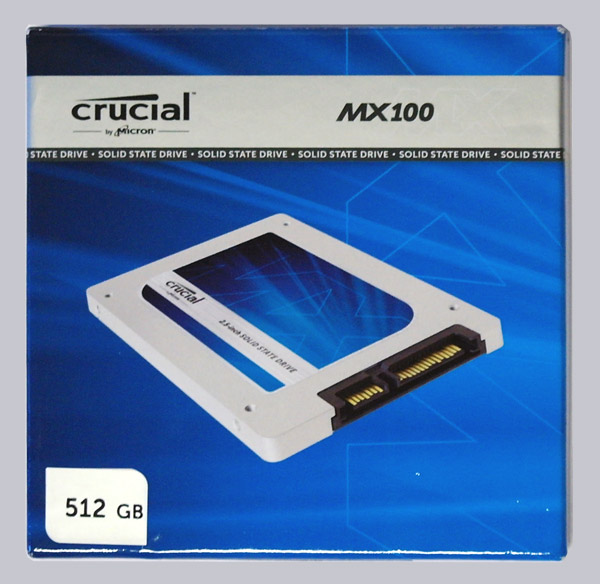 That is contained in the delivery …
Here is a first look inside of the SSD cardboard box: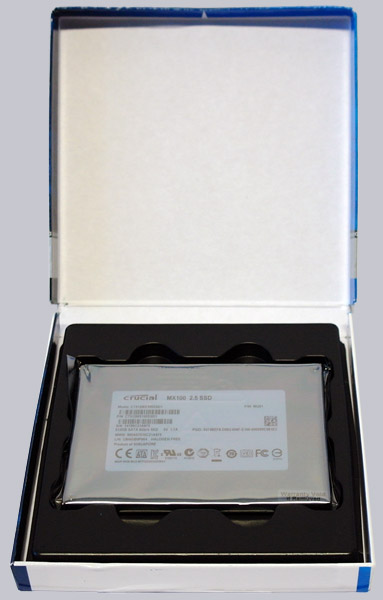 Crucial delivers the MX100 2.5″ SSD CT512MX100SSD1 well packed with a 9.5 mm adapter and an Acronis True Image HD Software Activation Key. With the Acronis True Image HD software, you can not only backup and restore hard drives and SSDs, but especially transfer and migrate Windows from a hard drive to an SSD. Crucial includes a small 7 mm to 9.5 mm adapter which can be put on the SSD, if necessary to stay compatible with the very popular height of 9.5 mm, because the construction height is no more 9.5 mm, but only 7 mm: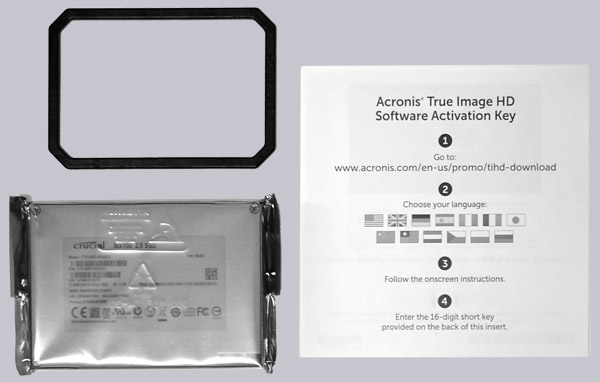 The following picture shows the front of the 2.5″ Crucial MX100 512GB SSD, where one can see the SATA3 connections for data and power on the right side. The SSD connector is identical to conventional SATA3 hard disks and SATA3 SSDs can also operate with a slower speed at an SATA2 interface: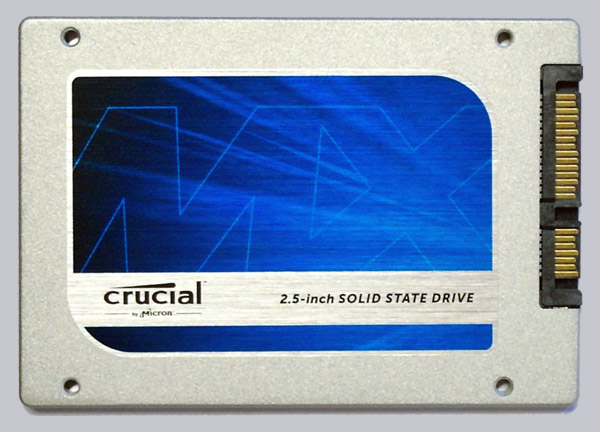 On the flipside you can see the label of the Crucial MX100 SSD with some technical data and the preinstalled firmware version: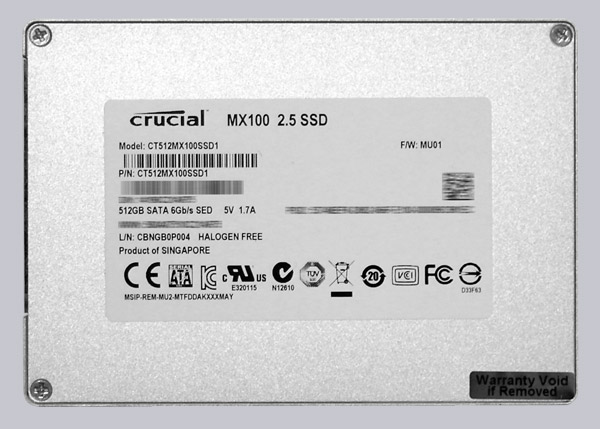 Here you can see eight out of a total of sixteen Micron NAND modules of the SATA3 SSD with a total of 512 GB capacity, which have now 16nm and no more 20nm. Additionally you can see the LPDDR2 512MB SSD cache module and the new Marwell 88SS9189 controller IC, which is also integrated in the previously tested Crucial M550 SSD. The SSD also offers a Microsoft eDrive compatible, built-in 256-bit AES encryption (TCG Opal 2.0 and IEEE 1667), which allows a hardware encryption with an appropriate UEFI hardware equipment and Microsoft Windows 8 or Microsoft Windows Server 2012 with BitLocker enabled: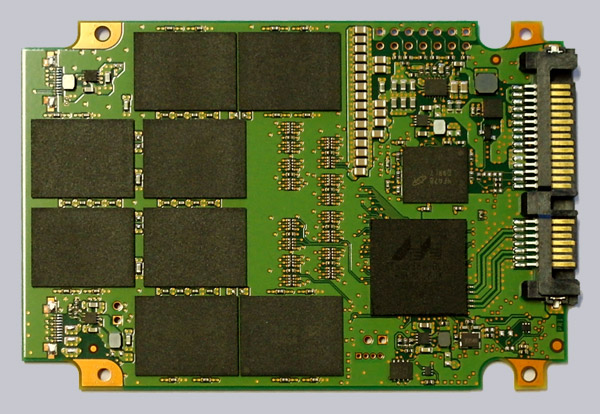 On the back of the circuit board, you can see the remaining eight 16nm Micron NAND modules: