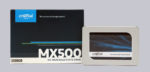 Today we test on OCinside.de the big Crucial MX500 SSD with 2TB capacity! Already some months ago we tested the Crucial MX500 with 1TB, which performed well. However, since some users don't get along with 1TB total size, we now take a close look at Crucial's largest MX500 SSD to date and compare it with dozens of other SSDs. Can the big MX500 2TB SSD keep up with the fast MX500 1TB SSD? We show this in the following review!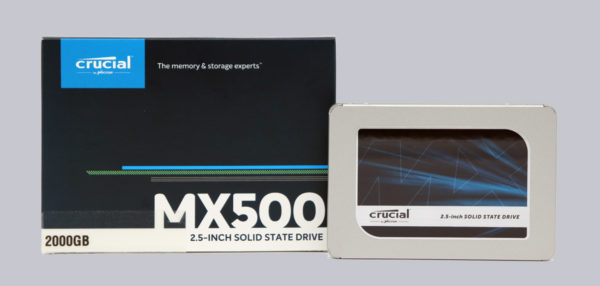 Thanks for the support …
Many thanks for the support to the Manufacturer Crucial.
The Crucial MX500 2TB SATA3 2.5″ SSD CT2000MX500SSD1 has at review date a price of approx. 230 Euro and is also available in the Crucial Shop.
The Crucial MX500 SSD series currently includes the following models:
SATA SSD: Crucial MX500 250GB CT250MX500SSD1, MX500 500GB CT500MX500SSD1, MX500 1TB CT1000MX500SSD1 and MX500 2TB CT2000MX500SSD1
The read and write values are specified for all SSD sizes with the same performance, but the lifetime is specified with different TBW (Total Bytes Written) values depending on the capacity.
Here you can order the Crucial MX500 SSD at a low price.
The delivery of the Crucial CT2000MX500SSD1 SSD …
As with the previous Crucial SSDs, the SSD is safely packed in a small carton. But not with the nice hinged lid anymore, but in a slightly flatter box with an opening from above.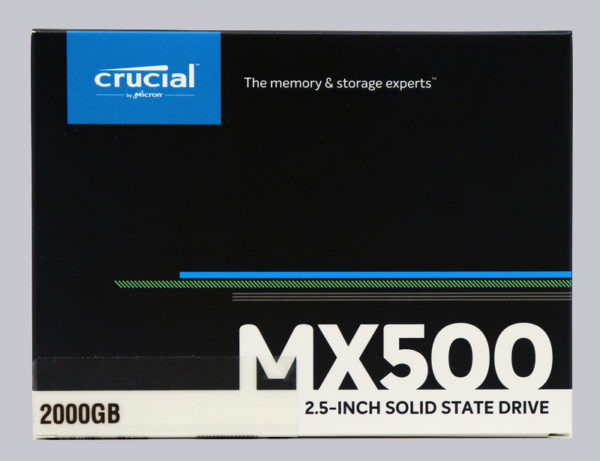 The back of the package already shows the limited 5 year warranty and the important link to download the software to update the firmware as well as to the SSD installation instructions and to clone the SSD. Alternatively we offer in the forum some instructions to copy the SSD.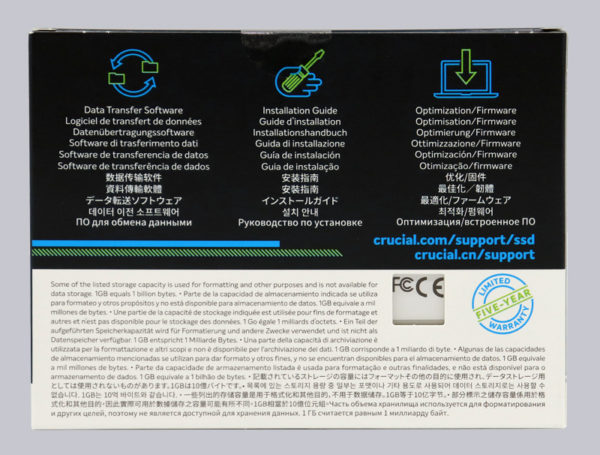 This is included in the delivery package …
Here you can see the complete accessories of the Crucial MX500 2TB SSD: The Crucial MX500 2TB SSD, a 7mm to 9.5mm adapter and a leaflet with the link to the software, manual and warranty conditions.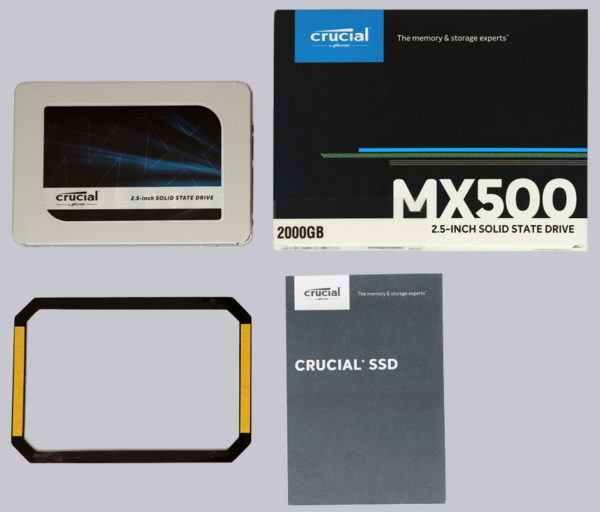 Crucial MX500 2TB technical specifications …