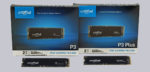 Result and general impression …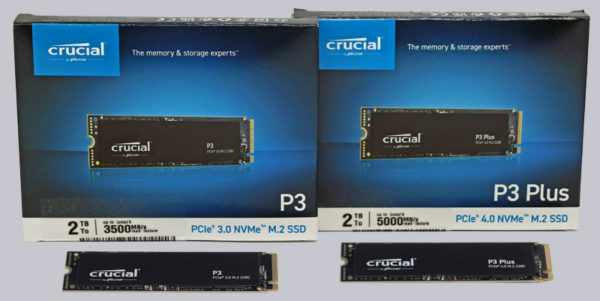 The Crucial P3 2TB and Crucial P3 Plus 2TB M.2 NVMe SSDs both perform at high sequential read and write rates and achieve great results even during large file transfers.
A direct comparison of the Crucial P3 and the P5 is really not easy because they work with very different requirements. The Crucial P5 and P5 Plus are equipped with Micron 176 Layer 3D TLC NAND and LPDDR4 DRAM cache, whereas the Crucial P3 and P3 Plus use QLC NAND without dedicated cache.
Thus, the Crucial P3 Plus does not come close to the enormously high results of the Crucial P5 Plus SSD in terms of overall performance, but it can keep up well with the Crucial P5 SSD and can even surpass it in some disciplines thanks to the faster PCIe Gen4 interface.
The Crucial P3 and Crucial P3 Plus 2TB M.2 NVMe achieve very good results with the Phison PS5021-E21 controller and Micron 176 Layer 3D QLC NAND even without cache, and those with a motherboard or controller with PCIe Gen4 x4 interface or higher should go for the faster "Plus" variant right away for an extra 20 Euro.
In addition, the Crucial P3 and Crucial P3 Plus offer power failure protection to increase data security and adaptive temperature protection, which fortunately was not needed in any of the test scenarios. While we generally recommend using an M.2 heatsink or at least a high level of active ventilation within the PC case, these SSDs could probably be mounted even under a hot graphics card. Depending on the graphics card cooler design, you can use the airflow for SSD cooling right away.
The Crucial P3 and Crucial P3 Plus 2TB M.2 NVMe SSDs are specified with a very high 440 TBW (total/tera bytes written). That doesn't come close to the 1200 TBW of the Crucial P5 2TB, but that still corresponds to about 241 GB per day over a period of 5 years. These specifications are not only important for the warranty (Crucial now gives a limited 5-year warranty here), but also speak for a high durability of the NAND cells. If you want to know more about TBW, you can find numerous data and formulas at Micron and in the JEDEC SSD specifications.
All in all, we had secretly hoped for a Crucial P6 or Crucial P7 SSD after the Crucial P5, but even the Crucial P3 could convince us and is thus a good choice as long as the price difference is right in contrast to the Crucial P5 and Crucial P5 Plus. You should pay attention to promotions like Black Friday or Cyber Monday and you can get some bargains.
With this great overall performance, the inexpensive Crucial P3 and Crucial P3 Plus receive our OCinside.de Price Tip Award!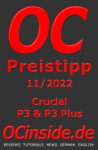 Discuss in our forum and share experiences about the Crucial P3 and P3 Plus …
Here you can order the Crucial P3 und Crucial P3 Plus SSD …
Read on in the hardware test area with several hardware reviews …