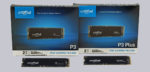 Layout, design and features …
Here you can see the front of the small Crucial P3 and Crucial P3 Plus 2TB SSD. By the way, a special sticker made of thin copper sheet to improve the temperature dissipation of the controller is still omitted.


The backs of the P3 SSDs show the interface, voltages, serial number and pre-installed firmware, with the P3 shipping with the P9CR30A and the P3 Plus with the P9CR409.


We carefully removed the stickers on the SSD fronts to learn a bit more about the installed chips. Here you can see the Micron 2LC2D NY161 and Micron 2FC2D NY161 Micron 176 Layer 3D QLC NAND devices of the SSDs with a total capacity of 2TB. We have already explained the differences between QLC, TLC, SLC and MLC extensively in the Windows Practical testing of the Crucial BX200 SSD. There is also the Phison PS5021-E21-48 controller IC without a dedicated cache device under the sticker.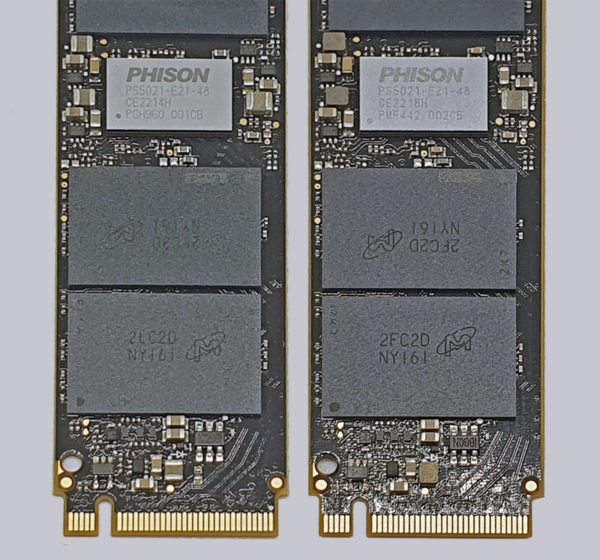 An SMD activity LED like in the Crucial P1 M.2 NVMe SSD has not been installed, by the way.
Since we would like to provide more information and practical experience with the M.2 NVMe SSDs, we have also included a Practical testing page.
Crucial P3 vs Crucial P3 Plus 2TB M.2 NVMe Practical testing …