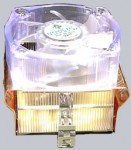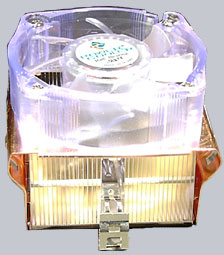 In this review we have tested the Power Cooler PCH247H Cooler and measured the temperature results with our test setup. Additionally you can listen to an embedded MP3 fan sound sample of the fan on the respective heatsink.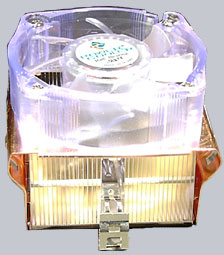 Bezeichnung
Power Cooler PCH247-H
Größe über alles in L/B/H
+ 73/73/57 mm Der Kühlkörper ist größer als der Sockel – siehe Fit for Fan
Förderleistung
+++ 27,21 CFM bei ~5000 U/min
Geräuschpegel
– 40,89 dB (A) Ist schon recht laut. Demnächst auch diesen Lüfter online anhören.
Montage
o Es ist zwar keine manuelle Montage möglich, aber an eine Aussparung für den Schraubendreher wurde gedacht. Zudem ist der Anpressdruck recht hoch, so daß es nicht ganz so einfach ist den Kühler zu montieren und demontieren.
Kühlergebnis
+++ 43°C bei 1,75 Volt und 46°C bei 1,90 Volt Corespannung.