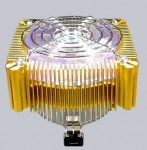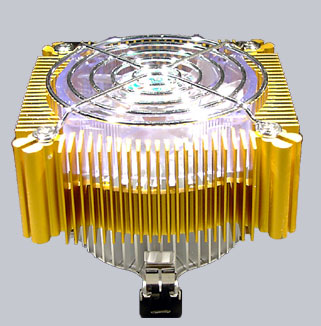 In this review we have tested the Power Cooler PCH610T Cooler and measured the temperature results with our test setup. Additionally you can listen to an embedded MP3 fan sound sample of the fan on the respective heatsink.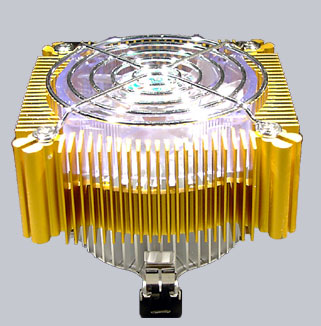 Bezeichnung
Power Cooler PCH610-T (mit Thermocontrol)
Größe über alles in L/B/H
— 92/92/70 mm Der gesamte Kühlkörper ist deutlich größer als der Sockel, obgleich der Durchmesser des Kühlers im unteren Bereich (bis 30mm Höhe) nur 63 mm beträgt – siehe Fit for Fan
Förderleistung
++++ 39,65 CFM bei ~ 2500 – 6800 U/min
Geräuschpegel
— 48,57 dB (A) bei 40°C Mit zunehmender Temperatur erhöht sich der Geräuschpegel bis auf die angegebenen 48,57 dB. Demnächst auch diesen Lüfter online anhören.
Montage
– Eine Trickreiche Konstruktion der Montageklammer sorgt dafür, daß die Nasen des Kunststoff Sockel intakt bleiben, aber dennoch ist die Hebelwirkung des riesen Kühlkörpers auf die knapp 8 cm² große Auflagefläche einfach zu stark. Bei der Montage legt man den Kühler einfach auf den Sockel und dreht an der unteren Haltevorrichtung, so daß sich die Halteklammer an den Kühlerkörper zieht. Einer Werkzeuglosen Montage steht also nichts im Wege 😉
Kühlergebnis
+++ 42°C bei 1,75 Volt und 45°C bei 1,90 Volt Corespannung.