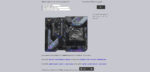 Now with Intel Z490, H470, B460 LGA1200 motherboards, AMD Ryzen X570, B550, B450 Socket AM4 motherboards, AMD Ryzen Threadripper X399 Socket TR4 motherboards as well as many more motherboards and many new coolers! Since 1999 we have been testing coolers and motherboards on OCinside.de and check which CPU cooler can be used for which motherboard. With the interactive Fit for Fan guide v3.2 you can find out with a few clicks by trying the desired CPU cooler virtually on the selected mainboard. You can not only see which CPU cooler fits on which motherboard and how much space is left for the remaining components. You can also see what it costs, how the cooler sounds and how good the test result is. Enjoy the interactive fit for fan guide!
Handling
Just select the desired socket, motherboard and cooler.
Then click and hold the heatsink with the left mouse button and move the heatsink manually over the socket to the right position, or click on the new "Fit !" button to move it automatically. Now you should be able to see if the selected cooler / heatsink fan combination will fit on the desired motherboard.
After selecting the cooler, one can see a link to read the review, a link to get the price of each motherboard or heatsink and a button to play the fan sound to compare the fan noise.
Help
Which heatsink fits on the motherboard and how sounds the fan of the cooler?
These questions will be answered by the new interactive fit for fan guide with fan sound audio samples. The interactive fit for fan guide has been updated and enhanced with new motherboards, heatsinks and some new functions. The cooler position will be adjusted automatically with the fit button and now you can listen to the fan sound of each cooler after the selection.
Who never heard about the fit for fan guide may need more explanation. Since the year 2001 ocinside.de already followed the question, which CPU cooler can be used for which motherboard. With this interactive fit for fan guide one can find out exactly this with a few clicks, by moving the desired CPU heatsink fan combination virtually on the selected motherboard.
The interactive fit for fan guide is a new development, which contains some Intel LGA 2066, LGA 2011-3, LGA 1200, LGA 1151, LGA 1150, LGA 1155, AMD AM4, AMD TR4, AMD Socket FM2/FM2+, AMD Socket AM3/AM3+, Socket AM2/AM2+, Socket 939, Socket 754, also older Socket A motherboards and some HSFs for each Socket. Additionally one can visit a review and check the current price of each cooler or motherboard directly after the selection. More motherboards and CPU coolers will be added by and by. Enjoy the new interactive fit for fan guide.
New since v3.2
Version 3.2 contains the new Intel LGA1200 mainboards, Intel LGA1200 coolers for Intel Comet Lake-S, AMD SP3r2 or AMD TR4 mainboards, AMD SP3r2 or AMD TR4 cooler for AMD Threadripper CPUs and many AMD Ryzen AM4 motherboards, AMD AM4 Ryzen cooler, Intel LGA2066 cooler and LGA2066 motherboards.
The following mainboards have been added: ASRock B365 Pro4, ASRock B450M Pro4, ASRock B450M Steel Legend, ASRock B450 Pro4, ASRock B460M Pro4, ASRock B460 Steel Legend, ASRock B550M-ITX/ac, ASRock B550M Pro4, ASRock B550 Phantom Gaming 4, ASRock B550 Taichi, ASRock h370 Performance, ASRock h370 Pro4, ASRock h470M-ITX/ac, ASRock h470 Steel Legend, ASRock X299e-ITX/ac, ASRock X299m Extreme4 u, ASRock X299 Creator, ASRock X299 Taichi XE, ASRock X399m Taichi, ASRock X399 Phantom Gaming 6, ASRock X399 Professional Gaming, ASRock X470 Gaming k4, ASRock X570 Extreme4, ASRock Z390 Extreme4, ASRock Z390 Phantom Gaming 9, ASRock Z390 Phantom Gaming X, ASRock Z390 Taichi, ASRock Z490M-ITX/ac, ASRock Z490M Pro4, ASRock Z490 Aqua, ASRock Z490 Extreme4, ASRock Z490 PG Velocita, ASRock Z490 Steel Legend, Gigabyte B460M D3h, Gigabyte B550M Aorus Pro, Gigabyte B550 Aorus Elite, Gigabyte X299x Aorus Master, Gigabyte X299x Aorus Xtreme Waterforce, Gigabyte X299x Designare 10g, Gigabyte X399 Aorus Pro, Gigabyte X399 Designare Ex, Gigabyte X570 Aorus Elite, Gigabyte Z490M, Gigabyte Z490 Aorus master, Gigabyte Z490 Aorus Xtreme Waterforce, Gigabyte Z490 vision G, MSI B450M Pro-VDH Max, MSI B460M Pro-VDH WIFI MSI B550 A Pro, MSI Creator X299, MSI MAG B550 Tomahawk, MSI MAG X570 Tomahawk WIFI, MSI MAG Z490 Tomahawk, MSI MEG X570 Unify WIFI, MSI MEG Z490 Godlike, MSI MPG B550 Gaming Carbon WIFI, MSI MPG B550 Gaming Edge WIFI, MSI MPG B550 Gaming Plus, MSI MPG Z490 Gaming Carbon WIFI, MSI MPG Z490 Gaming Plus, MSI X299 Pro, MSI X399 SLI Plus, MSI X570 A Pro, MSI Z490 A Pro, some with review.
The following CPU coolers were integrated: Antec cooler H2O K240, Arctic Freezer 34 eSports DUO, Arctic Freezer 33 eSports One, Arctic Freezer 33 TR, Arctic Freezer A13 X, Arctic Freezer i13 X, Arctic Freezer 12, Arctic Freezer 7 X, Arctic Liquid Freezer II 360, Arctic Liquid Freezer II 280, Asus ROG Ryuo 240, Barrow LTYK3-04, Cooler Master MasterAir G100M, Cooler Master MasterAir MA620P, Cooler Master MasterAir MA610P, Cooler MasterAir MA410P, Cryorig H7 Quad Lumi, Cryorig H7, Enermax LiqFusion 240, Scythe Choten TUF Gaming, Scythe Kotetsu Mark II TUF Gaming, Scythe Ninja 5, SilentiumPC Fera 3 RGB, SilentiumPC Navis RGB 280 and Thermaltake Pacific W4 Plus all with reviews.
In addition, the scripts have been optimized to enable the display and movement on mobile devices such as smartphones and tablets.
New since v3.1
The version 3.1 contains the new Intel X299 LGA2066 motherboards, Intel LGA2066 cooler for Intel Skylake X and Intel Kaby Lake X, as well as some AMD AM4 motherboards, AMD Ryzen cooler, Intel LGA2011-3 and LGA1151 fans and LGA1151 motherboards.
Following motherboards are now added: ASRock X299 Taichi, ASRock X299 Killer SLI/ac, ASRock Fatal1ty X299 Professional Gaming i9, ASRock Fatal1ty X299 Gaming K6, Gigabyte X299 AORUS Gaming 3, Gigabyte X299 AORUS Gaming 7, Gigabyte X299 AORUS Gaming 9, MSI X299 GAMING M7 ACK, MSI X299 SLI PLUS, MSI X299 TOMAHAWK ARCTIC, ASRock Z270 Taichi, ASRock Z270 Pro4, ASRock Z270 Extreme4, ASRock Z270M Pro4, ASRock X370 Taichi, ASRock X370 Killer SLI/ac and the ASRock Fatal1ty AB350 Gaming K4 motherboard with review.
Following CPU cooler are now integrated for selection: Arctic Freezer 33 Plus, Cooler Master Masterliquid 240, Cryorig R1, Enermax ETS-T50 AXE DFP, Enermax ETS-T50 AXE BVT, Enermax Liqmax II 240 ELC-LMR240S-BSA, Enermax Liqmax II 120 ELC-LMR120S-BSA, LEPA Aquachanger 240 LPWAC240-HF, LEPA Aquachanger 120 LPWAC120-HF and the LEPA NEOllusion LPANL12, some of them also with review.
New since v3.0
The version 3.0 contains dozens motherboards like e.g. AMD AM4 X370 and B350 motherboards, Intel LGA 1151 B250, H270 and Z270, Intel LGA 2011-3 X99 motherboards for AMD Ryzen, Intel Kaby Lake, Intel Broadwell-E and Co. – for AMD AM4 e.g. the ASRock X370 Gaming K4, ASRock AB350M, ASRock AB350 Pro4, Biostar X370GT7, Biostar B350GT3, Biostar X370GT3, MSI X370 Gaming Pro Carbon, MSI B350 Tomahawk, for Intel LGA 2011 v3 for example the ASRock X99 Taichi, ASRock X99 Professional Gaming i7, ASRock X99 OC Formula, ASRock X99M Killer, Gigabyte GA-X99-Gaming 5P, GA-X99-Gaming G1 WIFI, GA-X99-SOC Champion, GA-X99-Ultra Gaming-EK, MSI X99A, MSI X99A Gaming, MSI X99S Gaming, MSI X99S XPower AC and for Intel LGA 1151 e.g. the ASRock Z270 Killer SLI, ASRock Fatal1ty Z270 Gaming i7, ASRock Fatal1ty H270 Performance, ASRock B250 Pro4, MSI Z270 Gaming M7, MSI Z270-A and MSI B250 Krait.
Furthermore many new CPU coolers like the Antec Kuehler H2O H1200 Pro, Arctic Freezer i32, Arctic Liquid Freezer 120, Arctic Liquid Freezer 240, Cooler Master Hyper 212X, Cooler Master MasterLiquid Pro 240, Cryorig A40, Cryorig C7, Cryorig H5 Ultimate, Enermax ETS-T40F-BK, Enermax Liqtech 240, Raijintek Triton, Scythe Ashura Shadow, Scythe Fuma, Scythe Iori, Scythe Kabuto 3, Thermaltake BigTyp Revo and Thermaltake Frio Silent 14 is added from our hardware review area.
Additionally we've optimized the Script – for example, the cooler moves automatically over the motherboard when changing the motherboard or cooler.
Javascript has to be activated in your browser for this interactive guide.
Smartphone or tablet should be used in landscape format for optimal display.
Discuss in our forum about the interactive Fit for Fan guide …
Here you can buy motherboards and coolers.
Read on in the hardware test area with several hardware reviews …