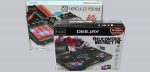 Practical testing …
Both controllers only work with the software Djuced from Hercules. This can be downloaded and installed to the controllers in the current version. The included Djuced 40° DJ software is by the way a full version with several sample packs from Loopmaster and not a limited demo version! The controller is connected to the PC via USB and the software is started. Well, let's connect the Hercules P32 DJ controller to test the control in practice.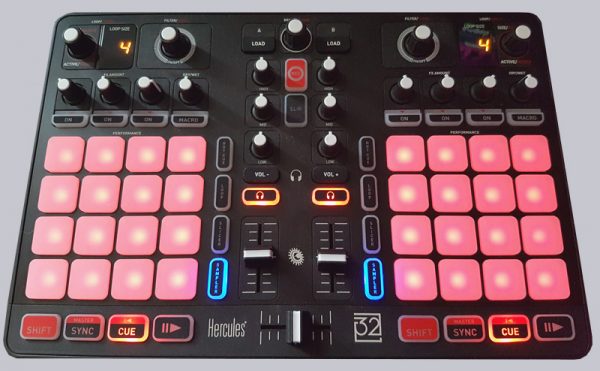 And so the smaller Hercules DJ Control Instinct P8 shines, which is also available as DJControl P8 Party Pack with 8 multicoloured LED wristbands that light up synchronously in rhythm.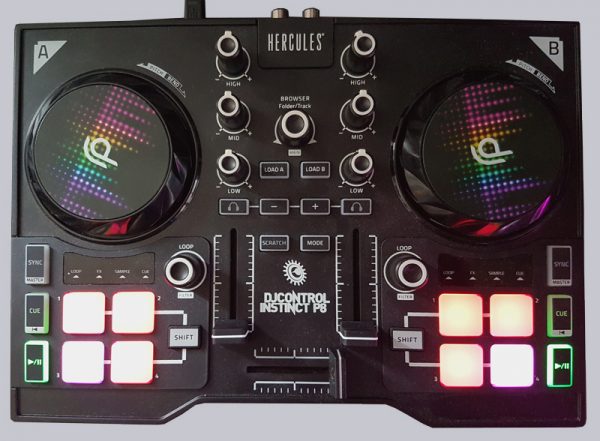 The correct recognition of the respective controller works perfectly, as does the short configuration setting. The sound can be output directly via USB and then to the audio output device of the PC or via stereo cinch and headphones. Both work flawlessly.
The sound output quality depends on the device to which the controller is connected. Amplifiers, equalizers etc. are therefore not available.
Unfortunately the software of the big P32 is very overloaded and not really intuitive. It needs a very large monitor to keep a good overview, in the test a 34-inch Ultrawide monitor was used and it worked quite well. The introductory videos unfortunately don't explain the basic functions of the software well enough and how everything interacts.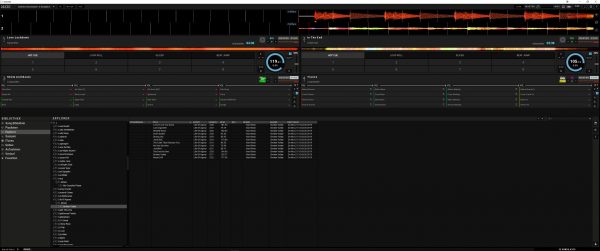 With the Hercules DJ Control Instinct P8, the software looks a bit clearer.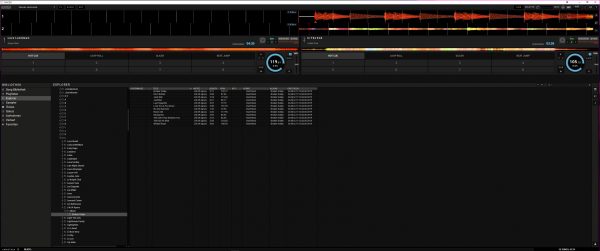 But it has to be mentioned that our editor had no previous experience with these DJ controllers or the software. More experienced users will certainly find their way around much faster.
The software automatically recognizes the controller and configures itself accordingly for the device, so the Hercules P32 DJ automatically displays 2 decks and the 2 sampler decks each with 16 keys.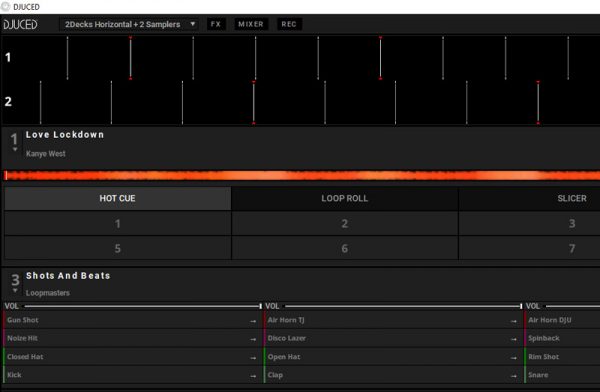 The Hercules DJ Control Instinct P8 reduces these samplers.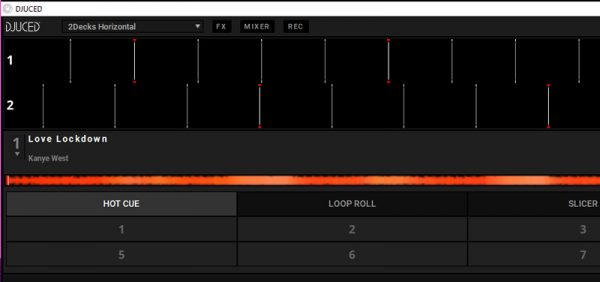 The lower part of the software contains the library in which you can navigate with the mouse or the controls on the controllers.


All functions for which the two controllers give individual keys and controls are also possible with the mouse directly in the software. But the knobs and knobs of the controllers are much more precise, intuitive and satisfying than a mouse control. The feel and control of the tracks and samples via the controller is simply more fun and very pleasant with both controllers.
After a certain training period in the individual functions and how the channels and filters interact with each other, both controllers are very good and very intuitive to use. The functions, knobs and controls react flawlessly. You can easily create loops, blend tracks into each other, integrate effects or adjust the tempo. All this is easy and fun after a little training with the hardware and software.
Hercules P32 DJ und Hercules DJ Control Instinct P8 Result and general impression …