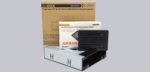 Installation …
The installation of the removable frame into the PC case is very easy. You push the Icy Dock MB795SP-B Drive Bay into the case or, as in our case, into a testbench, screw it tight with up to four fine-thread screws, which are included in the scope of delivery, or lock it with the quick fasteners of the respective case and connect the three cables for data (2x) and power (1x). That's it!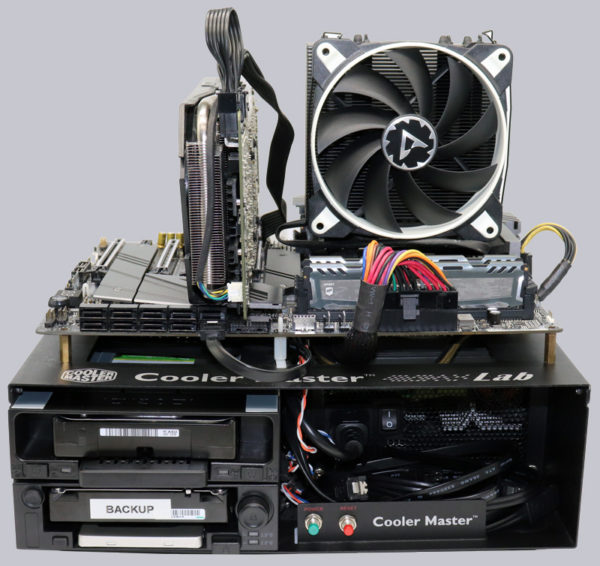 The following PC setup was used as test system:
Practical testing …
Now you can equip the hard disk and/or the SSD as you like by grabbing the 3.5″ HDD from the side and then simply slide it into the upper slot. The 2.5″ SSD/HDD is inserted into the lower slot. As you can see on the following picture in the bird's-eye view very nicely, the 2.5″ drive protrudes a bit out of the removable frame after insertion, so that you can pull it out again at any time.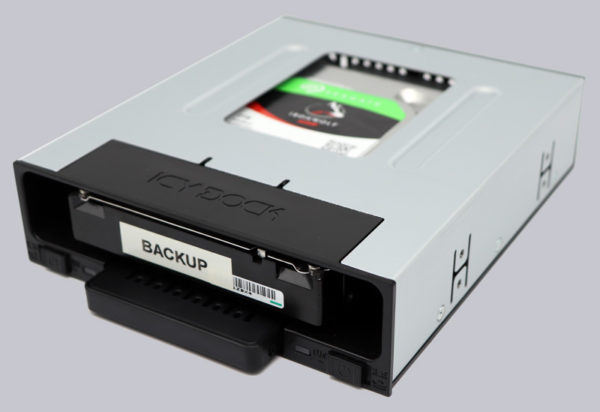 Here you can see above the Icy Dock MB795SP-B removable rack, equipped with a 3.5″ hard disk and below the Icy Dock MB703M2P-B EZConvert, which was equipped with a M.2 SATA SSD. Below we see the Icy Dock MB971SP-B DuoSwap removable rack, which we have been using for our test systems for several years, currently equipped with a 3.5″ hard disk on top and a 2.5″ SSD below.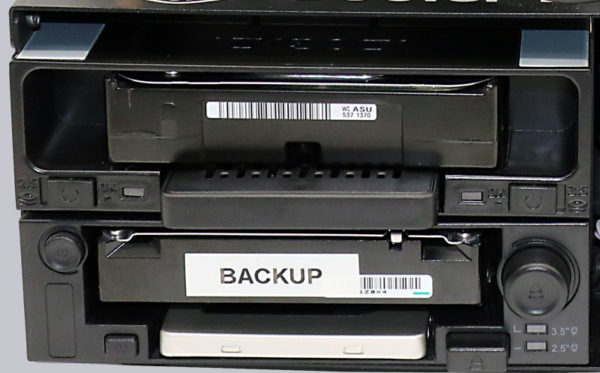 You can see very nicely the difference between the two Icy Dock Hot Swap removable frames, which both have been provided with respective activity LEDs. However, with the new Icy Dock MB795SP-B, you can no longer intuitively guess the right switch for the respective drive, but must look very carefully with which switch you switch off the 2.5″ or 3.5″ drive – here, problems are pre-programmed, since you will surely deactivate the wrong drive by accident. Icy Dock has solved this problem much better with the legendary Icy Dock MB971SP-B DuoSwap removable frames. Because there, the small 2.5″ drive was equipped with a smaller square button and the larger 3.5″ drive with a large round button. We also like the ejection mechanism of the MB971SP-B DuoSwap better, because you press a button and thus push the respective drive out of the frame and with the new flexiDOCK MB795SP-B you pull the protruding drive out of the frame without any power transmission.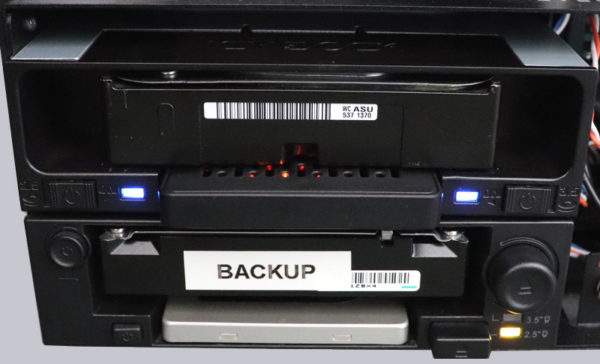 The Icy Dock EZConvert MB703M2P-B on the other hand can easily be equipped with an M.2 board and allows to use the M.2 SATA SSD like a conventional 2.5″ SATA SSD, very convenient!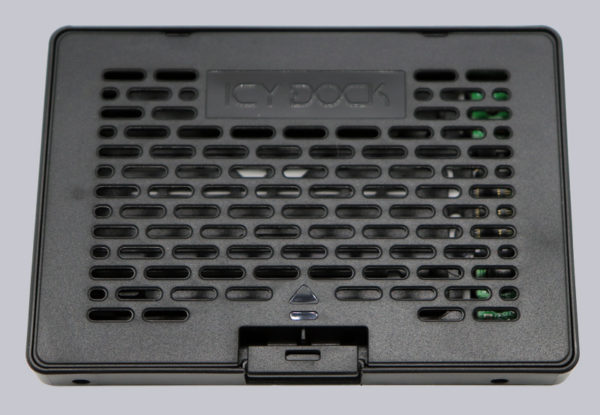 Let us now come to our conclusion.
Icy Dock MB703M2P-B und Icy Dock MB795SP-B Result and general impression …