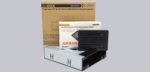 Result and general impression …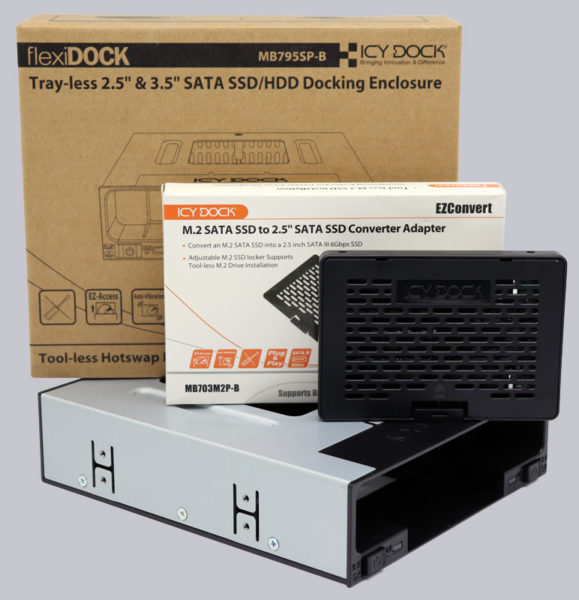 Icy Dock EZConvert MB703M2P-B test result …
The Icy Dock M.2 to 2.5″ EZConvert MB703M2P-B has absolutely convinced us!
The PCB is simply and firmly held in the EZConvert and the tool-free installation is easy. Although the EZConvert is made almost entirely of plastic and feels exactly the same, it fulfills its purpose perfectly!
There are no sharp edges, the M.2 SATA board is easily recognized and the airy design means there is no significant temperature rise.
Icy Dock flexiDOCK MB795SP-B test result …
The MB795SP-B flexiDOCK for fast hot-swap changing between a 2.5″ and a 3.5″ drive didn't convince us as much.
Because at least if you are used to the high comfort of the MB971SP-B DuoSwap from Icy Dock, the inexpensive flexiDOCK MB795SP-B doesn't come close to this comfort by far.
We were missing the pleasant eject mechanism and above all an intuitive recognition of the correct HDD selector switch. A differently sized on/off switch for the differently sized drives or at least a noticeable white arrow for easy recognition of the drive would be desirable here.
Nevertheless, the Icy Dock flexiDOCK MB795SP-B also works perfectly and is much cheaper than the Icy Dock MB971SP-B DuoSwap. Therefore the flexiDOCK MB795SP-B will surely find its way into many PC cases. We recommend the somewhat higher priced Icy Dock MB971SP-B DuoSwap.
Discuss in our forum and share experiences about the Icy Dock HDD Accessories …
Here you can buy Icy Dock HDD accessories at a reasonable price.
Read on in the hardware test area with several hardware reviews …