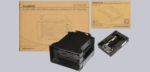 Result and general impression …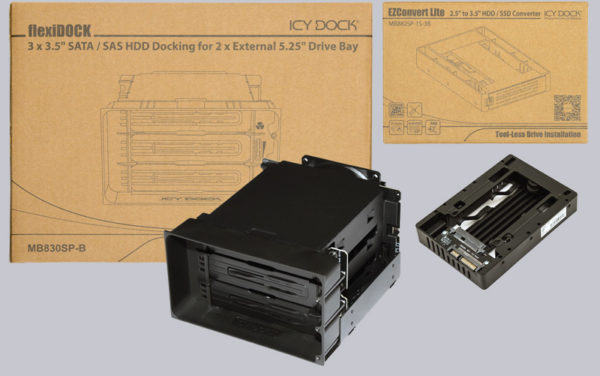 Icy Dock EZConvert Lite MB882SP-1S-3B Test result …
The Icy Dock 2.5″ to 3.5″ HDD/SSD converter MB882SP-1S-3B convinced us completely. The drive is held securely in the converter and tool-free installation is easy. Accuracy of fit, material appearance and design are also perfect.
There are no sharp edges anywhere and the plugs fit well. The compatibility with up to 15mm high 2.5″ drives completes the package perfectly and there were no problems during the tests.
Icy Dock flexiDOCK MB830SP-B Test result …
We were also convinced by the MB830SP-B Drive Bay for up to three 3.5″ drives from the same house. The LEDs are a bit too bright for our taste and the fan should be adjusted carefully to get the optimum of ventilation and volume. Apart from that, everything sits well on the Drive Bay and there are no sharp corners or edges.
Performance-wise, you don't have to worry either, as even SSDs have reached their maximum speed without any restrictions during our tests.
For backup purposes, the Bay is also excellent, because no own cases, power supplies and USB cables are needed for the backup drives, but the disks for the duration of the backup directly in the Drive Bay plug and then can be pulled out immediately again. This saves additional costs and is extremely practical.
The Drive Bay also had a further, unexpected, positive influence. In the past, the two mechanical drives repeatedly generated disturbing vibrations that could not be controlled until now. This condition has now changed because the vibration noise has completely disappeared due to the stable mounting of the Drive Bay.
With this good overall result, both products received a clear purchase recommendation from us and thus our OCinside.de Purchase Tip Award 11/2019.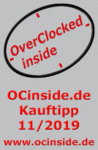 Discuss in our forum and share experiences about the Icy Dock HDD Accessories …
Here you can buy the Icy Dock HDD accessories at a reasonable price.