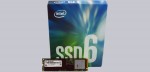 Result and general impression …

The current Intel 600p 512GB M.2 NVMe SSD SSDPEKKW512G7 provides a good read performance overall, but due to the TLC NAND the write performance is only slightly higher than a SATA SSD.
On the basis of the thermal images, we were able to observe a relatively high heat development of the controller IC in the Intel SSD 600p field test, but this is still within the usual range for an M.2 SSD without heat sink. Anyway, to improve performance and to increase durability, we recommend the use of a heatsink for this PCIe Gen 3 x4 M.2 NVMe SSD.
The Intel M.2 NVMe with 512 GB capacity is indicated by the way with very high 288 TBW (total/tera bytes written), which corresponds to 157 GB per day over a period of 5 years. This information is not only important for the warranty, but also indicates a very high durability of the NAND cells. If you want to know more about TBW, you will find a lot of information in the JEDEC SSD specifications.
All in all, we find the price/performance ratio of this SSD extremely interesting, because the price level is roughly around a conventional SATA SSD and the read performance is 2-3 times higher than with a conventional 2.5″ or M.2 SATA SSD and even offers additional features such as internal 256-bit AES encryption.
Discuss in our forum and share experiences about the Intel NVMe SSD …
Here you can buy the Intel M.2 NVMe SSD …
Read on in the hardware test area with several hardware reviews …