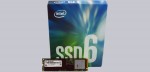 Praxistest …
Let's start with the installation of the NVMe SSD.
M.2 NVMe SSD installation …
After installation in a free M.2 slot, the M.2 NVMe SSD was detected easily in the ASRock Z270 Taichi and also in the ASRock Z97 Extreme6 test system.


In order to be able to run a M.2 NVMe PCIe SSD in the Ultra M.2 slot of the ASRock Z97 Extreme6 or other somewhat older motherboards, a BIOS update is required first, after which a new NVMe configuration menu is located in the UEFI under Advanced.
First we downloaded and installed the Intel SSD Toolbox software from the Intel website. In Windows 7 the values were not read out correctly.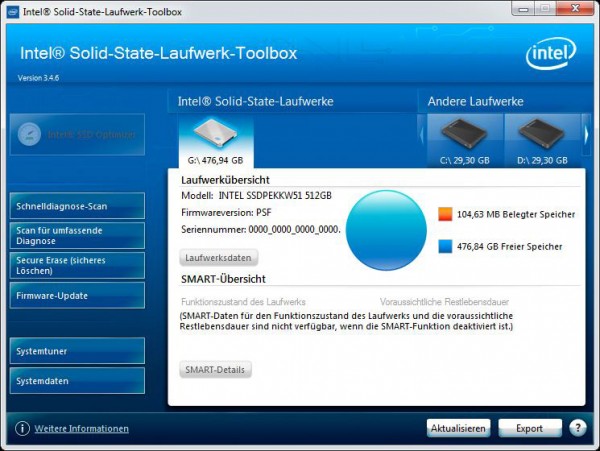 In Windows 10, the Intel SSD Toolbox software works flawlessly and recognizes both the data and the firmware version correctly.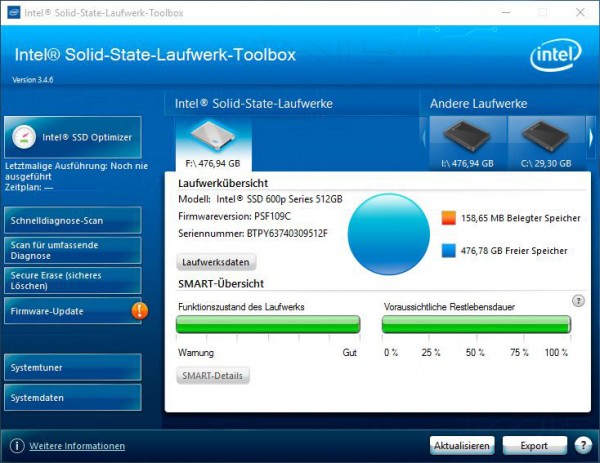 SSD firmware update …
The Intel 600p was delivered with the firmware version PSF109C. At the time of testing, Intel provided the firmware version PSF121C, which we installed directly.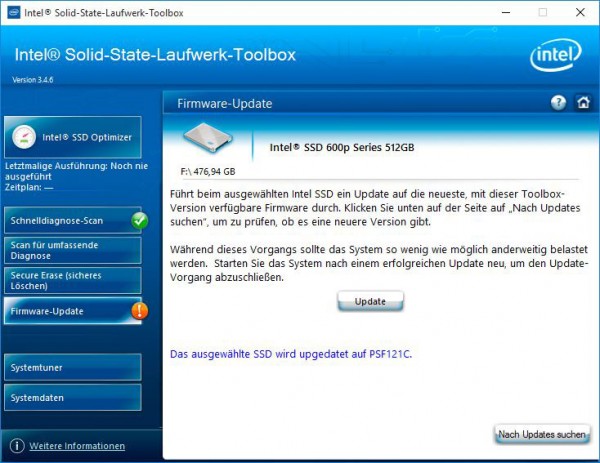 With the Intel SSD Toolbox you can update the firmware of the SSD very easily, but you should backup important data as always before the firmware update. After a short confirmation the update succeeded without any problems. After the restart the current firmware was available.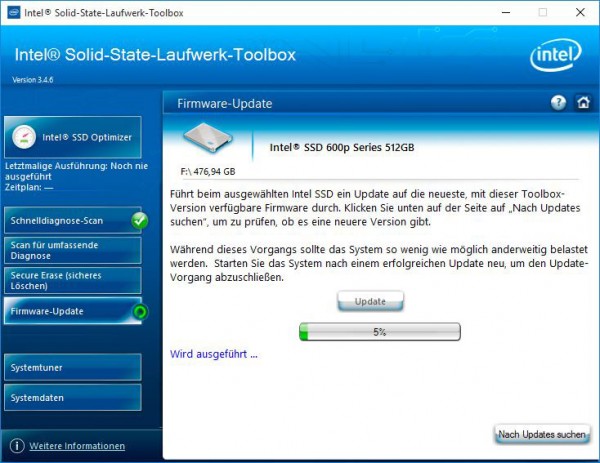 With the Intel SSD Toolbox you can delete the SSD with Secure Erase function. This is important, for example, before the sale of the SSD, but now we are not thinking about the sale, but about the benchmarks 😉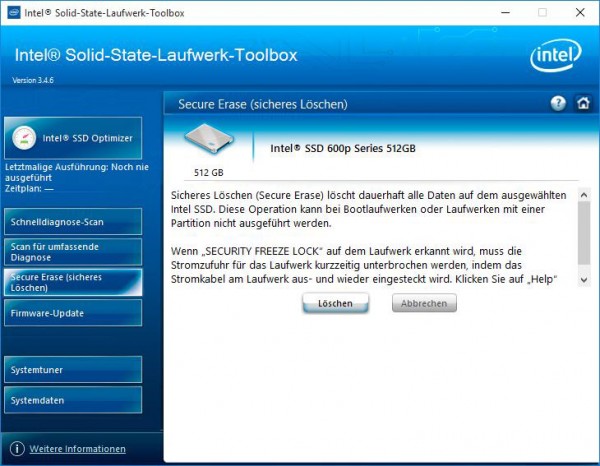 NVMe SSD in practice …
We want to give you a few tips and hints for installing a M.2 PCIe NVMe SSD. Via e-mail and in our Hardware Forum there are frequent requests about slow M.2 SSD speed. A PCIe SSD – both a PCIe plug-in card or a PCIe M.2 modules – requires a high bandwidth for fast performance. If the Intel 600p, the Samsung 960 Evo, the Samsung 960 Pro, the Intel SSD 750 PCIe 3.0 x4 SSD or other PCIe SSDs are too slow, it is usually because the wrong slot has been selected or the BIOS or UEFI has been set incorrectly.
We like to help you in the PC Forum under the section Hardware or in English – just create a new post and write which motherboard and which PCIe M.2 SSD has been installed. If you haven't purchased an SSD yet, our community will also be happy to provide you with SSD purchase advice.
NVMe M.2 SSD speed …
For the Intel 600p for example there a PCIe Gen3 x4 port is required, so a PCIe 3.0 slot with at least x4 lanes or a M.2 slot is necessary to provide a bandwidth of up to 1800 MB/s. ASRock current mainboards offers an Ultra M.2 slot up to 32Gb/s. If only a PCIe 2.0 x4 slot is available, a maximum of 2000 MB/s is supported, so that no slower PCIe SSD speed should be achieved with this SSD.
Here is a small chart of the PCIe speed rates:
PCIe 2.0 x1 500 MB/s
PCIe 2.0 x2 1000 MB/s
PCIe 2.0 x4 2000 MB/s
PCIe 2.0 x8 4000 MB/s
PCIe 2.0 x16 8000 MB/s
PCIe 3.0 x1 985 MB/s
PCIe 3.0 x2 1969 MB/s
PCIe 3.0 x4 3938 MB/s
PCIe 3.0 x8 7877 MB/s
PCIe 3.0 x16 15754 MB/s
The upcoming PCIe 4.0 x1 standard starts at 1969 MB/s (all ratings are maximum ratings without protocol overhead).
You can check the correct connection, for example, with the aforementioned Intel Solid State drive Toolbox software.
Also very important is the proper NVMe driver for the NVM Express controller. We have installed the Intel 600p with the latest NVMe driver. Who like to know more about M.2 SATA, M.2 PCIe, 2280, Gen2 x2, etc., should take a look here in the Plextor M6e review, where we've explained all important formats, lanes and speeds of the M.2 standard.
NVMe support in Windows 7 …
If you want to install a NVMe PCIe SSD in Windows 7, you will probably wondering why the M.2 NVMe SSD is not recognized. Since the M.2 NVMe SSDs have conquered the market after Windows 7, it is necessary to install the matching Windows 7 NVMe hotfix. If you wish to install Windows 7 on a NVMe SSD, you must first embed the NVMe SSD hotfix into the Windows 7 ISO or install Windows 7 on a SATA SSD, install the drivers together with hotfix, and then transfer it to the NMVe SSD. If you need help, feel free to contact us in our PC Forum.
M.2 SSD heat …
Before we will come to the benchmark results, we want to show something very special on OCinside.de and that is the heat distribution and temperature of the M.2 SSD with an infrared thermal imaging camera, which also supports image overlay and results in an interesting mixture of the infrared image and real image.
According to the internal temperature diode, there was a temperature of approx. 41°C in idle and up to 70°C under load. With an external temperature sensor and the thermal imaging camera, we've measures approx. 18 degrees Celsius more than the internal temperature diode outputs and achieve a maximum M.2 SSD temperature of approx. 87.8°C.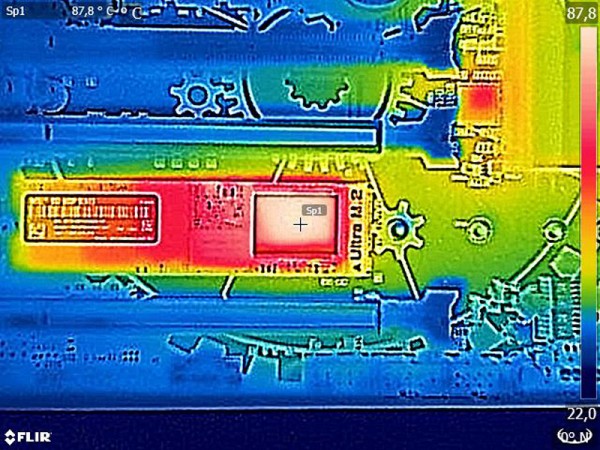 Tip:
Who like to reduce the SSD temperature, for example could:
a) adjust the power saving mode.
b) perform an active SSD cooling by direct ventilation.
c) apply commercially available silicone heat transfer pads to the top and bottom of the PCB.
d) purchase a special heatsink for M.2 SSDs
.
e) buy a M.2 PCIe card with heatsink
.
Some motherboard manufacturers have also recognized the M.2 temperature problem and have integrated heat sinks in the M.2 socket.
Recently we've also published an interesting video in our OCinside YouTube Channel, where we filmed the M.2 SSD on an ASRock Z270 Taichi motherboard with the thermal imaging camera, while the AS SSD benchmark is completed. To avoid waiting too long, the IR thermal film runs at 4 times the speed.
Note: Please allow our cookies first to see this external content!
After all these information, we finally come to the NVMe PCIe SSD benchmarks.
Intel 600p 512GB NVMe Benchmark values and test results …