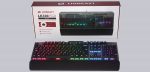 Software …
The software for the LK300 RGB Pro must be downloaded from the Lioncast website. However, it is not required to operate the keyboard. Almost all RGB effects as well as the macro programming of the 5 macro keys can also be directly hardware controlled via the keyboard. However, a look at the manual, which can also be downloaded from the Lioncast website, is recommended.
The software is pleasantly slim and quick to install. The interface is tidy, the operation is basically self-explanatory, but macro programming takes getting used to, as many functions are executed by the right mouse button.
Three different profiles with alternative keyboard layouts can be created and saved. In addition, the normal keys can also be assigned special functions and the assignment of the multimedia keys can be adapted, with which the software extends the range of functions of the keyboard once again. Macros can be recorded and changed arbitrarily, which is again a clear extension of the normal keyboard function. All settings and programs are stored on the internal memory of the keyboard, so that they are also available on another PC at any time.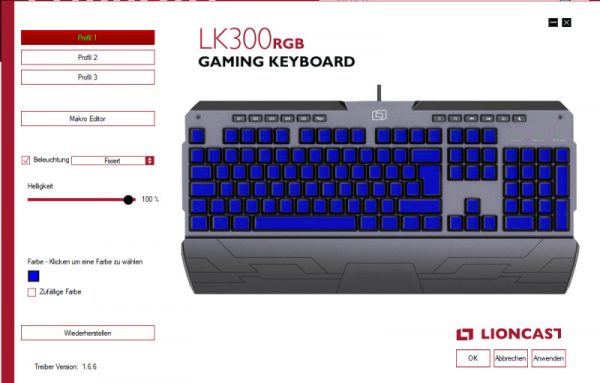 Lioncast LK300 RGB Pro Practical testing …